News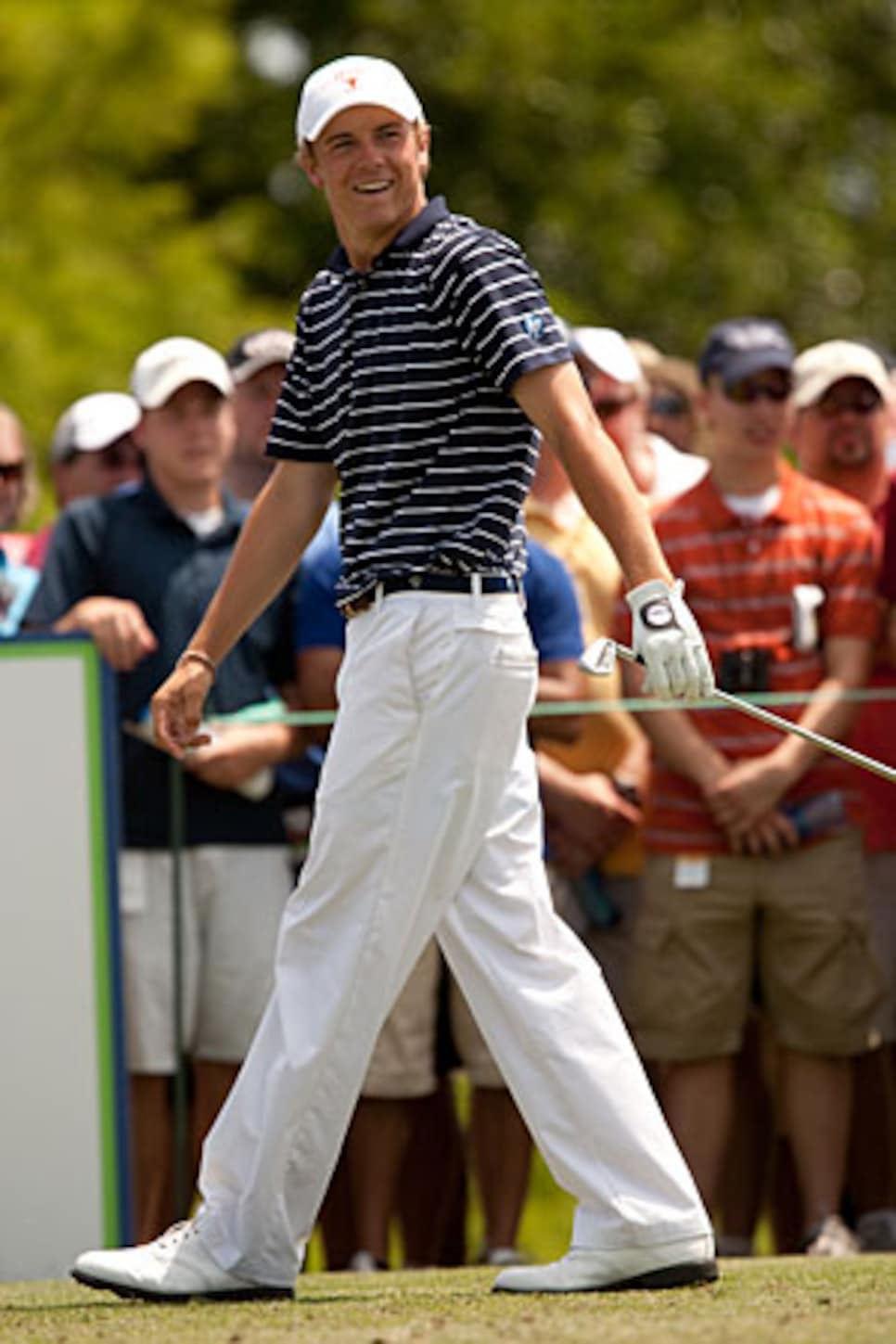 After a T-16 finish at the Nelson, Jordan Spieth will be back on the PGA Tour for the St. Jude Classic.
Prodigies come and go, but this Jordan Spieth kid looks and sounds like he's going to stick. "I was not even close to that good when I was 16 ... 17, 18, 19, 20, 21, 22. Maybe when I was 23 or 24. Very impressed," said his playing partner in Sunday's final round of the HP Byron Nelson Championship. That partner happened to be U.S. Ryder Cup captain Corey Pavin, who couldn't help but notice the homemade "Spieth For Ryder Cup" sign as they both warmed up on the range Sunday at the TPC at Las Colinas.
The day before, another Champions Tour golfer Tom Pernice had the seat next to Spieth, who addressed him as "Mr. Pernice," because the veteran had a daughter the same age, and because that's how Spieth addresses his parent's friends. "I just wish Byron Nelson were alive to see this," Pernice said when I reached him Saturday night.
What makes the 16-year-old Spieth different from Ty Tryon or Tadd Fujikawa or Michelle Wie for that matter, and closer to the next Ben Crenshaw, Justin Leonard or Scott Verplank is that he appears to be settled on doing it the right way, following Crenshaw's and Leonard's footsteps to the University of Texas, not rushing into pro ball right away -- the way Nelson champion Jason Day did at 18. That doesn't mean he won't be testing the waters or that opportunities won't flow. He's already received a sponsor's exemption into the Memphis-St. Jude Classic, where we'll see how he does without the hometown comfort blanket.
This was just one week, kind of like the magical week Justin Rose had at the 1998 British Open. But what a week of golf it was, with Spieth's classmates from Jesuit College Prepatory HS following him in numbers like those that followed the 17-year-old Tiger Woods around this same golf course in 1993. By comparison, Tiger shot nine over to miss the cut by nine. At the halfway point of this tournament, Spieth had him by 12 strokes. After 54 holes, he was in the top 10. And until a crippling double bogey on the 15th hole, he still had a chance to win the tournament. You can see why Pavin was impressed with Spieth's bulldog nature even under the crunch of a slow start, big galleries and Sunday pressure.
Verplank, a prodigy who won the Western Open as an amateur, spoke to it also from the perspective of someone who took lessons from Nelson, and who has seen Spieth grow up and shoot 60 on his home course, Brookhaven in Dallas. Like Pernice, he was also hinting that the Nelson, now up against the European Tour's premier event, and no longer the powerhouse it was when Tiger Woods and Phil Mickelson played, really needed him, and his story. "That's what's great about him," Verplank said. "Golf is looking to the next generation of kids that can play, stay out of trouble and entertain everybody, so obviously Rickie Fowler, these younger guys are coming up and Jordan has all the tools to help the game of golf, and he's gotten a lot of people out here this week."
Lord Byron would have sat up in his chair next to wife Peggy behind the 18th green and smiled approvingly as Spieth acknowledged the love. High School coach Cathy Marino, the former LPGA golfer who grew up with Pavin as the phenoms in California junior golf, was in the gallery observing. "Jordan has the great ability to get over the ball and have maximum focus," Marino said. "Then be able to look around, look in the crowd, and react to them."
Spieth still has to participate in a physics project before his finals, but he should just photocopy the four-day dissertation he gave on the power and kinetic energy of youth. When mixed with innocence it's a captivating phenomenon. "It brought back sense of wholesomeness Byron Nelson absolutely loved to see," said swing coach Cameron McCormick. "I've seen that since 12."
When he came to McCormick, Spieth had already shot 63 in a competitive round. The Aussie coach didn't want to mess with the open clubface right away, but ultimately made a tweak that gave Spieth more consistency. The grounding and athletic ability come from his parents Shawn and Chris, members of their respective basketball teams at Saucon Valley (Pa.) HS, and college athletes, with Shawn pitching at Lehigh and Chris playing hoops for Moravian College in Bethlehem, Pa. She described Jordan as the type of son who takes out the garbage, walks the dog and babysits his sister.
There were signs of his age that still came through, like when he described the "pimped out ride," he could buy with the $90,000 he would have earned by being a pro, or the way he rolled his eyebrows when Peter Kostis reminded him of the schoolwork he needed to turn in. The headline on the front page of the Dallas Morning News reflected it Saturday morning when it greeted the Metroplex with a big "Sweet" headline next to Spieth's photo.