News
Wilson Wins In Marathon Finale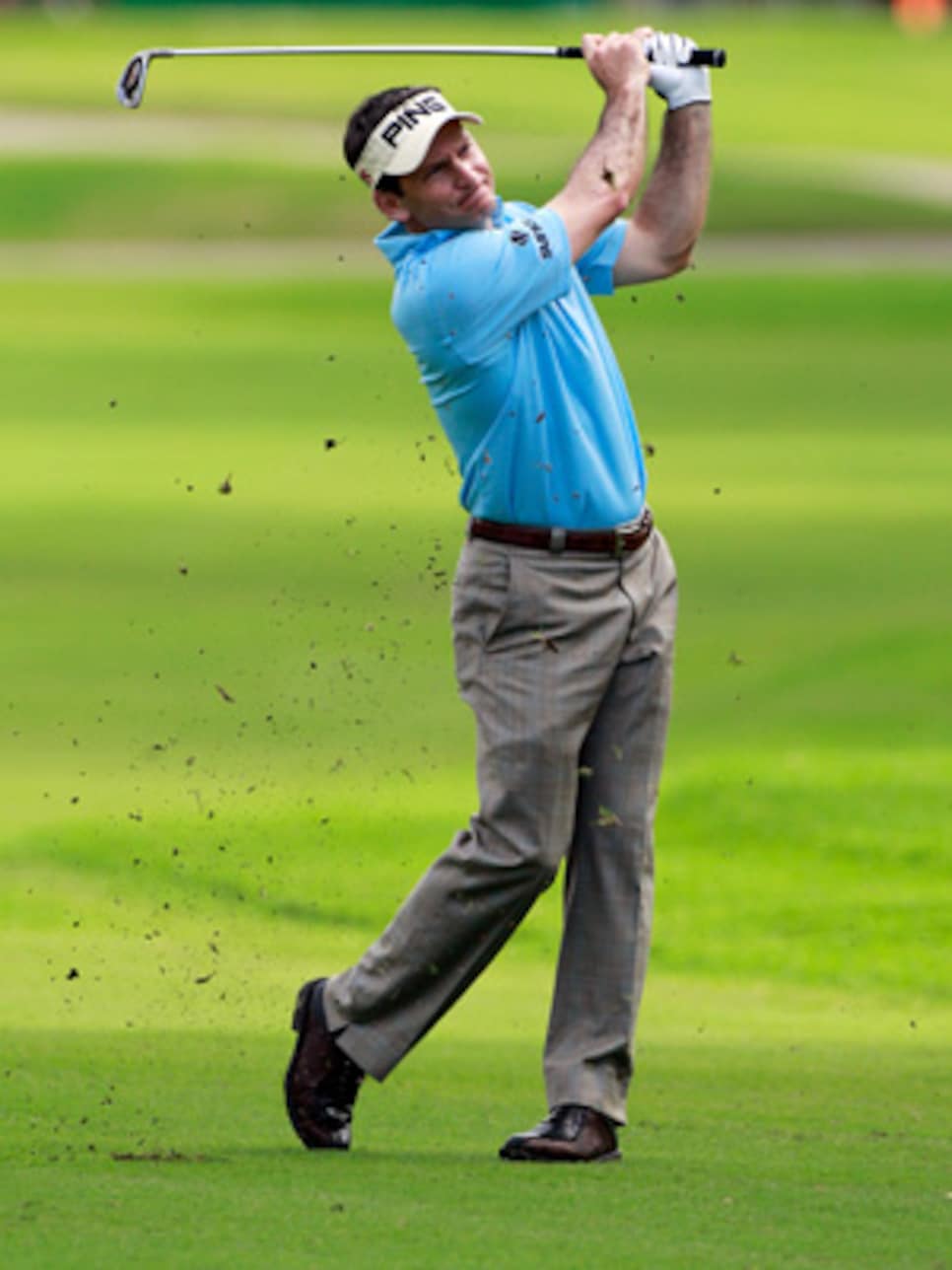 Wilson did not make a bogey over the final 36 holes.
HONOLULU (AP) - Mark Wilson made it through a 36-hole marathon Sunday without a bogey and held on for a two-shot victory in the Sony Open that will take him to the Masters for the first time.
Wilson shot a 5-under 65 in the morning to take a one-shot lead into the afternoon round. He stretched his lead to four shots at the turn, then had to hang on when Tim Clark and Steve Marino made late runs on different sides of Waialae.
Clark, who started the final round five shots behind, birdied three of his last four holes. He narrowly missed an eagle putt on the ninth hole and settled for a 64. Then came Marino with two late birdies and one incredible shot that at least gave him hope.
Two shots behind on the par-5 18th, with his feet in the bunker and his ball about chest-high on the side of a hill, Marino blasted a fairway metal from 234 yards away that landed on the front of the green and rolled 40 feet away. His eagle putt narrowly missed, giving him a 68.
Wilson made one last birdie he didn't need, giving him a 67 for his third career victory.
"It was nice to go right to the tee and not have to think about it," Wilson said of having only a few minutes before the third and fourth rounds. "I'm thankful it's over now."
Wilson, who finished at 16-under 264, played his final 40 holes without a bogey. That proved significant at a couple of points in the final round. He got into trouble on the eighth hole and was 150 yards out in the fairway playing his third shot, sure to lose some of his two-shot lead. But he stuffed it to 7 feet for par, then birdied the ninth to expand his lead to four.
Even bigger was his par on the 17th, even though Wilson didn't realize it.
Clark had already finished at 14-under 266. Marino was starting to charge with back-to-back birdies to get to 14 under, while playing in the same group with Wilson.
Wilson hit into a bunker and blasted out some 12 feet past the hole. But his par putt caught enough of the lip to fall, and he clutched his fist. Only later did Wilson reveal that he didn't look at a leaderboard, not wanting to think about anything but making birdies.
He asked his caddie as they walked toward the 18th green where they stood, and the caddied told him, "Just get it up-and-down." Wilson obeyed, pitching to 4 feet. The putt became easier when Marino missed his eagle.
The victory, worth $990,000, was important to Wilson for a couple of reasons. He is in the last year of his exemption from winning in Mexico in 2009, and he is coming off a poor season in which he had only two top 10s.
And then there's the Masters.
Augusta National did not invite winners of most PGA Tour events until 2007, a month after Wilson won the Honda Classic. His win in Mexico didn't count because it was an opposite-field tournament, the same week as the Match Play Championship.
Jimmy Walker closed with a 68 to finish alone in fourth, while Matt Kuchar and Matt Bettencourt were another shot back. Stuart Appleby and Shigeki Maruyama, who started Sunday tied for the 36-hole lead, never got going. Maruyama had rounds of 70-69 to tie for seventh, his first top 10 on the PGA Tour in two years. Appleby didn't make a birdie until the final hole of the last round and shot 72.
From top to bottom, 56 players were separated by only seven shots going into the final 36 holes, a recipe for anyone winning from anywhere. But on a quiet day near the shores of Waikiki, there was little movement.
Wilson chipped in from behind the third green for birdie and kept bogeys off his card a 65, the best score of the third round. It gave him a one-shot lead over Marino, who had a 66, but certainly not much room for error.
Kuchar pulled within one shot early in the fourth round, then dropped out with two straight bogeys. Marino stayed in the picture until a bogey on the eighth, failing to birdie the easy par-5 ninth, and hitting two poor wedges for a bogey on the short 10th.
The big move came from Clark, and he was on the other side of the course.
Because of the 36-hole final - forced by a washout in the first round Thursday - players did not change groups for the afternoon. Clark started the day six shots out of the lead, shot 66 in the morning and made his move on the front nine - his last nine holes. His birdie on No. 6 took him to 12 under, then he nearly made an ace on the par-3 seventh for a tap-in birdie and gave him two good looks at the end.
A 10-foot birdie putt on No. 8 caught the left lip, and his 15-foot eagle on the ninth never had a chance.
"I kind of figured if you could get it going around here, I might still have a chance, even though we were on different nines," Clark said. "This back nine, I kind of got it going there with some iron shots. A few putts would have helped, but very pleased."
With the runner-up finish, Clark should move to No. 20 in the world. With Charl Schwartzel winning the Joburg Open earlier Sunday, that means South Africans will occupy the first five spots in the Presidents Cup standings.