News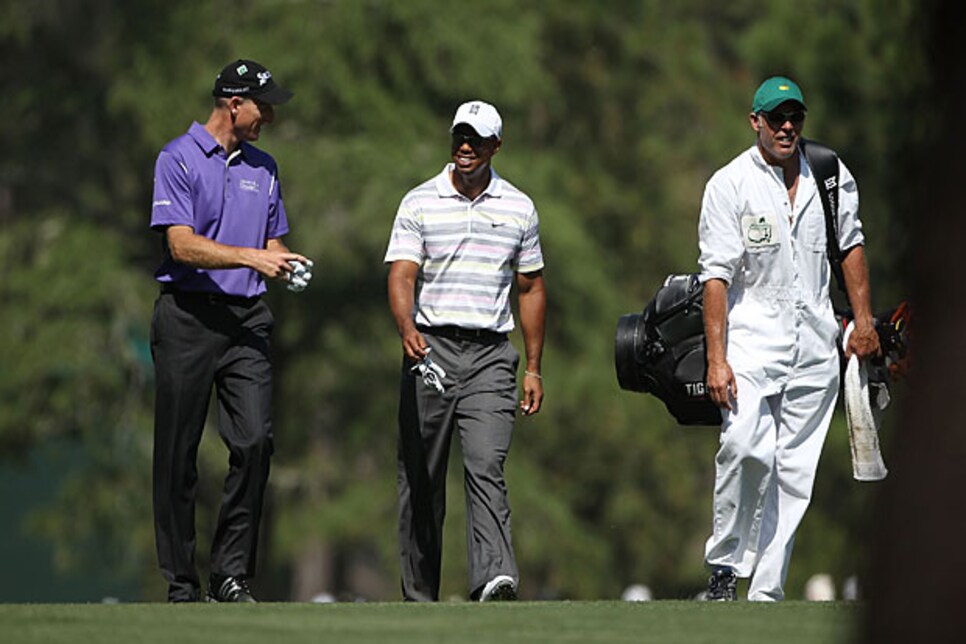 Woods can look no further than Jim Furyk, a winner twice in 2010, for inspiration.
Back in simpler times, "slump" was a word that hit Tiger Woods' hot button like no other. When he was in the midst of the transition from Butch Harmon to Hank Haney, Woods would not only insist in post-round interviews that he was "close," he would become hypersensitive to even the slightest suggestion that his game had dipped from his standard of dominance.
Even back before he left Harmon, Woods walked off an interview with NBC's Jimmy Roberts after winning the Players in 2001. "Nice slump, huh Jimmy?" Woods said before exiting in the middle of Roberts' tag. Roberts, who never implied Woods was in a slump, went on to write a book about slumps, and while Woods wasn't one of his subjects, everybody from Jack Nicklaus on down shared their experiences without an edge.
While Nicklaus never had to recover from the type of personal turmoil Tiger is experiencing, Jack fought through dry spells from 1975-78, 1978-80 and 1980-86 -- in every case bouncing back with major titles. Tiger's missed cut at Quail Hollow followed by his withdrawal from the Players because of a neck injury doesn't constitute a slump. But it does represent the lowest point of his career -- to the extent that a full-on slump might not be far behind.
Nicklaus said that after the 1979 season he got away from the game, hardly touching a club from that September until the following January. Two majors resulted, the 1980 U.S. Open at Baltusrol and the PGA Championship at Oak Hill. Instead of getting away from the game, Woods appears to be doing just the opposite, completing the paperwork to enter the 2010 U.S. and British Opens, while keeping Nicklaus' Memorial Tournament on hold while his neck heals. Jack's tournament, which he has won four times, including last year, has always been a haven for Woods, a place where Nicklaus has rubbed off on him. If Woods needs reps, as he said before walking off on Sunday at Sawgrass, then there's no better place to get it -- or gauge the state of his game -- than Muirfield Village.
The heart of the season comes fast after that. Two weeks later is the U.S. Open at Pebble Beach, where he won by 15 strokes in 2000, and the British Open at St. Andrews, where he has won two of his 14 major titles. If Woods doesn't turn his golf around on the venues he basically "owns," then he will be dogged by the slump question into the summer. Nicklaus told the Palm Beach Post on Tuesday that he doesn't expect that will be an issue. "If he's healthy, those two golf courses -- he owns both of them," Nicklaus said. "Basically the same as I did."
If Roberts ever decides to go back for Volume 2, he would have plenty of fresh material -- even without Woods' cooperation. Adam Scott, who dropped from No. 3 in the world to No. 69 before getting off his surfboard, is the latest world-class player to get the slump monkey off his back. Healing from mental and physical wounds, Scott won last week's Valero Texas Open to end a winless streak of two years.
But as Scott illustrated, this was more than just a winless streak. This was a streak where he missed cuts in bundles, shot scores in the 80s, dropped Butch Harmon as his swing coach and sought counsel from those who came out of slumps of their own. Two years ago, when a disconsolate Scott was coming off an 82 to miss the cut at the Barclays, I saw him seek the wisdom of Ernie Els on the range at the TPC-Boston. Earlier that year, Els broke a winless streak of his own at the Honda Classic. Following a 2004 season when he was on the cusp of winning all four majors, Els blew out his ACL in a tubing accident on the Mediterranean in 2005, then fell into a deep funk that lasted more than three years.
But there was nothing Els could say that could get Scott totally back on track to the top 10. Slumps need to run their course, the answers dug out of the dirt, the brain cleared of all debris. Greg Norman sensed a recovery when he picked Scott to be a member of his 2009 Presidents Cup team. "Everybody goes through slumps for different reasons," Norman said at the time. "Maybe it's not our game but maybe something else is just a little big out of sync in his life to put him in that situation."
The Shark was referring to Scott's break up with long-time girlfriend Marie Kojzar, followed by relationships with actress Kate Hudson and tennis player Ana Ivanovic, along with the purchase of a $75 million Gulfstream G450 business jet. Scott was clearly not slumping off the course, and just needed a shot of confidence to turn his career around.
Norman provided that with a captain's pick. Scott went 1-4 at Harding Park, but then rattled off three-straight top-10s before following up with a victory at the Australian Open in December. After Scott won on Sunday, I reached Greg Norman at home in Jupiter, Fla. He would take no credit for the turnaround. "I'm just happy for the guy finding the form we knew he had in him," Norman said. "He doesn't deserve to be whatever his ranking was ... He was just too good of a player."
Els went through another two-year slump after announcing son Ben had autism, but came back this year to win the WGC-CA Championship at Doral and the Arnold Palmer Invitational in March. After going two years without a victory, Jim Furyk won the Transitions Championship and Verizon Heritage in a four-week stretch. On the same weekend Scott won in San Antonio, Se Ri Pak ended a career-worst 56-tournament slump with a playoff win at the Bell Micro LPGA Classic.
Like Scott, Els, Furyk and Pak, Robert Allenby has been too good of a player to go almost nine years without a victory, but a car crash in 1996 followed by injuries have led to prolonged periods where he didn't even contend. This year he altered his swing by favoring a twisted ankle suffered slipping on a curb in Honolulu.
"The most important thing is just be patient and see it out," Allenby said Tuesday. "It's so easy to get frustrated when you're not playing well; the more patient you are, the more trust you have in doing the right things will get out of the slump the quickest."
As Allenby observed of Scott at the Presidents Cup, and later out on tour, Scott had the proper attitude. From one Aussie to another, his metaphor seemed an appropriate one to follow. Woods can learn from it, too, since he just experienced golf's ultimate wipeout. "Ride the wave as long as you can, because you know the wave is going to crash," Allenby said. "Then, it's just a matter of getting back up on another wave."