News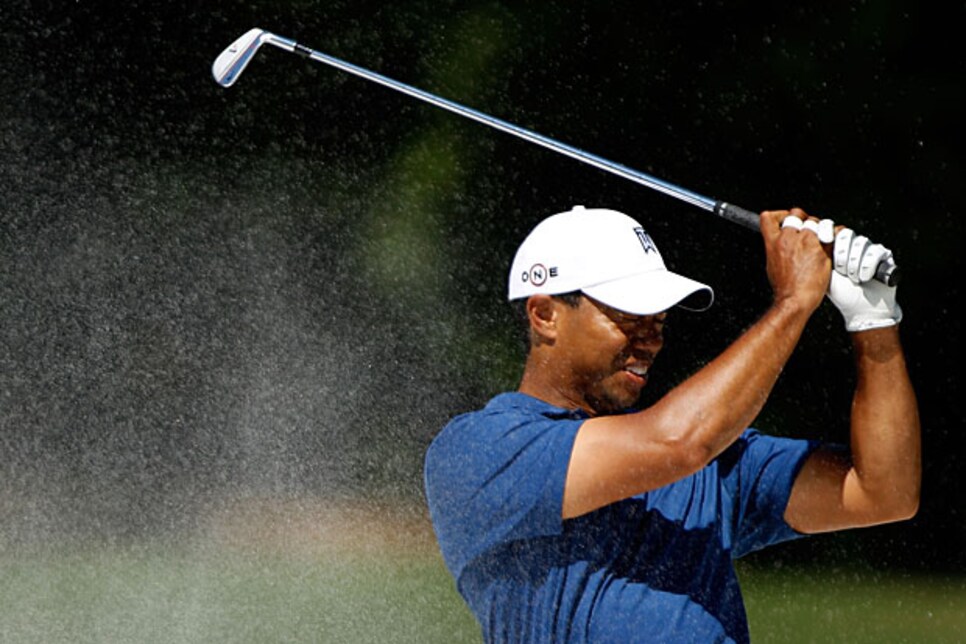 Woods made back-to-back double bogeys on his way to missing the cut at Quail Hollow.
CHARLOTTE, N.C. -- There has never been any truly great golfer who has made as many 12-foot, par-saving putts as Tiger Woods -- nor has there been any truly great player who has needed to. It is when Woods has complete confidence in his short game -- especially the putter -- that he can put his full Tiger on and go flag hunting. That's when he goes low. That's when he is scary.
And that Tiger Woods has yet to show up this year, and given all that has gone on perhaps that should come as no surprise. Woods was once again all over the place in the second round of the Quail Hollow Championship, pretty much about as sloppy as you will ever see Woods play. His startling 79 on top of an opening-round 74 put him at 153, well outside the cutline and on his way home to practice for next week's Players Championship.
"I didn't play well, and more importantly my short game wasn't very good," Woods said after a 43 on the back nine that included back-to-back double bogeys and a three-putt on No. 15 from 3½ feet. "I get the weekend off and I get to watch to see how it is done," he said forcing a smile.
Woods last missed a cut at the 2009 British Open and this was only the sixth time in his 15-year pro career spanning 241 events that he has not played on the weekend. At one point Woods went a record 142 PGA Tour events without missing a cut. Frequently, Woods needed magic to keep that streak alive, and that magic did not follow him to Quail Hollow.
When he needed the best short game this side of Munchkin Land to save him, it failed to show up. On the front nine, he had a chance to hang in there but couldn't execute when he needed to, appearing to lose focus for long stretches.
On No. 3, he drove into the left trees then hit a breathtaking knockdown hook out of the trees and off the pine straw to 30 feet -- then squandered it with a three-putt bogey. He also needed three putts on the next hole and, after making a birdie on the par-5 fifth hole, chipped poorly on No. 6, leaving the ball eight feet above the hole, and made another bogey.
A 5-wood boldly played out of the bunker to a green guarded by water put him in perfect birdie position on the par-5 seventh hole, but he chipped through the green. All hope was lost on the first three holes of the back nine -- all bogeys. Then came the consecutive double bogeys on Nos. 14 and 15.
His two-way miss was still there -- missing fairways and greens both left and right -- and at one point on the back nine when his fate was pretty much sealed Woods uncharacteristically seemed to lose interest. The three-putt on No. 15 from 42 inches included two power lipouts that seemed to be screaming some sort of cosmic karma message. When he walked to the scoring tent, Woods was hot but had composed himself by the time he met with the media.
Woods has returned to competition following his five-month, self-imposed exile that included self-inflicted savaging by the tabloids possessing slightly less than his full game. Forget the drives that needed not caddie Steve Williams but rather Lewis and Clark to find -- Tiger has always been wild off the tee. It's the precision with the approach shots and especially the surgical touch of the short game that did Woods in at Quail Hollow.
And anyone who was paying close attention at the Masters would not be surprised that Woods missed the cut at Quail Hollow. Tiger hit some great shots at Augusta National, but he also had a bunch of good fortune on his side. Virtually every time his ball rattled around in the tall Georgia pines it got a fortuitous bounce toward the fairway rather than deeper into the forest.
This time there were no hole-outs for eagle form the fairway to shave off a couple strokes – as he did on No. 7 at Augusta National on Sunday. This time there were no birdie runs to erase his mistakes, as he did twice at the Masters. This time Woods seemed to be finally feeling the hangover of all he has gone through since Nov. 27. The emotional gas tank appeared to be empty.
If there was good news for Woods, it was in the reaction he received from the more than 35,000 people who packed the sold-out event. They were louder, more appreciative and more personal that at Augusta National. Shouts of "Go, Tiger" and even "Hang in there," were not uncommon.
And Woods responded -- or at least tried to. As he walked from No. 2 green to the third tee he slapped hands with fans hanging over the ropes. But as the poor shots piled up, the body language grew annoyed at first and then resigned.
There have been those who have speculated that Tiger would be able to pick right back up where he left off in terms of being a dominant golfer. But such an assessment is to sell him short as a human being.
Think of the turmoil he has gone through over the last six months, turmoil that is still going on. And think of the embarrassment he has experienced. As remarkable as his focus has proven to be over his career, it is unlikely he has been able to completely silence that inner voice that shouts of regret and doubt.
Woods has never really faced adversity in his career. There have been down periods but no serious slumps. Now he faces challenges on just abut every front imaginable. How he reacts going forward -- how he handles this missed cut and whatever happens next week at the Players Championship -- will tell us a lot about how he will handle the rest of his career, and whether he can still be considered a lock to get those five major titles needed to pass Jack Nicklaus.