News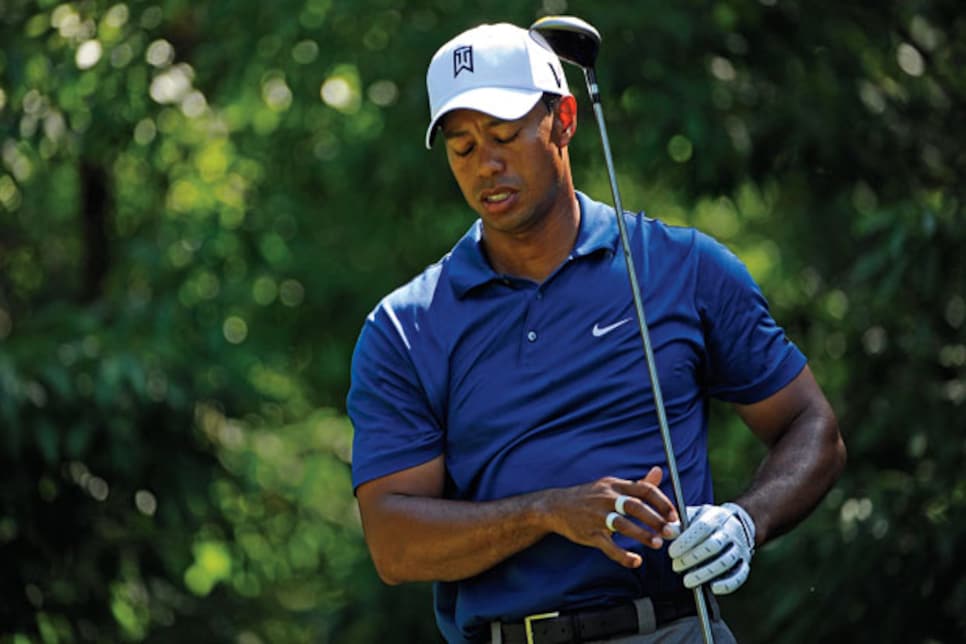 Freaky Friday: Woods' second-round 79 was fueled by a back-nine 43 that equaled the worst nine-hole score of his career.
Now the hard part begins for Tiger Woods. The somewhat triumphant return at the Masters, where he finished fourth, was washed away last week by a missed cut at the Quail Hollow Championship that was so startling in the magnitude of Woods' collapse that questions can not help but trail him into this week's Players Championship. The Quail Hollow Club may have provided a more accurate report card on the state of Woods' game than Augusta National, and it might have also provided a better measure of his emotional state in the wake of his private life being taken public.
Quail Hollow, a major championship-caliber course, is more penalizing of the errant tee shot than Augusta National, and the slick, contoured greens are as difficult for negotiating an up and down, especially from above the hole. Quite simply, the course exposed all the weaknesses in Woods' game -- both the mechanical and the mental. The adrenaline rush that helped carry Woods through the Masters was not present at Quail Hollow. The joy of the return was replaced by the reality of the challenges ahead.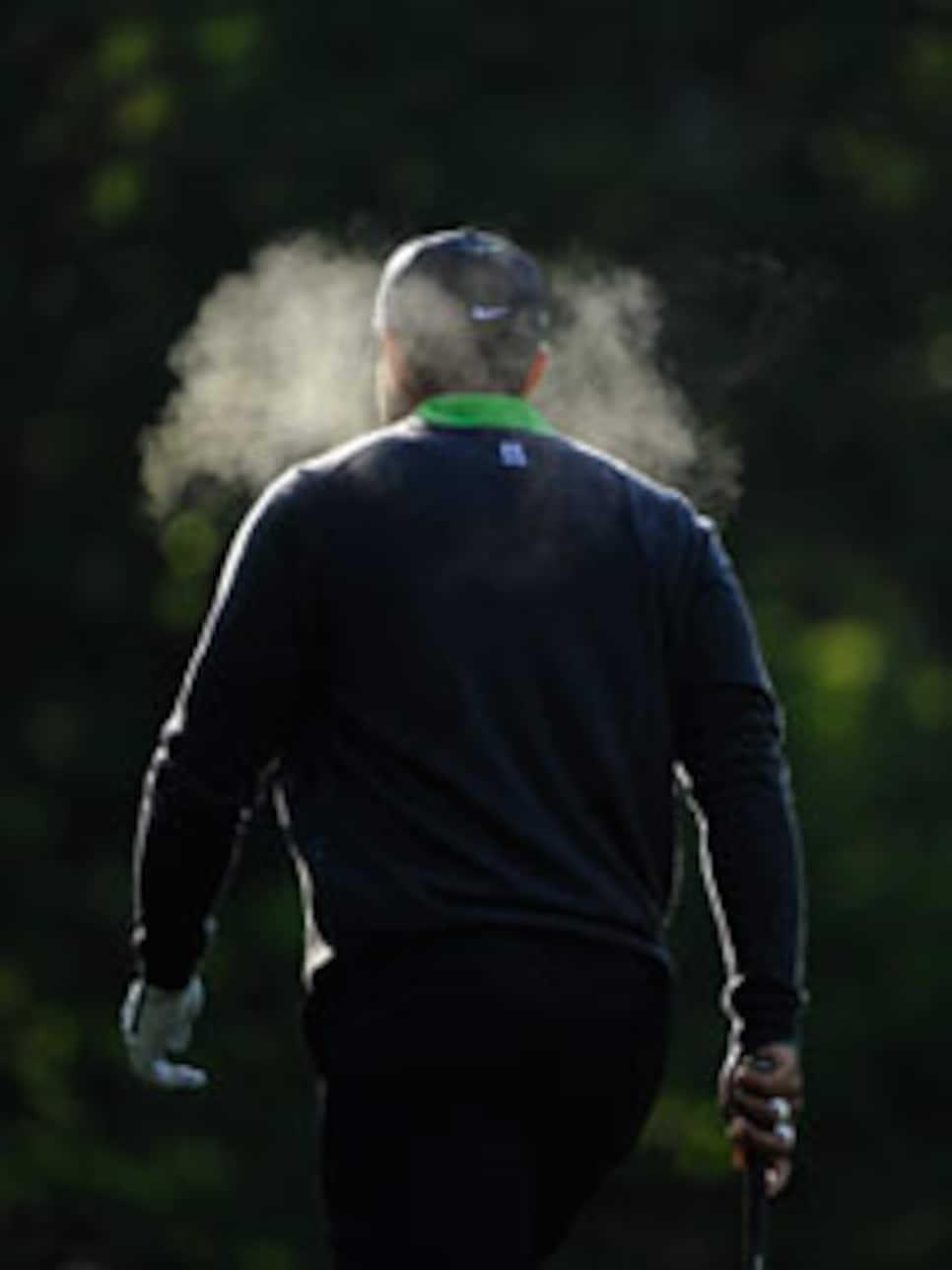 And when players engaged in private conversations about his missed cut, there was whispered wondering about the toll the last six months have had on Woods. "He's fried," said one player, "and after what he's gone through, who wouldn't be?" Another observed, "He's just not fully engaged in playing golf." A third assessed it this way: "He'll be back, and he'll be just as good, but it's not going to be as quickly or as easily as some think. A bomb went off in his life." All spoke on the condition of anonymity.
The troubling aspects of Woods' performance at Quail Hollow involved more than the mere numbers. Meaning exists not just in the facts but in context as well. A second-round 79, his second-worst score as a pro, might not be reason for alarm if not for all else that has gone on in his life since Nov. 27. Nor would a 43 on the back nine, or the missed cut itself, just his sixth in 241 career starts. They would also not be as troubling if they could be dismissed as merely mechanical issues. But Woods was also off with his mental approach, especially with his usually fierce focus.
The Woods who climbed into a private jet and winged away from Charlotte Friday evening looked tired, confused and defeated after needing 153 strokes for two rounds, the highest 36-hole score of his professional career. The mechanical problems were evident in his long game -- he was battling the two-way miss that has appeared at times throughout his career and hit only six fairways in two days -- and his mental issues were evident in his short game.
"I didn't play well, and more importantly my short game wasn't very good," Woods said after the second round. "I chipped poorly, putted poorly, but for the most part I didn't really hit the ball that poorly until the end when it was already pretty much out of reach."
Woods also came as close as he has to admitting the impact of the distractions swirling around him. "Every day I do media I get asked about it, so it doesn't go away," Woods said about how much his personal life was intruding upon his golf. "Even when I am at home, paparazzi still follow us, helicopters still hover around. Does it test you? Yes, of course it does. Is that any excuse? No, because I'm out there, and I have the same opportunity as everybody else in this field to shoot a good number, and I didn't do that."
Already outside the cut number after an opening-round 74, Woods appeared poised for a charge when he opened the second round with a birdie on No. 1. That was followed by consecutive three-putts on Nos. 3 and 4, then back-to-back poor chips on Nos. 6 and 7. Still, he turned in 36 and had a chance to play the weekend. But he missed makable par-saving putts on the first three holes of the back nine, hit an ill-conceived flop shot from above the hole into the water on No. 14 on his way to a double bogey, then four-putted the next hole, the final three coming from 3½ feet as frustration gave away to indifference.
"It is what it is," Woods said when asked if his swing was off or merely rusty after only six competitive rounds in six months. "Whatever it was, it wasn't good enough."
Hank Haney, who has been Woods' swing coach since 2003 and walked every hole with his pupil at the Masters, was not at Quail Hollow, fueling rumors that their working relationship was on shaky ground. Haney did not respond to multiple requests from Golf World for comment about Woods' game.
Woods began working with Haney in large part to eliminate the two-way miss that results when the club gets stuck behind his body on the downswing. That certainly was the case at Quail Hollow, as it was at the Masters where Woods was erratic but had enough bursts of brilliance to compensate. Those bursts did not happen last week.
"You can play with a miss going one way because you can plan for it," said Peter Kostis, the swing coach who is also a CBS TV commentator. "But if you are missing both ways, then you have to aim down the middle of the fairway, and you have only half the room for error. His problem is the same as it's always been, the sequencing on his downswing. His head drops, and he gets stuck and the club gets so far behind him."
Asked what role Woods' personal-life distractions could be playing on his mechanics, Kostis said: "When he's not played well, which is infrequently, this is the way he plays. But you can't discount the stress of the off-course issues. If you have more stress in your body, it is going to be difficult to maintain your composure and your swing mechanics." Kostis' CBS colleague Nick Faldo reinforced the point: "[The MC] should have happened at Augusta, but he got by on sheer grit. He has completely wrecked his prince-and-princess-in-a-palace life...No area of his life is at peace right now."
Part of Woods' brilliance has been his ability to compartmentalize. Few athletes get into the competitive cocoon as completely as he does. Even his mother, Kultida, says she has called out to him as he walks onto a tee box only to have his stare remain locked dead ahead, oblivious to all except his mission -- to play great golf. That focus was not present at Quail Hollow.
"It's frustrating," Woods said. "I didn't have much." That was a completely accurate assessment of both his performance and his effort at Quail Hollow. The question is when will what he did have return? The next evaluation begins this week at TPC Sawgrass, a course Woods has not handled well in his career.