News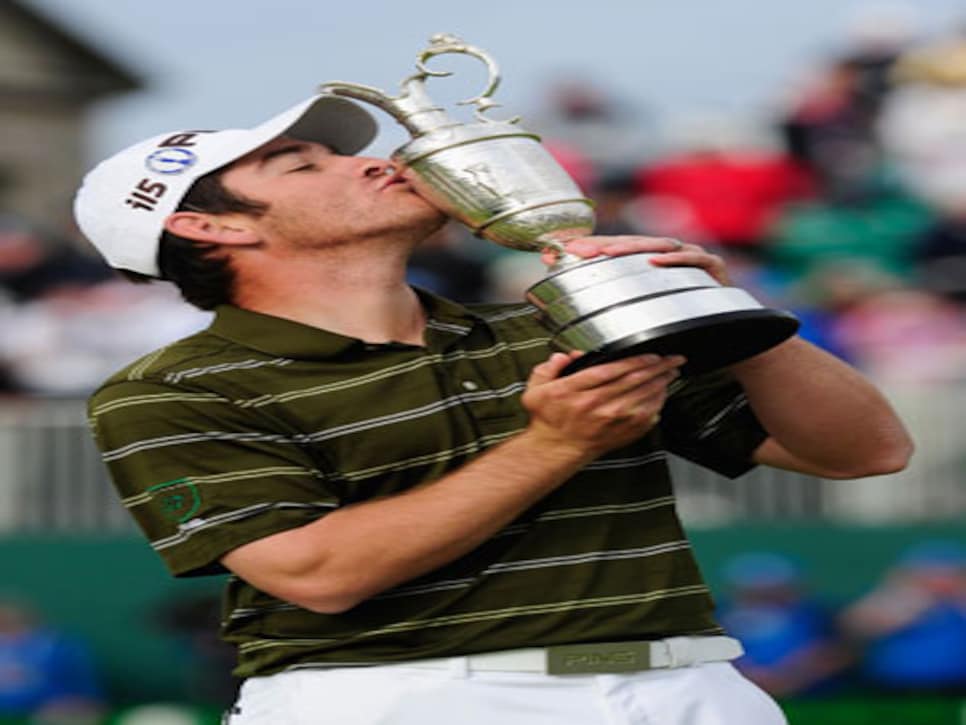 Oosthuizen finished at 16-under par for the tournament.
ST. ANDREWS, Scotland -- Early in the week, the Times of London erroneously referred to the British Open -- or, more properly, The Open Championship – as the Scottish Open. Perhaps they knew something the rest of us didn't know. The final-round leader board Sunday at the Old Course sure could have been from the Scottish Open, the Czech Open or any other European Tour event. There certainly weren't enough Americans on it to create any confusion.
But make no mistake about this: What this tournament lacked in excitement -- for the last three hours, the only tension concerned whether the engraver would spell "Oosthuizen" correctly on the claret jug -- it made up for in execution by its winner. Louis Oosthuizen, a Euro Tour member by way of South Africa, simply outplayed everyone on his way to a seven-stroke victory over Lee Westwood. It may have been dull, but it wasn't a fluke -- at least not this week.
"To win an Open Championship is pretty special, to win it at St. Andrews is unbelievable," Oosthuizen said after adding a closing 71 to three rounds in the 60s for a 16-under-par 272. "It was tight until No. 12," he said about the hole where Paul Casey made triple bogey and Oosthuizen birdied to open up an eight-stroke lead. The 27-year-old who carries himself with impressive maturity didn't come back to the pack and no one came to get him.
Chasing Oosthuizen rather ineffectually on a breezy but relatively benign Sunday was an assortment of European stars: Casey and Lee Westwood of England, Henrik Stenson of Sweden, Alvaro Quiros and Alejandro Canizares of Spain and Martin Kaymer of Germany. The Americans were never a factor. The best they could do were T-7 by Nick Watney and Sean O'Hair, 10 stokes behind Oosthuizen, who began the final round with a four-stroke lead over Casey, seven clear of Kaymer and eight better than Westwood, Stenson and Canizares.
Because none of those guys made a move, the final round had the thrills and chills of lawn bowling. There was a flurry of hope for a competitive finish when the margin was cut to three strokes after Casey birdied No. 6 and Oosthuizen bogeyed No. 8, especially when both drove the green on the par-4 ninth hole. But Casey missed his eagle try and Oosthuizen pushed the lead back to four strokes with an eagle putt from nearly as far away as Glasgow.
"I needed something to go in -- any birdie," Oosthuizen said about being one-over par through eight holes. He did it one better with the eagle. "When I hit it there was no doubt where it was going, it was tracking all the way. Then when Paul hit it into the bush on 12 and made 7 and I made birdie, I felt pretty confident."
That's when it was pretty much time to cue the vuvuzelas. South Africa, which had just hosted a successful World Cup, had its sixth major golf championship winner and 20th overall title. The question now becomes: Is Oosthuizen going to be Gary Player, who won nine majors, or Trevor Immelman, who has one.
"Gary phoned this morning and he spoke to me in Afrikaner, our language," Oosthuizen said. "He told me that the crowd would be for Paul today and that when he won his first Masters against Palmer [in 1961], he felt like people wanted to throw things at him. That meant a lot to me for him to phone me up."
It also meant a lot to Oosthuizen that he won on the birthday of Nelson Mandela, one of the black leaders in the successful fight against white minority rule in South Africa. When Player and Bobby Locke were playing in the 1950s and '60s, they were often greeted by protesters. "What he has done for our country is unbelievable," Oosthuizen said of Mandela.
Locke won four major titles -- all British Opens -- Ernie Els has three and Retief Goosen two, an impressive record for South Africa. Not as gregarious as Player, Oosthuizen seems to be a cross between Els and Goosen. He has the same low-key manner as Goosen, who has been accused of not having a pulse, but possesses the charm and easy humor of Els. He also has the same solid swing mechanics.
Among those who have come seemingly out of nowhere to win major championships in recent years -- Shaun Micheel, Ben Curtis, Todd Hamilton and Y.E. Yang come to mind -- Oosthuizen is easily the most impressive. He didn't sneak up on anyone, he was there from the beginning, opening this British Open with a 65 and following it with rounds of 67 and 69.
Oosthuizen faced the music every day in terms of the media and played with the pressure of being near the top of the leader board for pretty much the entire time he was here. "Everyone around me has told me it was just a matter of me believing," Oosthuzien said about his victory.
Certainly, playing in the second group out on Friday and finishing before the wind blew hard in the afternoon was a big break. But 67s are not gifts. They are earned, and Oosthuizen earned his. "I made good putts, I made putts when I had to," he said about his four rounds over the Old Course. "And I had the bounces. I had balls run around bunkers. But you need all of those things to win."
That is more than Tiger Woods could say. After a stroke average of 67.8 in his first nine rounds at St. Andrews as a pro, never shooting higher than 71, including victories in 2000 and '05 and an opening-round 67 this year, he finished with rounds of 73, 73 and 72 to finish T-23, 13 strokes behind Oosthuizen.
"If I got something going, I would somehow find a way to stop the momentum," Woods said. "I drove it great all week, hit my irons pretty good, and I did not putt well," he said, repeating a common refrain for him this year.
Much was made of the fact that this was an important year for Woods in his chase of Jack Nicklaus' record of 18 professional major titles. Woods has won half of his 14 majors at Augusta National, Pebble Beach and St. Andrews. Now he has gone 0-for-3 and that could mean uh-oh. Next up is the PGA Championship at Whistling Straits, where Woods finished T-24 in 2004.
So is Oosthuizen a fresh face to be contended on a regular basis, or flash in the pan? That's a question only time will sort out. Certainly, he never really had to respond to pressure on this Sunday at St. Andrews, but that's pretty much because he took care of business over the first three days. A dull finish? Absolutely. An impressive performance by Oosthuizen? No doubt. Makes you wonder what he'll do next.