News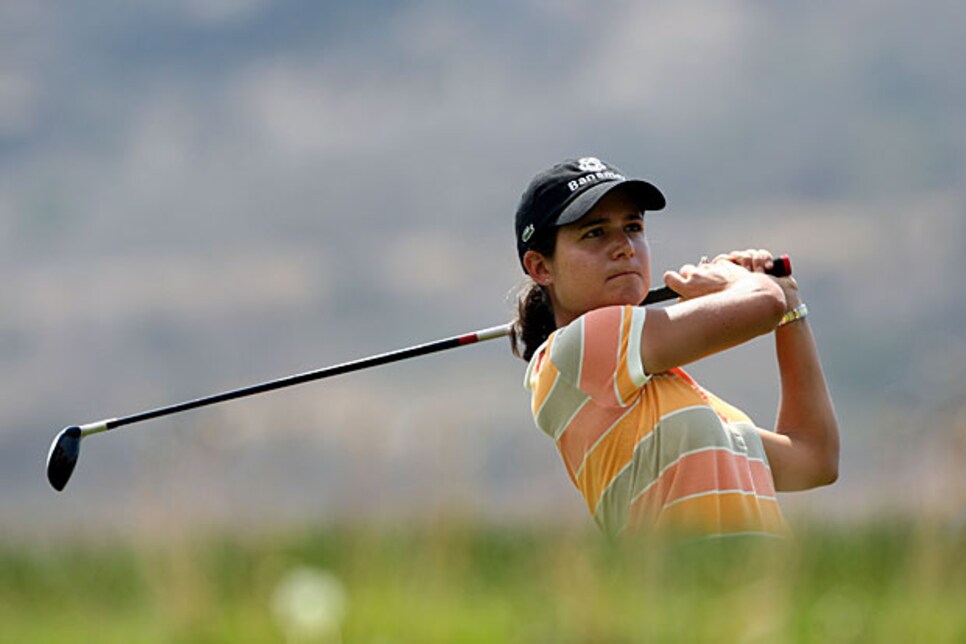 Ochoa leaves the LPGA as the No.1-ranked player in the world.
MEXICO CITY, Mexico -- Three years to the day after she replaced Annika Sorenstam as the No. 1 player in the Rolex Rankings, Lorena Ochoa confirmed Friday she was walking away from the game, saying, "After playing next week in Morelia, I am retiring from competitive golf and the LPGA."
Surrounded by family, friends and sponsors -- all of whom expressed their love for her and support of her decision -- Ochoa exited the game with the same joy and passion with which she played it.
The mood was more celebratory than sad, marking a beginning of the next stage of Ochoa's life rather than an end of a remarkable golf career. Cameras clicked constantly as she read her statement and its conclusion was greeted with spontaneous applause. Sorenstam was 37 when she announced she was retiring at the Sybase Classic in May 2008 and by September of the next year was a mother. Those who know Ochoa well say they would not be surprised if she followed a similarly rapid path to motherhood.
"Today is the most special day in my career," Ochoa said, speaking in Spanish and wearing a golf hat. "Every career has a beginning and an end, and we are at the end." Addressing her parents she said, "You taught me to fight for my dreams." And in speaking of her husband, Andres Conesa, who she married in December, she said, "We want to have a family. I can tell you I am the happiest woman in the world."
For the second time in less than two years the LPGA watched as its best player abruptly hung up her spikes. And Ochoa is leaving the stage nearly a decade earlier than her predecessor Sorenstam. She also leaves as one of the two or three most popular athletes in Mexico -- right up there with any soccer player. That was clear from the turnout at her farewell press conference.
Speaking before an overflow and emotional gathering -- more than two dozen TV crews jammed the room in a modern convention center overlooking a racetrack -- the 28-year-old Mexican said, "I will never forget the last eight years. I wanted to play with the best players and I wanted to represent Mexico worldwide and I achieved that."
Ochoa also left the door open for appearances in professional events. She said she will host her tournament in Guadalajara in November and indicated she would be open to accepting some sponsor invitations. "This does not mean I am going to stop playing golf," she said. "I am going to keep in shape. While I will not be an active member of the LPGA, I will play my tournament as hostess and perform for my sponsors."
As for the timing of the announcement, Ochoa said. "First, I wanted to retire as No. 1," a position she has held since April 23, 2007. "Second, I always dreamed of saying goodbye in Mexico. Now, I want to leave and enjoy everyday life. I want to give back to my family the times I haven't been able to give them the last eight years. I am very satisfied with my achievements."
While Ochoa has long said she would retire early to focus on raising a family and running her foundation, which provides educational opportunities for the less fortunate in a country with many who meet that description, this announcement comes several years earlier than expected. She had always targeted her early 30s as a departure date.
And though Ochoa has enough points to gain entry to the LPGA Hall of Fame, she would not have the 10 years of active participation as a player needed to be eligible until 10 events into the 2012 season. Ochoa still could gain entry to the Hall, however, by a vote of the Veterans Committee after five years of inactivity.
The decision to step away at this time made clear her priorities. Life changed greatly for Ochoa in December when she married Conesa, an Aeromexico executive, and became stepmother to his three children. Those close to her said she started thinking seriously about retirement during the season-opening Asia swing in Thailand and Singapore.
Ochoa struggled with her game in Asia -- finishing T-18 in Thailand and T-38 in Singapore -- and missed her new family. The tour was then off for three weeks and she had time to think. By the time the schedule resumed with the Kia Classic at the La Costa Resort in California, where she finished T-52 in late March, she had made up her mind to walk away.
At the Kraft Nabisco Championship the following week, Ochoa on several occasions flashed the previously uncharacteristic temper that had become more common over the last year or so. She banged clubs and threw golf balls on her way to a T-4 finish. It now appears part of her frustration was that she wanted to go out a winner. She will have that opportunity next week in the Tres Marias Championship.
In fact, Ochoa goes out T-19 on the all-time LPGA list of winners with 27 career titles. Among those victories were two major championships, which came consecutively at the 2007 Ricoh Women's British Open and the 2008 Kraft Nabisco Championship. When history does judge Ochoa, the fact that she won just two majors -- T-26 all time -- will stand as a deficiency on her resume.
"I want to tell you I am very happy and I am feeling very peaceful," she said. "The best present from God has been my foundation. My commitment to Mexican society is strong. Now, I am going to have more time with you."
In addition to being a great player, Ochoa will also be remembered as one of the nicest people in the game. On a tour that has more cliques and factions than exist in the backroom of a major political party, there was never anything but a kind word about Ochoa. Relentlessly cheery, she even greeted the media with a singsong "Hello" before every interview session.
The departure by the No. 1 player is sort of like the leader of a political party stepping aside. A mad scramble now begins to determine her successor, and right now there are several candidates with no clear No. 1. Since the Rolex Rankings were created in 2006 only Sorenstam and Ochoa have held the top spot and, more informally, one of those two has been the best in women's golf for more than a decade.
The contenders for the top spot reads like the United Nation's roll call that is the LPGA. No.2 Jiyai Shin of Korea; No. 3 Yani Tseng of Taiwan; No. 4 Suzann Pettersen of Norway; No. 5 Ai Miyazato of Japan and No. 6 Cristie Kerr of the United States.
Also in the mix are two other Americans, No. 9 Michelle Wie and No. 11 Paula Creamer, who is recovering from thumb surgery and expects to be back in June. An American has not been the LPGA Player of the Year since Beth Daniel in 1994 and has not led the money list since Betsy King in 1993.
Ochoa's departure creates an opportunity for other Americans as well, including rookie Amanda Blumenhurst and second-year players Vicky Hurst and Stacy Lewis. Looming is 15-year-old Alexis Thompson, who is expected to turn pro after the Curtis Cup in June, and who would likely petition the LPGA for an exception to the 18-year-old minimum age rule when she turns 16 on Feb. 10 of next year.
Anyone who follows Ochoa as the face of the LPGA is presented with a twofold challenge that involves much more than compiling wins. First of all, Ochoa was a dynamic personality on the golf course who played an aggressive style -- making birdies in bunches. Her distinctive head-bob swing could be indentified hundreds of yards away. She had pizzazz.
In an era of cookie-cutter swings turned out by golf academies, Ochoa's was unique. "It's not a swing you would ever teach anyone," says TV commentator and Hall of Fame member Judy Rankin, " but why would you change it?" It was fun to watch and it produced.
The second challenge for Ochoa's successor will come off the golf course. Lorena never declined an interview request and always signed autographs. The work Ochoa does with her foundation in Mexico and her plans for a learning center in California serves as role models for how to give back to the game -- and to society. For Lorena, she always played for all of Mexico.
"I want to thank all the Mexican people," she said in her farewell, "and all the fans who have been following me throughout the world. My career will be something special for those who want to reach for their special skills. If I can do it I am sure many Mexicans can do it."
When Ochoa finished her announcement she smiled, waved and turned from the podium and stepped away from competitive golf. But she also stepped into a new life, one that promises to be even richer in its experiences and more successful in its accomplishments. Lorena Ochoa was always about more than golf -- she was about people. Now she was going back to being one of them.