News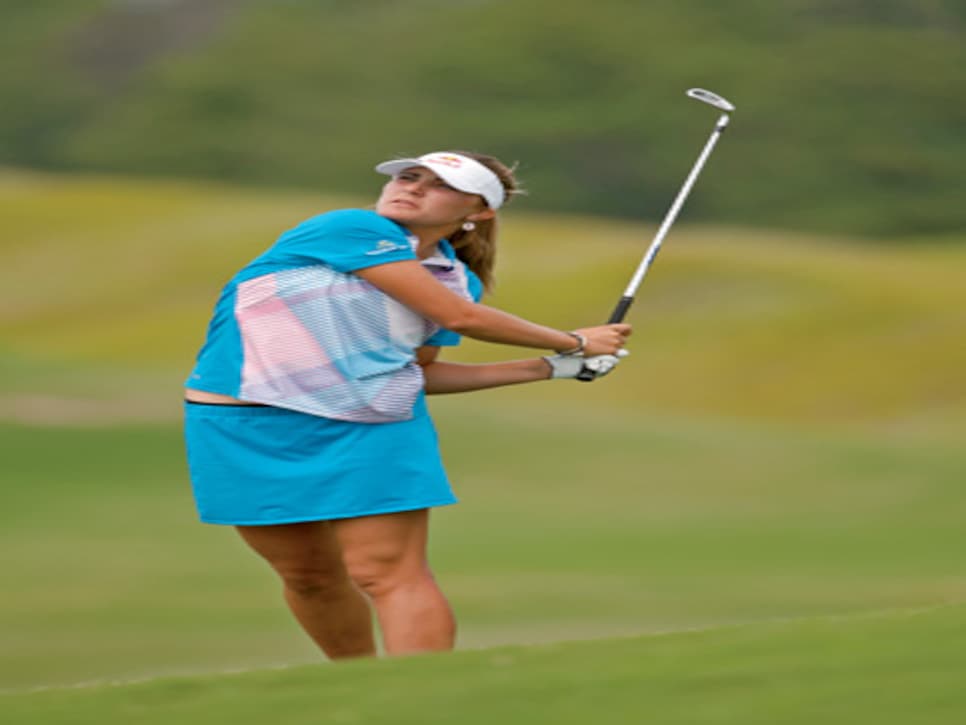 Almost as soon as the final putt dropped at the Navistar LPGA Classic, making 16-year-old Alexis Thompson the youngest winner in the LPGA's 61-year history, the attention-starved tour got its biggest media bump since Michelle Wie flirted with victory in three majors in 2006, also at 16. Everyone was talking about Lexi, and just like that, the difficult question of whether to grant her an exemption to the tour's minimum age of 18 became a lot easier. Sometime after the Solheim Cup ends Sept. 25, Thompson will ask for -- and receive -- LPGA membership.
Commissioner Mike Whan, who has already ruled that Thompson would get a tour card despite her age if she makes it through all three stages of Q school this year, flew overnight from Alabama to Ireland for the Solheim Cup. When he landed Monday morning, he moved off his statement from Sunday afternoon in which he said Thompson's victory would not bring with it the tour membership that comes to everyone 18 and older who wins.
"Awesome win -- congrats from all of us at the LPGA," Whan told Golf World in an email when asked if anything had changed involving Thompson. Then he added: "As you know, there is nothing for me to say or react to, until (or if) they petition." That sounds like a commissioner ready to embrace a teen that fans and sponsors want to see more of. The petition for an age exemption could be waiting for Whan when he returns from Ireland.
"We are filing a petition, but we are not going to do anything that detracts from the Solheim Cup," Bobby Kreusler, Thompson's agent for Blue Giraffe Sports, told Golf World by phone Monday from a noisy Waffle House in Prattville, Ala., where Team Thompson was having a celebratory breakfast. Asked what that meant about Stage II Q school beginning Sept. 26, Kreusler said: "We are not going to be in Venice, Florida."
That implies an agreement was already in place with the tour. "I believe ultimately everyone will be on the same page," Kreusler said, a further indication a deal had been struck. After breakfast, Team Thompson drove to Atlanta then flew to New York for media appearances, no doubt also looking to add to endorsement deals that already include Puma, Cobra, Rolex and Red Bull.
"I can't even describe the feelings that were going through my head this whole week," said Thompson, now No. 44 on the Rolex Rankings after her win at the RTJ Golf Trail Capitol Hill Senator Course. "I was definitely a little nervous, but they were controllable. Once I hit the first tee shot it was like, 'All right, I'm good.' " For the record, she finished at 17-under 271, five strokes clear of Tiffany Joh.
History is not new for Thompson. In 2007, at 12, she became the youngest to qualify for the U.S. Women's Open. That same year she was the youngest to win the Junior PGA Championship. Lexi won the 2008 U.S. Girls' Junior and in 2009, Monday-qualified for the Navistar, tied for the lead after two rounds and finished T-27. In April this year, she led the Avnet LPGA Classic after three rounds but closed with a 78 to finish T-19.
Marlene Hagge, then 18, won twice in 1952 in one-round events; Paula Creamer set the record for youngest multiple-round tournament winner when she triumphed at the 2005 Sybase Classic at 18 years, nine months and 17 days. Lexi shattered that mark by nearly 18 months. Wie never petitioned for an exception to the age rule. Creamer, Aree Song and Morgan Pressel were granted exemptions, but each turned 18 and graduated from high school in her rookie season.
Thompson, who is home-schooled, is a full year younger. "She is on track to graduate, early in fact, with excellent grades through a Florida state program of classes she takes at home," Kreusler said, stressing that education has not been abandoned in pursuit of Thompson's pro golf career and saying college is not out of the question for her down the road.
Certainly, she displayed a sharp learning curve Sunday. There was no collapse as at the Avnet, not even when Joh threw four consecutive birdies at her on the back nine and cut a seven-stroke lead to three. Thompson responded with birdies on 16 and 17, making the final hole a victory lap.
"I love it, just being there with my dad, he was like, 'Lexi, just enjoy that walk,' " she said about the stroll up No. 18 with her father, Scott, as caddie. "Just finishing with my dad on the bag, it was the best experience. I wouldn't be here without my dad -- and my mom, of course."
A star turn by Thompson would be a big boost for the LPGA, which has expanded in Asia but lost events in long-time U.S. markets such as Corning, N.Y., and has only 23 tournaments worldwide this year. The tour could hang its marketing hat on Lexi, a home-grown gal who is nearly 6 feet tall and routinely hits the ball 280 yards.
Thompson comes from a golf family, and that has helped her adjust to tour life. Her brother Nicholas is on the Nationwide Tour and her other brother, Curtis, plays for LSU. The family has followed a sensible course to the pros, giving Lexi ample experience on the amateur level before moving on. That measured approach will not be altered now.
"We are not going to change our philosophy and play 30 times around the world next year," Kreusler said, indicating Lexi's schedule will be 15 to 18 events. The LPGA would like to see those appearances be on its tour -- and as early as next week will issue the membership card to make it possible.