News
New Tiger's Schedule Could Look Familiar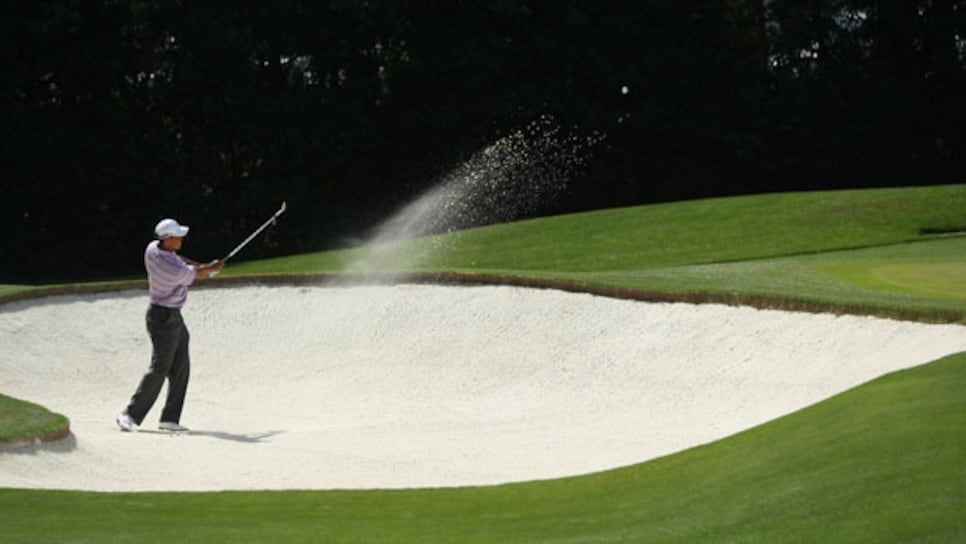 Same Old, Same Old: Woods has committed to Quail Hollow and has sent his entry to the USGA for the U.S. Open, which indicates he is back to his normal playing schedule.
The New Tiger Woods, with waves, tips of the cap and signed autographs, lasted pretty much until the weekend at Augusta National GC, when he found himself in the hunt at the Masters and his competitive fire -- in the form of the Old Tiger -- took over. Mixed in with sensational, though somewhat erratic, shotmaking were a few banged clubs, a couple of expletives, one petulant TV interview and enough scowls and sarcastic smiles to make fans believe nothing about Woods has changed. With his decision to play the Quail Hollow Championship next week, it appears as if the New Tiger is ready to resume the Old Tiger's schedule.
Woods loves the Quail Hollow Club. He won there in 2007, finished fourth last year, was T-3 in 2004 and T-11 in 2005. Tiger also likes the fact the pro-am involves two amateurs instead of four, meaning he has a better chance of picking who is in his group. Last year Woods played with Indianapolis Colts quarterback Peyton Manning and Charlotte banker and Quail Hollow club president Johnny Harris, who is an Augusta National member. In 2007 Woods played with former NBA star Michael Jordan.
While tourney officials say Woods won't know who he will play with until the Tuesday night draw party, the Quail Hollow pro-am has always had a fair amount of celebrities, exactly the type of people with whom Woods would feel comfortable. In addition to Jordan and Manning, ­NASCAR drivers Jimmie Johnson and Michael Waltrip, former NBA star Julius Erving, ESPN celebrity Chris Berman and college football coach Steve Spurrier have all participated.
"We are very happy to have Tiger coming back," said tournament executive director Kym Hougham, although, as he pointed out, the tournament was preparing for its usual quality field, with or without you-know-who. Masters champ Phil Mickelson, runner-up Lee Westwood and Jim Furyk all entered early.
But the big story will be Woods. That he was able to go into the Masters nearly a half-year removed from competition and lugging the emotional baggage of all that has gone on in his personal life and still finish T-4 was rather remarkable. He likely also left Augusta thinking he could have won his 15th major if he had a few more tournament reps under his belt. The decision to play Quail Hollow seems to be a signal Woods intends to go into the U.S. Open at Pebble Beach much more prepared to win.
What does that mean? Last year, Woods followed Quail Hollow with the Players and then the Memorial, which is two weeks before the U.S. Open. This is an important year for Woods in his pursuit of Jack Nicklaus' record of 18 majors. Tiger won by 15 strokes at Pebble Beach in 2000 and has captured the last two British Opens at St. Andrews, including an eight-stroke romp in 2000. It would be a setback to allow two such favorable venues for him to slip by without winning at least one of them.
Winning is also the best way for Woods to make his personal mess recede into the background. The only way Tiger can get people to stop talking about his personal life is to accomplish enough professionally that his game becomes the conversation. It's also not a stretch to assume he'll resume a normal playing schedule because efforts to save his marriage to Elin Nordegren apparently have been abandoned. Asked if it would be going out on a limb to say the marriage is over, a source familiar with the situation said: "You'd be sitting in the strongest treehouse ever built."
What could the rest of the year look like for Woods after the U.S. Open? While he has rarely committed to a PGA Tour event as early as he did to Quail Hollow -- he usually waits until the 5 p.m. deadline the Friday before the tournament -- Woods' schedule has had considerable regularity. The scandal and its impact on some of his now-former sponsors, however, will make for some interesting decisions.
Two weeks after the U.S. Open is the AT&T National at Aronimink GC near Philadelphia. AT&T dropped Woods as an endorsement partner, but the tournament benefits the Tiger Woods Foundation, which means Tiger will most likely play. The British Open is two weeks later. The next sure thing after the British is the WGC-Bridgestone Invitational at Firestone CC in Akron, Ohio, where he has won seven times, including last year.
The week after the Bridgestone is the PGA Championship at Whistling Straits, where Woods was T-24 in 2004. The PGA Tour Playoffs begin two weeks later with the Barclays at Ridgewood CC in New Jersey, not far from New York City, a place where Woods is likely to find his most vocal critics and where Mickelson is the fan favorite. It's a good bet Woods skips that one this year.
That means the Deutsche Bank Championship outside Boston over Labor Day weekend will be his 10th PGA Tour event of the year, followed by the BMW Championship at Cog Hill in Illinois the next week and -- assuming he qualifies -- the Tour Championship at East Lake in Atlanta the following week. The Ryder Cup in Wales Oct. 1-3 counts as a PGA Tour event and would give Tiger 13 of the 15 events he needs to maintain his voting privileges as a tour member.
If Woods cares about maintaining those privileges he could add two events -- the RBC Canadian Open and the Greenbrier Classic are possibilities -- or he could apply for a medical exemption to the 15-tournament minimum because he missed the first six weeks of the season while in rehab. It would be interesting to see if Woods adds an event he doesn't normally play as a thank-you to the tour for standing by him during his hiatus, as it did when it provided the TPC Sawgrass clubhouse for his televised apology. If that happens, it would be the clearest sign yet that he is a New Tiger.