News
After Years Of LPGA Success, Koreans Troubled By Barren '11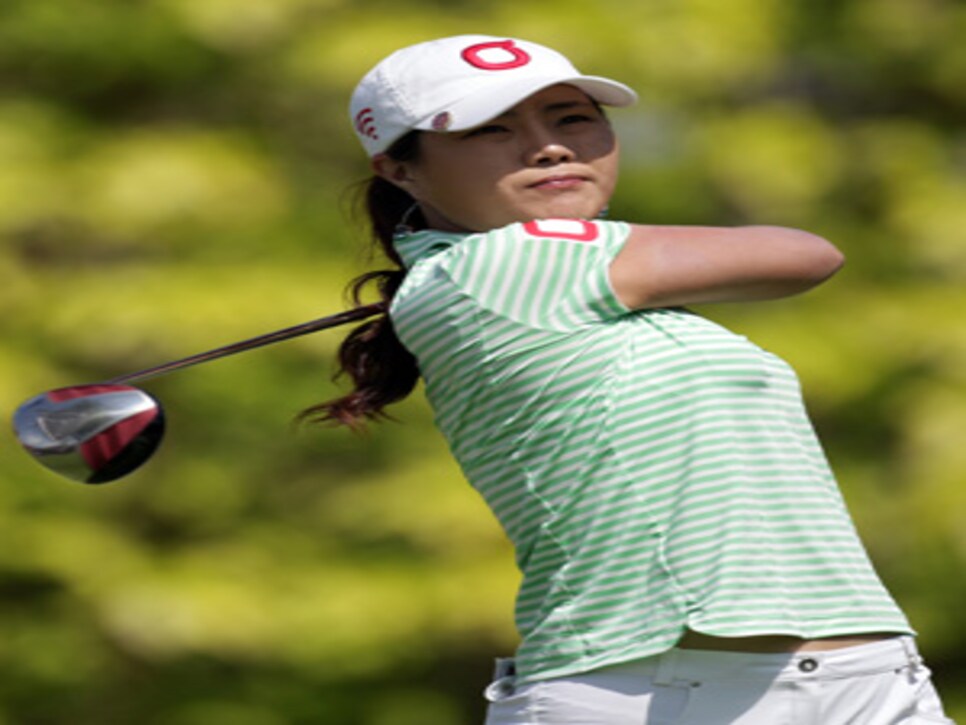 Meena Lee was the only Korean in the top 11 at the Wegmans LPGA Championship last week.
Here are words no one who follows women's golf closely thought they would hear anytime soon: Concern is starting to grow in South Korea about the lack of success by its players on the LPGA. The last time there were no Korean winners was 1997 -- the year before Se Ri Pak was a rookie -- yet with 10 tournaments in the books this year, including two majors, no Koreans have won. In Korea, where corporations reward female golfers generously and establish equally high expectation levels, the search for answers is underway.
Since Pak won four times in 1998 -- including the LPGA Championship and the U.S. Women's Open -- Koreans have averaged nearly seven LPGA wins a season, peaking at 11 in 2006 and 2009. Korean players have 29 victories over the last three seasons alone. But at the Wegmans LPGA Championship last week, the only Korean in the top 11 was Meena Lee, T-6, 13 strokes behind winner Yani Tseng. Jiyai Shin, No. 4 in the Rolex Rankings coming into the tournament, was T-34, while No. 5 Na Yeon Choi was T-43. No. 7 I.K. Kim finished T-12, 15 behind Tseng.
The explanations for the drought range from the coincidental to the conspiratorial:
Practice makes perfect: The work ethic of the Korean players is legendary. They are the first ones on the range in the morning and the last ones to leave at night. That discipline has spread to others. More players are practicing more.
Golf has gone global: As Americans have found out in all sports, advances in communications have reduced the size of the planet. People everywhere have been inspired by the feats of Tiger Woods and Annika Sorenstam. There are 123 international players from 25 countries on the LPGA this year, including 43 from South Korea. So far in 2011, three events have been won by Tseng of Taiwan, two by Karrie Webb from Australia, one each by U.S. players Stacy Lewis and Brittany Lincicome, and one by Sandra Gal of Germany, Suzann Pettersen of Norway and Maria Hjorth of Sweden.
That Tseng is the best player in the world reflects the growth of the game in Asia from areas outside Korea and Japan. And last year's rookie of the year, Azahara Munoz of Spain, shows the game is also growing in parts of Europe. Koreans are experiencing what Americans experienced: increased competition from around the world.
Going to great lengths: LPGA courses have gotten longer. There are some Koreans who feel this is a deliberate attempt to neutralize the generally shorter-hitting Korean players. Locust Hill CC, where the LPGA Championship was played, measured 6,365 yards when Shin won there in 2009. It was 6,534 this year, and the 169 extra yards make a difference in landing areas and how far tee shots run. Se Ri Pak (No. 11), Hee Young Park (No. 14) and Amy Yang (No. 24) are the only Koreans among the top 25 in driving distance. Shin is No. 79 at 248.7 yards per drive.
The ceiling for success: Although Koreans have won a combined 93 LPGA events, including 11 majors, the titles have been spread among 30 different players. Seven Koreans have won a major, but Pak with five is the only multiple winner. Of the 30 Koreans to win on tour, 15 have one victory and seven others have two. Other than Pak, there has really been no breakout Korean player, although Shin has that potential. Many have appeared to plateau.
Pak tops Korean winners with 25, followed by Mi Hyun Kim and Shin with eight (three as a non-member); Grace Park and Hee-Won Han with six, Seon Hwa Lee and Choi with four and Kim with three. Although six Koreans have been rookie of the year, none has been player of the year, not even Pak. It wasn't until 2009 that a Korean (Shin) topped the LPGA money list, a feat Choi duplicated last year.
Bottom line: Since Pak there have been a lot of good Korean players but no great ones. Some say the intense family pressure to win leads to an emotional letdown when victory finally comes. Then again, the answer may be as simple as this: Becoming a special player is a complicated formula that is not often achieved. Still, Korea is waiting for its next Pak. And some at home are getting impatient.