News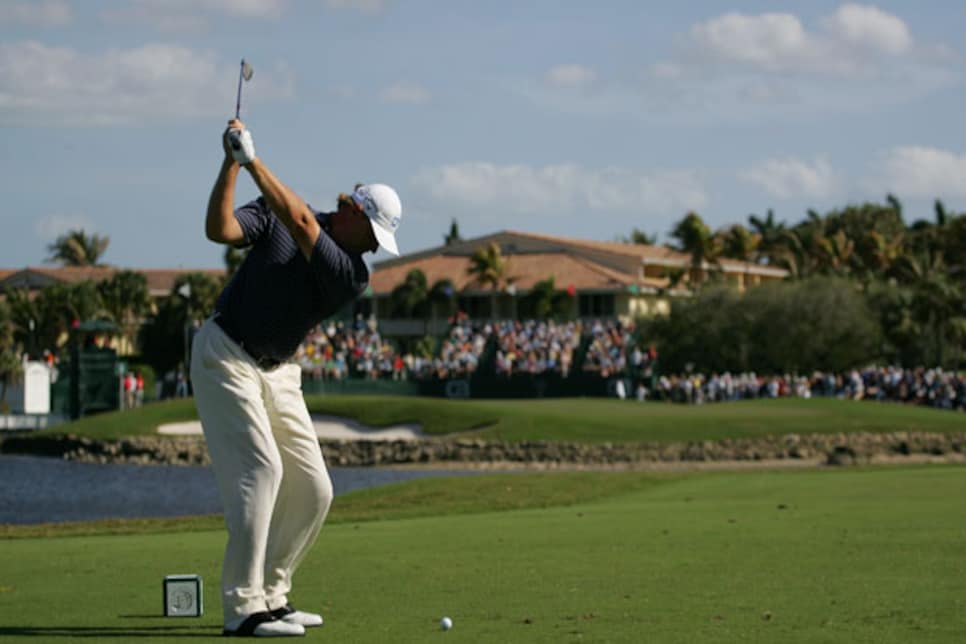 Back In The Swing: Els, owner of an envied, flowing action, won his first PGA Tour title in two years.
When Ernie Els won the 1997 U.S. Open barely two months after 21-year-old Tiger Woods staked his claim to greatness with a 12-stroke victory in the Masters, the first major championship he played as a professional, it seemed like game on. Els would play Arnold Palmer to Woods' Jack Nicklaus, picking off half a dozen or so majors while Tiger was on his way to eclipsing Nicklaus' record of 18. This rivalry would carry golf for a decade or more, it was thought. Els was also young (only 27) and that '97 victory at Congressional CC was his second major in three years. His swing? It was so sweet it made even nice guys bitter with envy. But on the road to immortality, life got in the way -- a whole lot of life.
Els failed to challenge in the next 10 majors -- then, in 2000, experienced almost unfathomable professional pain. After finishing second to Vijay Singh in the Masters by three strokes, Els was second again at both the U.S. Open and the British Open -- to Woods -- by a combined 23 strokes. He was shell-shocked, saying at Pebble Beach, "When you have a guy playing like that, you have no chance." And then at St. Andrews there was a note of psychological surrender when Els assessed the situation this way: "He's just an absolute machine at the moment, you know? I don't know what we're going to do. We'll have to go to the drawing board again and maybe make the holes bigger for us and smaller for him or something. I don't know."
Els was the second-best player by a mile, and that was a painful realization. There was, finally, another major title, the 2002 British Open at Muirfield when Woods was blown off the leader board by a Saturday monsoon. But later that year Ben Els was born, and almost immediately golf was placed in a new context. Ernie's second child suffered from epileptic seizures and developmental difficulties. Often, when Els was on the golf course, his heart was at home where Liezl, his wife, was tending to Ben (and his older sister, Samantha, who was born in 1999).
In 2003 Els contended in three majors but came up empty. The next year he was runner-up in the Masters and lost a playoff to unheralded Todd Hamilton in the British Open. Then in 2005 he was hit with a double whammy: He blew out the ACL in his left knee in a sailing accident, and Ben was diagnosed with autism, a developmental disorder marked by impaired social interaction. (According to the Autism Society, 1 to 1.5 million Americans live with an autism spectrum disorder.) "We finally had a name for it," Liezl said. "But it didn't change anything." What did change is that the victories stopped.
Els captured the 2004 WGC-American Express Championship but had won only one PGA Tour tournament since -- the 2008 Honda Classic -- until Sunday, when he took the WGC-CA Championship, the current incarnation of the AmEx event, by four strokes over fellow South African Charl Schwartzel. Now 40 and with that same silky swing, one that should hold up nicely for many more years, Els finds the motivation to work harder on his game all around him.
There is his foundation -- Els For Autism, formed after the family went public about Ben's autism in 2008 -- and then there is the fact the majors return this year to the venues of the 2000 humiliation: Augusta National, Pebble Beach and St. Andrews. Asked if the year sets up well, Els nodded slowly and replied, "I think so." Asked what his victory at TPC Blue Monster at Doral means, he said, "I didn't think it was ever going to happen again. I had to really trust myself today. I had to prove it to myself. I knew yesterday how important today was going to be."
So did Liezl. "You have no idea what this means for the parents [of children with autism]," she said tearfully at the 18th green after Ernie's final putt. "For the parents out there, they need some good news now and then."
More good news may be ahead. The Elses plan to use the platform Ernie has as a golfer to raise money for autism research and to improve the understanding of children with special needs. And with three majors and 17 PGA Tour victories -- as well as 44 international wins -- Els also has a chance to improve his place in golf history. No one in the Woods' era has won more than three majors, Singh, Phil Mickelson and Padraig Harrington joining Els at that number.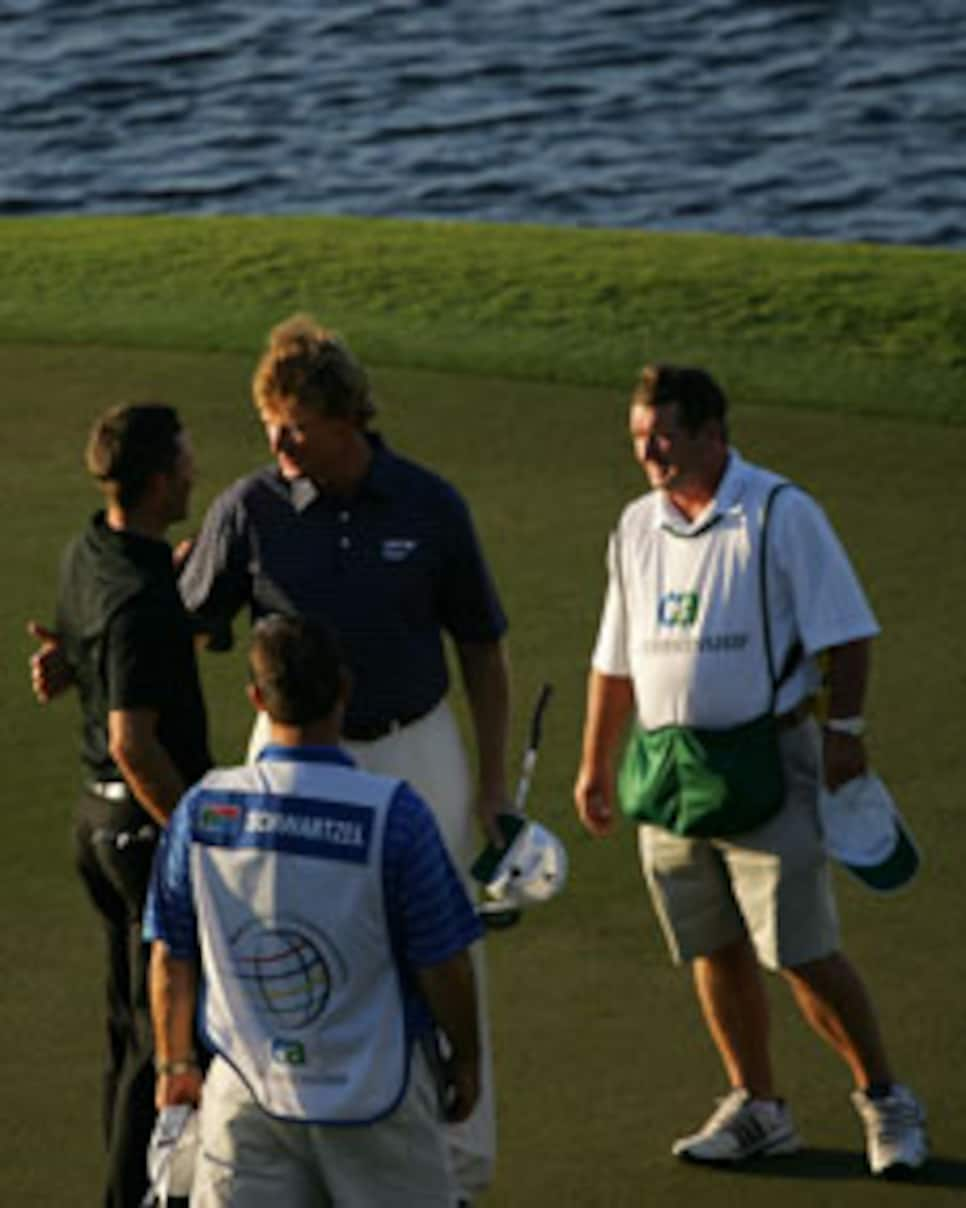 countryman Schwartzel earned a
final-round pairing with his hero.
Els, who started the final round tied with Schwartzel at 12 under, one stroke ahead of Harrington and two better than Robert Allenby, closed with a bogey-free 66 to finish at 18-under-par 270. Schwartzel's 70 (see Tour Talk, page 46) left him second at 274 with Harrington, Matt Kuchar and Martin Kaymer at 277. But it was not as easy for Els as the final leader board indicated. He explored the left side with his driver on several occasions -- most dramatically on Nos. 6 and 14 -- but both times managed to save par, on 14 with a 24-foot putt that protected a one-stroke lead.
"Basically, I just wanted to make 5 and get out of there," Els said about the 14th, a par 4 where he was still in the left rough after his second shot. He played his third shot safely to 24 feet below the hole, then ran in the par-saver on the last quarter turn of the ball. "You have to make putts like that to win golf tournaments," Els said, "and I haven't been making them lately."
That save seemed to break the 25-year-old Schwartzel. He bogeyed the par-3 15th when he went bunker to bunker; two holes later a missed seven-foot putt led to another bogey. But for most of the day he hung tough with Els. Through the first 12 holes, they combined to make 11 birdies in a scintillating shootout.
Els has been criticized by some (including Woods) for not working hard enough, but he went out after a final-round 75 at the Honda Classic the previous week and hit balls until dark. He returned to the range Monday and found something: He had the ball too far forward in his stance. The other change this year was that the usual globetrotter skipped the three European Tour stops in the Middle East to spend more time with his family. The decision seemed to rejuvenate him.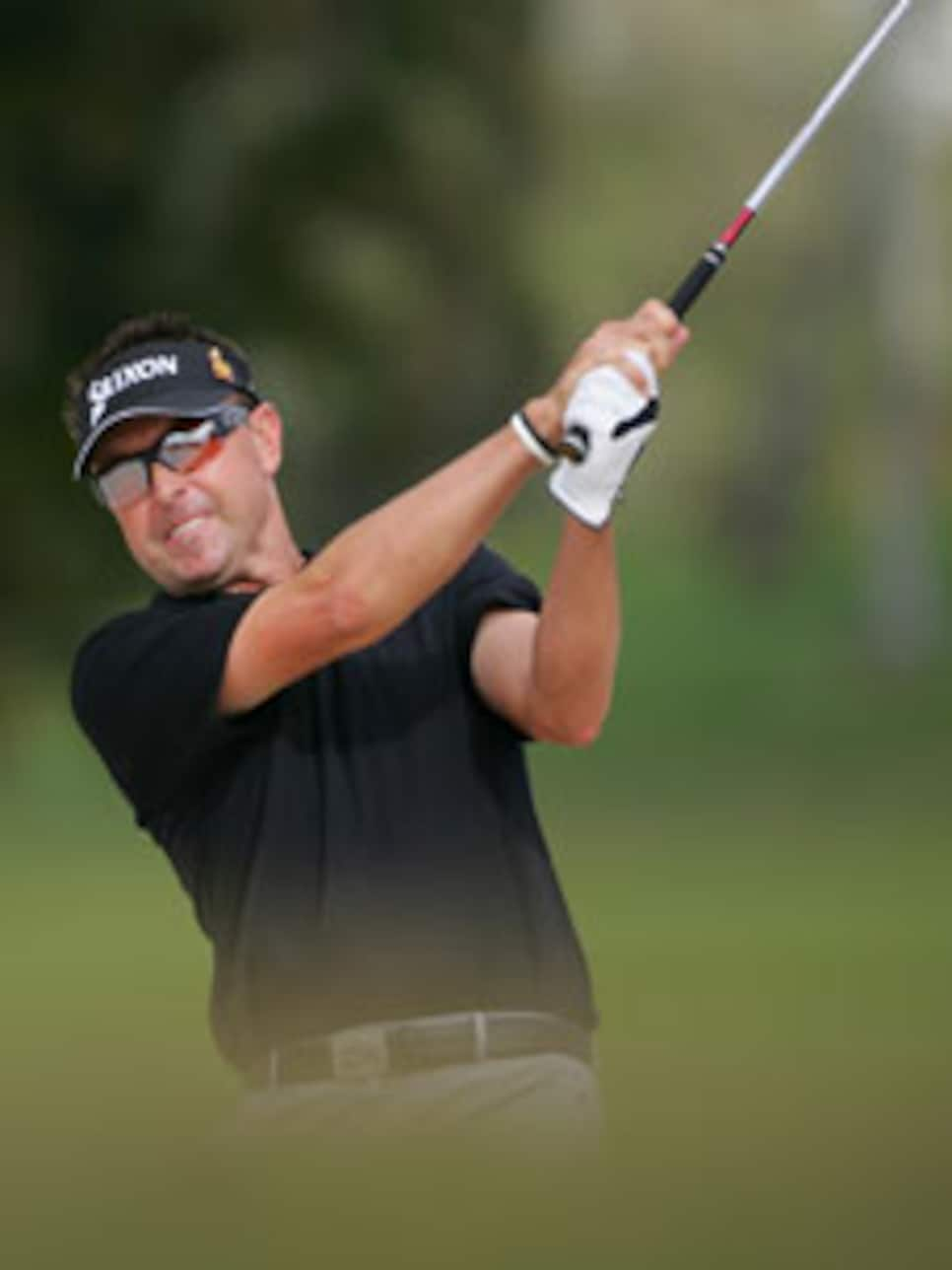 lurked on the leader board after
three rounds, was buoyed by a
hole-in-one on the difficult 13th
hole during the second round.
With CA deciding not to renew its title sponsorship, a fact sources said would be announced officially three days after the event, the final CA Championship was memorable. And that's why Doral, which has been on tour since 1962, will be on the 2011 schedule even if it does not return as a WGC event. The Blue Monster is a fun venue to watch golf, especially when the wind blows. The only question is the direction from which it will come.
When No. 18 is playing into the wind, it is a par 4½ -- or, in the case of the first round, a par 4.647. The tee shot is brutally difficult, as Singh found out when he drove it into the water left and made double en route to 68. Els opted to bail out right, behind the trees, and closed his 68 with a bogey. Among those who made par was Schwartzel as he grabbed the lead Thursday with a 67. Allenby, who joined Els and Singh at 68, not only bogeyed the closing hole but the three previous to it, after getting to eight under par through 12 holes.
The Woods rumor-of-the-week broke Thursday when word circulated that he would not return at the Arnold Palmer Invitational. The second consecutive WGC tournament was disrupted by news surrounding the absent No. 1 golfer. It was the Friday of the Accenture Match Play when Woods delivered his televised apology, a decision Els called "selfish."
"I want to talk to him," Els said Sunday at Doral. "I just thought [the timing] was wrong." What Els did not say -- but many other players did, privately -- was that Els voiced their thoughts.
Els had a bogey-free 66 Friday and took the 36-hole lead at 134, one stroke ahead of Allenby, who made a hole-in-one with a 5-wood on the 233-yard 13th hole in shooting a 67. Bill Haas and Schwartzel were third at 137. No. 18 played downwind and was nearly a half-stroke easier at 4.235.
The friendlier wind returned Saturday. Schwartzel's 67 moved him into a tie for the 54-hole lead at 12 under par with Els, who struggled with his putter during a 70. Harrington climbed the leader board with a 67 to pull into third place at 11 under, a stroke ahead of Allenby, who also struggled on the greens in a 71. The biggest move was made by Kaymer with a 66 to pull within four.
No one was a match for Els Sunday, and his victory was hugely popular in South Florida, where he lives about an hour up the coast from Miami in Jupiter. When Els walked from the 18th green to the clubhouse, it was through a tunnel of noise as hundreds of voices -- mostly children -- shouted, "Ernie, Ernie, Ernie." The trek was lengthy as he signed dozens of autographs.
Asked if a revitalized Els might be just what golf needs, his agent Chubby Chandler, a barrel-chested Brit, boomed, "I couldn't agree more. This was a good day for everyone. Especially for him." It was a good day for good people. And while Ernie will fall short of Nicklaus' on-course achievements, Liezl seems as if she wants to chase down Barbara Nicklaus, the reigning queen of charitable work among PGA Tour wives.
"I hosted a fundraising tea party on Thursday, and Ernie is hosting an outing at PGA National [Monday] with 22 pros," Liezl said about efforts to raise $30 million for a 30,000-square-foot facility serving 300 children. "We hope to have it fully running in five years, but we all know the current situation with the economy. That just makes us more determined."
When Liezl speaks about Ben, there is not a note of regret or a hint of burden, only love. "He's a really happy boy," she says. "Samantha doesn't know why Ben should change. She thinks he's great just the way he is. That's what we need to teach others. Socializing children with autism helps not just them, but it helps other children learn how to interact with them. The key to ending discrimination is exposure."
Ernie's golf will help the couple further that understanding. Next up for Els is the Arnold Palmer Invitational and then the Shell Houston Open before he heads to Augusta and the Masters, where the rivalry with Woods, hinted at in 1997, may be renewed. During Masters Week Els will be honored by the Golf Writers Association of America at its annual dinner for his charitable work on behalf of autism; Woods will also be recognized as the writers' 2009 Player of the Year. It may be a week their careers finally reconnect, both on and off the course.
Added Value: Els' wife, Liezl, hoped Ernie's win would boost the spirits of other parents who have children with autism, a cause dear to them. (Stan Badz/PGA Tour)