News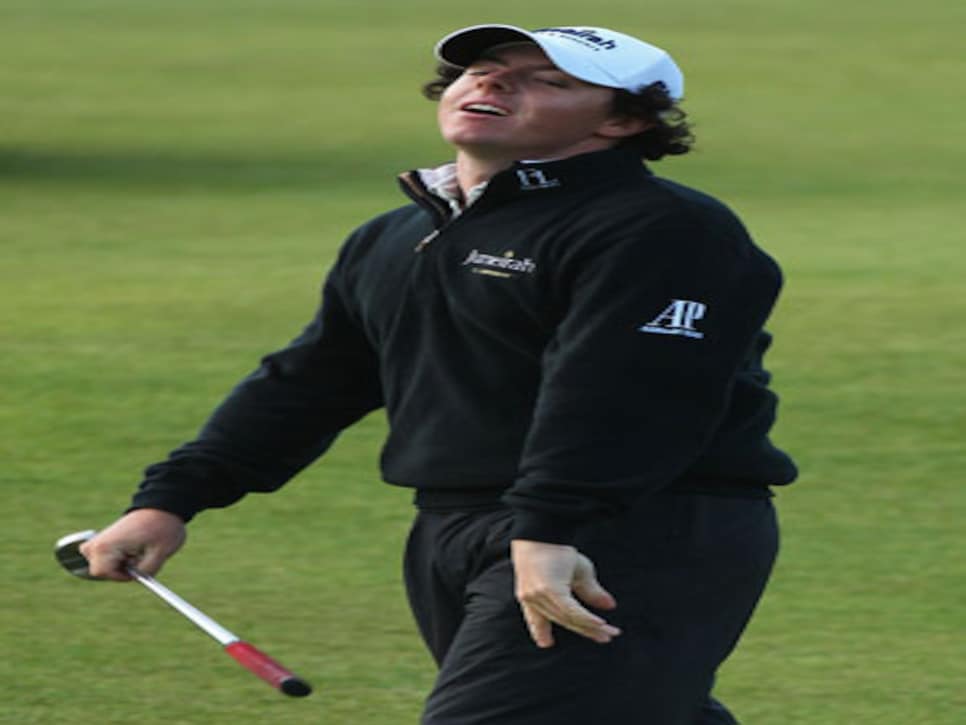 McIlroy bogeyed three of his first four holes after the weather delay.
ST. ANDREWS, Scotland -- If, on Sunday afternoon, Louis Oosthuizen happens to be handed the claret jug and proclaimed "the champion golfer of the year," he may have to give good fortune as much credit as good play. His 67 in Friday's second round of the British Open came before gale-force wind that topped more than 40 mph swept across the Old Course and blew scores sky high. In no major championship does luck play as big of a role as at the British Open.
When Oosthuizen completed 36 holes before noon at 12 under par, Rory McIlroy, the first-round leader with a 63, had yet to tee off, nor had John Daly, who opened with a 66 or Tiger Woods, who briefly flirted with the lead on Thursday before settling for a 67. Shortly after they took to the links, nature intervened, as it often does here. What happened next was a mental and physical grind as the wind not only tossed around shots, but also brought pace of play to a snail's pace, pushing rounds past the six-hour mark.
With McIlroy on the fourth fairway after three pars and Woods on the first green, play was suspended when wind gusts blew with such ferocity that golf balls wouldn't stay on the 11th green, which rests on a point of land closest to the water and farthest from the clubhouse. The delay lasted one hour and five minutes and when play resumed, it wasn't exactly a walk in the park. It never rained, but it never stopped blowing. No shot could be taken for granted.
With the wind bending flagsticks nearly to the breaking point and gusts rattling the metal frames of the concession tents and grandstands, the scores reflected the conditions. McIlroy bogeyed three of his first four holes after play resumed and never got back on track, skying to an 80. Woods started his round bogey-bogey and grinded his way around in 73 strokes despite two late bogeys. Daly managed a 76.
"It was just very, very difficult out there," McIlroy said. "I think all the guys were finding it tough this afternoon, and I just let it get away from me a little bit. I actually did well to par the last three holes, if I'm totally honest. It could have been an 82 or an 83."
Virtually everyone at the top of the leader board when play ended Friday -- with not all of the field having completed -- two rounds had teed off in the morning wave. Mark Calcavecchia got in at seven-under par while Lee Westwood and Paul Casey found the safety of the clubhouse at six under. A slew followed at five-under par, and almost all were morning players.
Meanwhle, Andrew Coltart's 66 on Thursday swelled to a 77; Marcel Siem and Nick Watney both had a first-round 67 with Siem following up with a 75 and Watney gutting out a 72. The golf-savvy Scottish crowds appreciated the test of skill the conditions imposed and some were amused by the situation. "Ach, I've played in worse than this," a man said shortly after play was stopped.
The brutal conditions dampened enthusiasm for the clear crowd favorite -- McIlroy, the 21-year-old rising star from Northern Ireland. While Woods had the largest crowds on Thursday, it was McIlroy on Friday. "Everyone's following Rory McIlroy instead of Tiger Woods," said a young boy whose accent was decidedly Scottish. Those who followed him watched and winced.
With fashionably long brown curls that spilled out from under his hat, McIlroy captured hearts on Thursday -- and broke them on Friday. He was a shocking 17 strokes higher in the second round than he was in the opening session. Going out with a hard left-to-right wind, McIlroy appeared to never be in synch. When he got to the toughest stretch -- Nos. 7 through 11 on the most exposed point of land -- he made three more bogeys.
It's remarkable how the wind wears you down mentally. Even the simplest shot has to be rethought. And that constant grinding over every play is exhausting. Time and again, down the stretch mental mistakes were made and simple putts were missed. Woods, who did an admirable job of fighting back from his bogey-bogey start, finally cracked when he missed a seven-foot par putt on No. 13 and a six-footer on No. 15. He got a stroke back when he drove the 357-yard 18th hole and made a two-putt birdie.
Often in the British Open -- or any major championship, really -- players complain that they got the bad side of the draw. And often there is a clear advantage in going early on Thursday and late on Friday or vice versa. But this week the Old Course was an equal opportunity ogre. Both sides of the draw got slapped around by nature.
The players who had the most benign conditions on Thursday -- playing in the morning -- got the worst of the weather on Friday, when the wind ripped through the afternoon wave. From here on in, players are paired on merit, with the leaders going last.
The forecast -- in so far as it is ever accurate around here -- calls for the weekend to be much calmer than it was on Friday. But significant damage has already been done, both on the scorecard and inside the head. Truly, if Oosthuizen falters, pretty much everyone who makes the cut still has a chance to win.
The person who does hoist that trophy Sunday will likely be the guy who is best able to put the horrors of Friday out of his mind. And it is exactly that kind of challenge that makes this tournament so special.