News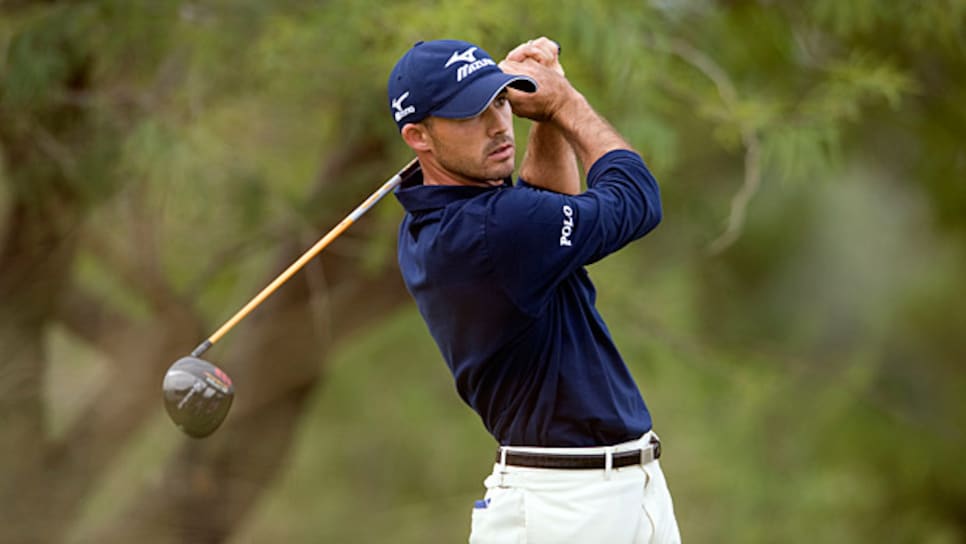 Byrd's ace came with such little light, he couldn't see the ball go in the hole.
figured there was barely enough light left to play one more hole.
Turns out he only needed one more swing.
In a swift and shocking finish Sunday in Las Vegas, Byrd made a hole-in-one with a 6-iron on the fourth extra hole to win a three-man playoff in the Justin Timberlake Shriners Hospital Open. The PGA Tour said it was the first sudden-death playoff decided by an ace.
"It's kind of hard to process because I'm still kind of in shock," Byrd said.
So was everyone else who saw another Fall Series thriller.
Moments earlier, it looked as though the tournament might not finish until Monday -- without Byrd.
Byrd's approach on the 18th tumbled over the green and was one hop away from going into the water when it settled into a clump of grass. He chipped up to 7 feet and saved par to stay in the playoff.
Byrd, defending champion Martin Laird and Cameron Percy -- they each made par on the three playoff holes -- discussed whether there was enough light to continue. They agreed to go one more hole -- the 204-yard 17th at the TPC Summerlin -- with the understanding any of them could stop if they couldn't read their putts on the green.
Byrd had the honors and hit a slight draw toward the flag. That's about all he saw. The ball landed about 10 feet short of the hole and rolled in like a putt. It was too dark for Byrd to see the ball disappear into the cup, and even the cheers from a smattering of fans around the green were not immediately convincing.
"Did that go in?" Byrd asked his caddie.
"It started perfect, it turned perfect and it was coming right down the flag," Byrd said. "I thought I hit it too good. I thought I hit it too far. And I couldn't see anything. But to hear the reaction as it went in, I was just in shock."
Byrd said he tried to control his emotion because Laird and Percy, a tour rookie from Australia, still had to tee off.
"It's pretty hard to follow that," Byrd said.
Both hit into the water, and Byrd had his fourth PGA Tour victory, this one unlike any other.
Players have made an eagle with a full swing on the final hole to win tournaments. Among the more memorable were Isao Aoki in the Hawaiian Open in 1983, Robert Gamez at Bay Hill in 1990 and Craig Parry to win a playoff on the 18th hole at Doral in 2004.
Paul Casey had a walkoff ace to win a foursomes match at the Ryder Cup in Ireland, and Peter Hanson made a hole-in-one in a playoff at Walton Heath to earn a spot in the 2009 U.S. Open.
But a hole-in-one with a PGA Tour title on the line? That was a first.
"You're never prepared for a hole-in-one," Laird said.
It was the second straight week of high drama at a time of the year when players are simply grinding to keep their PGA Tour cards. Just last week at the Frys.com Open at CordeValle, Rocco Mediate holed out a wedge for eagle on the 17th hole of the final round, right after Alex Prugh came within inches of a holing out from the tee box with a driver.
This one was even more incredible, and it came at just the right time. Byrd was No. 117 on the money list going into Las Vegas, and this gives him a two-year exemption.
Byrd closed with a 68, and he had to watch four times -- once in regulation, three times in a playoff -- as Laird stood over a birdie putt with a chance to win. That sequence started in regulation, when Laird had a 30-foot birdie try. Laird, the defending champion, shot 69.
Percy, the Australian rookie who needed to win to keep his job on the PGA Tour, earlier holed a 15-foot birdie putt on the last hole for a 67 that allowed him to get into the playoff. They finished at 21-under 263.
Byrd thought he had a chance on the second playoff hole -- also the 17th -- when his 25-foot birdie putt spun 180 degrees out of the cup. Getting back to the 17th took almost as big of a break as his hole-in-one.
He was stunned to see his ball go down the side of the green toward the water, figuring his playoff was over.
"When I saw it go down the hill and I heard people going, 'Aww-w-w,' I thought it was in the water, and I thought I was going to be done," he said. "And then right at the last second, I kind of heard somebody cheer. And they don't cheer when it goes in the water."
The cheering was even sweeter on the next hole.
Byrd won $774,000 for his first win since the 2007 John Deere Classic.
Percy won $378,400, but he needed a victory to keep his card. He at least moved up to No. 144 on the money list, which at least will spare him going to the second stage of Q-school depending on how he fares in his last tournament.
Webb Simpson was at 22 under and had a one-shot lead until he pulled his tee shot into the water on the 17th and made double bogey. He finished with a 68 and wound up one shot out of the playoff, along with Spencer Levin, who had a 66.
Nick Watney, who lives in Las Vegas and was playing his final tournament before his wedding, had a 66 and tied for sixth with Cameron Beckman, who had a 67.
For those trying to finish in the top 125 on the money list to keep their tour cards, they now must wait two weeks before the final official tournament of the year at Disney.
It will have a hard time topping the last two weeks.