News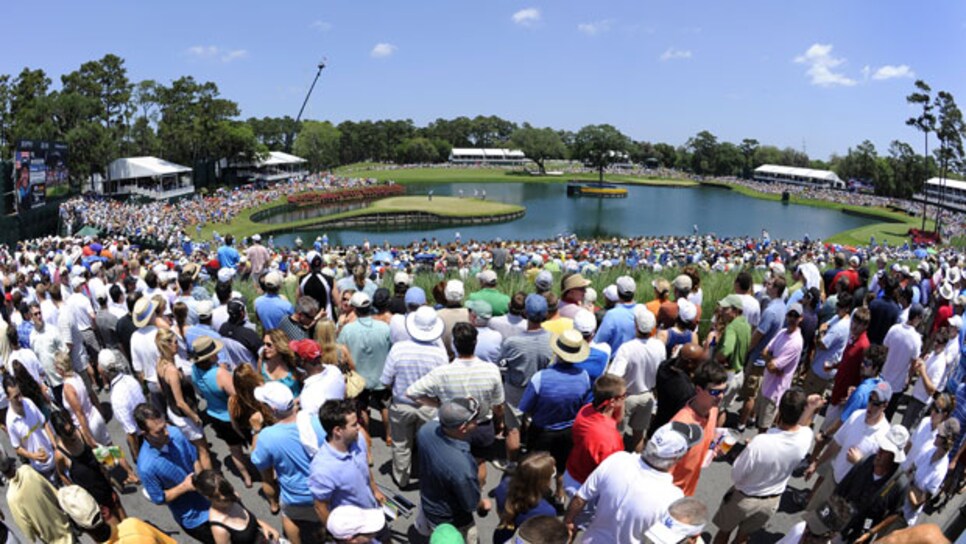 Community Theater: The third round was typical at the island-green par 3, where as many as 15,000 spectators gather to see and be seen at one of golf's dramatic holes.
The magnitude of golf's equivalent to Madison Square Garden sets in with the 123-pace walk to the 17th hole's lakefront tee.
"You definitely get butterflies walking to that tee regardless of your position in the field," said South African Tim Clark, who strode from the 16th green to the next-to-last hole of the 2010 Players with a two-stroke lead.
Yet it's not just the nerve-wracking sight of a bulkhead-supported isle of terror that has transformed the infamous one-shotter into a national golf treasure. For all of the Pete Dye-chutzpah and power of persuasion that gave birth to the hole, it's the 28 years of refinement and goodness-knows-how-many thousands of PGA Tour memos that have transported up to 15,000 on-site spectators and millions of fans worldwide on a once-a-year ride like no other. Because from the time Players contestants hit the 10th tee they can hear the buzz at 17th City -- "It looms every day you go there," said Clark -- the entire spectacle shaped by an electrifying confluence of fans, 25-foot-high chalets, cutting-edge technology and, most of all, the sweat of unheralded workers. Love it or hate it, the penultimate hole is the ultimate stage in golf.
Most paying customers enter the Players from a parking lot just off the 17th tee and never get beyond the 137-yard par 3, thanks to the tour's significant investment in a hole-specific broadcast displayed on two 15 x 38 foot LED video boards. This "digital impression," as the PGA Tour's Steve Evans calls it, was envisioned to "make you feel like something big is happening." But because of the 17th green's severe contours, the live broadcast is often the only way many fans or the holes' 100 volunteer marshals can see what a ball is doing as it heads toward the hole, particularly Sunday's back-right location. Players even sometimes sneak a peek.
Zach Johnson, eyeing his tee shot teetering on the green's back edge during Sunday's final round, turned slightly left toward the board to confirm that his ball stayed dry. He can thank fiber-optic cable for that stress relief.
When fairways were sand-capped and stadium mounds re-sculpted in 2006 for better seating, fiber optics were installed to create nearly instantaneous video streaming. The investment was designed to make 17th-hole spectators feel as if they were watching golf in their living rooms.
Andrew Grout directs the 17th-hole broadcast from a small and unpretentious Oz-like booth sandwiched amid the hole's 54,000 square feet of corporate-tent space. Grout is an employee of Information & Display Systems, the company that crafted the software cultivating leader-board data, highlights from other holes and the ShotLink-fed putting distances players will face (assuming their tee shot found dry land). Data and images are sent into a "brainstorm machine" preparing the split-screen images Grout then punches onto the boards. And while he steps out for fresh air every now and then, his tournament days typically run from 6 a.m. to 7:30 p.m.
While much of the video presentation utilizes the PGA Tour's @17 Live online imagery, NBC's feed is occasionally interwoven into the video displayed for the fans on 17. Producer Tommy Roy surrounds the 17th with eight stationary cameras and also can fall back on a blimp shot or the "Steadicam," which follows players at ground level minus the shaky handheld images that only Steven Soderbergh could love. New for 2010 were HD shots to capture reactions from the 75-yard drop area along with another lake-placed rotating shot following players as they walked to and from the green. There was also a tiny camera embedded in the 17th hole's 55-square-foot bunker face.
New York-native Brian Phraner was one of the artists capturing images for NBC. He covers everything from the Olympics to the "Today Show," and has been doing camera work on the 17th hole's "tree island" since 1995. Phraner boats out for his nine or 10 hours of camera duties in a shabby blue canoe held together with gaffer's tape and powered by a tiny engine. During weekday play, he discreetly ships out when there's an appropriate gap in groups to avoid distracting players, then parks the rickety craft under a green-screen protected scaffolding. Just in case the boat's tiny engine decides to die during Players week -- or Phraner needs to fend off one of the lake's three resident alligators -- there is a small paddle on board.
Phraner captures the often unforgettable super slow-mo HD shots of 17th-tee player reactions along with tight shots of putts. And the inevitable question asked by most folks over a certain bladder-sensitive age?
"I certainly have less coffee in the morning here compared to other events," the 30-year NBC veteran said. "It's definitely been easier to get through the day since the move to May when it's hotter and you sweat a lot."
The network's Emmy-nominated sound-effects team encircles the 3,912-square foot green with a tailored cable, allowing technicians to hang 10 "lav" mics for capturing everything from balls hitting railroad ties or even the occasional player comment. (By comparison, a normal green gets two microphones.)
The mics are shifted daily to best suit the day's hole location, while another 20 cover the rest of the 16th and 17th hole arena. Sound-effects mixer Lawrence Cirillo mans a mind-bogglingly complex board to sift out the best sounds from the "constant din" caused by the large crowd. Still, he guarantees with the full microphone package that they will "capture things you don't usually hear," but must then hope that during particularly compelling moments the on-air talent "lays out" -- that's television code for shutting up.
Cirillo's dreams were likely dashed during Saturday's third round when Bo Van Pelt pulled his club at the tee and explained his dilemma to caddie Mark Chaney. Van Pelt's twang came through loud and clear:
"Just because I think it's going long, I think I gotta hit it so soft," Van Pelt told Chaney before looking at the club in his hands. "I know this is borderline, but I gotta hit it so frickin' good."
Van Pelt's wedge went back in the bag. Microphones were still open and listeners on the PGA Tour Radio Network, a fast-paced on-site earpiece available to fans for a $10 rental fee, heard the rest of the conversation. But on the NBC telecast, first Gary Koch, then Dan Hicks and for good measure, Johnny Miller, talked over more chatter, the loud crowd reaction to Van Pelt's continued indecisiveness and, eventually, the shot.
The NBC sound team's daily shifting of microphone locations paid off Sunday when Robert Allenby, trailing by one, hit a 9-iron 11 feet short of the hole. His putt to tie Clark's lead came up excruciatingly short, and Allenby could be heard telling caddie Colin Burwood that the ball rolled back toward him. Replays from Phraner's super slo-mo shot on the tree island confirmed in glorious HD that the ball hit the slightly raised lip and rolled right.
"The ball took a look and decided to come back at me," Allenby said. "Another half a roll and it was in."
The task of setting up the 17th to please both fans and competitors falls to 11-year PGA Tour rules staff veteran Robby Ware, now in his fourth year supervising all things-back nine at the TPC Sawgrass. While the back-right hole location is typically expected for the final round, Ware is granted any flexibility he needs to shift cups based on weather forecasts. Saturday he asked the maintenance staff not to roll the 17th green until he could see how manageable downhill putts were to the lower-tier's "better than most" location, as immortalized by Koch in 2001 during Tiger Woods' Players win.
Ware arrived at the green with what looked like a grand jury convening, but after hitting a few one-handed putts with tournament director Mark Russell's oversize-gripped putt-er, he signed off on the rolling. Tour agronomist Cal Roth indicated one finger, greenlighting a roll that would take the green to the "high 12s" on the Stimpmeter. With warm weather fueling fast growth of the mini-verde Bermuda greens, the putting surface would be in the high 11s when the final pairing passed through the island eight hours later.
Early in the week players lamented the softness of greens, but by Sunday the talk was all about crustiness, firmness and speed. If not for the PGA Tour staff's diligence, the breezy day could have easily have turned downright Shinnecockian. That might have delighted some of the assembled rubbernecks who put down lawn chairs as early as 8 a.m., but this is an event by and for the players.
Ware, wanting to make sure good shots were rewarded and fans weren't deprived of Sunday thrills, OK'd a light "painting" of water: just enough moisture to keep things from getting silly and to ensure the greens were alive Monday morning.
Jeff Young has been tracking club selection on the 17th tee since 2003 and transmits that information to NBC's announce team. A 65-year-old retired postal worker who freelances a variety of sporting events, he has developed an obvious comfort level with most caddies when they sense him looking over their shoulders. That bond was best evidenced by Phil Mickelson's caddie Jim (Bones) Mackay giving Young -- distracted by another NBC spotter -- a closed-fist sign a total of four times before Young finally noticed. The fist is caddie code for wedge. Four fingers down is a 9-iron, four up a 4-iron.
Young says there are still a few caddies who cover the clubs with a towel to prevent anyone from seeing what iron was drawn. And then there's non-conformist Ryan Moore, whose irons do not display numbers, just lofts.
"He saw me looking and asked what I thought," Young said of a club marked 42 degrees (9-iron). "I gave him a look and Ryan said his playing partners aren't so wild about the loft-only look either."
Young insisted Sunday's yardage to the hole location was 138 yards. When the tour rules staff shot the hole with a rangefinder, they came up with 136 yards. But Young added this disturbing caveat for the more obsessive-compulsive. "I've heard a lot of caddies giving everything from 139 up to 141 yards," he said.
Young also tracked water balls, of which there would be nine Sunday, bringing the total to 29 for the week, capped off most glaringly by a Lee Westwood wedge shot that had to find dry land if the Englishman wanted any hope of catching clubhouse leader Clark. "I was caught right between a little 9-iron and forcing a wedge," Westwood said. "I just hit a wedge, and it climbed up into the wind, and on that line it was never going to carry."
A few groups prior, Clark made the long anticipated walk to the tee as the fans, armed with up-to-the-second information supplied by the video boards, knew better than Clark where he stood. After his bogey-free 67, he admitted to not watching the leader boards, focused more on confidence that the 17th felt like "a good, solid" 9-iron.
"All I could do was pick my club and trust it again," Clark said. "Luckily it was a good number. I heard someone else say today they had good numbers every day on that hole, and I did this week."
Good numbers. Good karma. On the 17th, with everybody watching, you take anything you can get.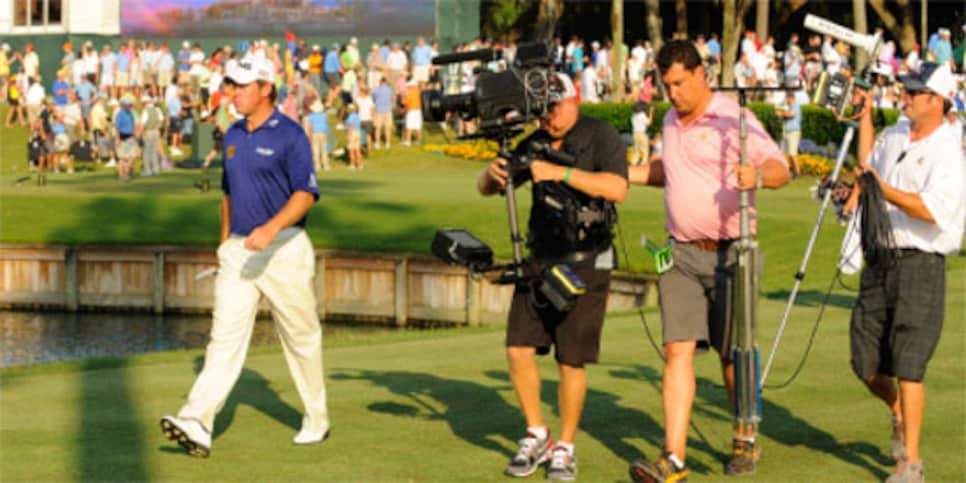 Getting The Picture: Cameras are everywhere at No. 17, which has two 15 x 38 foot video boards that give fans a high-tech way to see what is unfolding before them. (J.D. Cuban)