News
Congressional's spongy putting surfaces (like the 17th, pictured here) failed to scare competitors.
When USGA executive director Mike Davis said he hoped U.S. Open Stimpmeter readings would peak just below 15 feet, some believed that reaching the Mach 3 of green speeds was excessive for a course of Congressional's stout reputation. But any dreams of fear-inducing greens were probably dashed when record heat stressed the turf prior to the Open -- and almost assuredly after mid-tournament week rains softened the greens.
Throw in prudent maintenance precautions aimed at leaving Congressional with grass on the greens following the Open, and the Stimp target was missed by at least two feet. The resulting tepid speeds opened the door for Rory McIlroy to turn par-71 Congressional CC into U.S. Open-lite, with fearless shotmaking, worry-free five-footers and PGA Tour event scoring averages (72.993 for the week). The aftermath left par-protecting devotees questioning a variety of elements from the 2011 U.S. Open, including the USGA's kinder course management approach, the preparation of Congressional's greens and the club's future as a major venue.
"The whole landscape has changed," said Congressional renovator Rees Jones, who doesn't sound like he'll be breaking out his blueprints in a baton twirl anytime soon over Davis' lack of concern for red numbers. He will find company with Davis detractors who will cite 2011 as the year the USGA strayed too far from its core mission of providing the most demanding test in major championship golf. Meanwhile, supporters of Team Davis will applaud the USGA for leaving the Washington, D.C., area with a worthy champion and living greens. Whatever your persuasion, some perspective is necessary.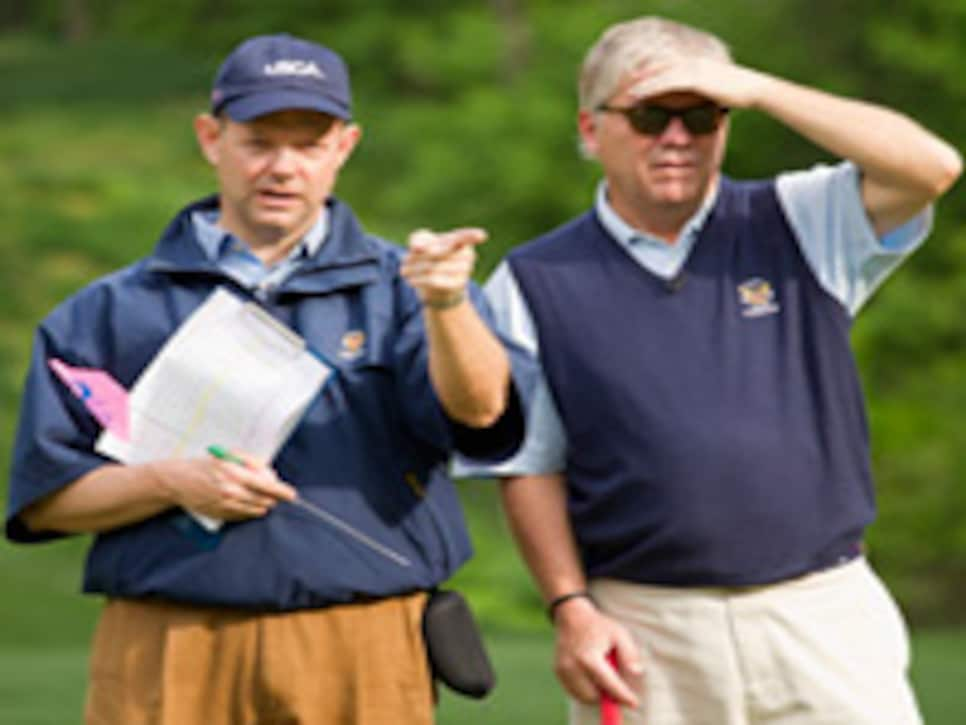 The newly installed course setup principles that resurrected the USGA over the last five years and which were credited with helping to bring the 2018 U.S. Open back to Shinnecock Hills may have also inadvertently ushered Congressional out as a near-future U.S. Open venue. The USGA's emphasis on risk-reward setup values -- erring on the side of reward -- combined with a concern for course conditioning, is a direct descendant of the post-Shinnecock-gone-awry era. At Congressional the meticulous pre-tournament planning by Davis, and cohorts Tom O'Toole, Jeff Hall and Steve Smyers, put the group on the spot as they stuck with their varied-tee setup plan even in the face of record scoring. "We could have played 7,500 yards every day, but that's just stupid," Davis said as he walked the back nine putting the finishing touches on Sunday's setup. "If you get fixated on scoring, you get handcuffed."
Such sensibility led club officials at Shinnecock Hills to reconsider a U.S. Open reconciliation, which was thought to be unfathomable not long ago. "Given the Open performances of the last four years, the club said, 'These guys have got their act together,' " said USGA president Jim Hyler.
A Congressional membership known for its love of high scores may not find news of Shinnecock Hills' fifth Open so heartwarming after their Blue course was shredded in unprecedented fashion. But whatever the reason -- humidity, lack of evaporation, new turf on the greens, general cautiousness -- Congressional's two-year-old greens never came close to firming up even with an 80-percent sand mix and SubAir units beneath the A1/A4 bent grass. Players and officials often mistakenly believe SubAir can suck moisture out of the putting surface's top layer, but Davis says the units are nothing more than a "preventative" in case of a deluge. Congressional's SubAir units ran noisily during the final three days of tournament play, yet enough moisture remained near the surface that players routinely stopped the ball out of the rough, highlighted most memorably by McIlroy's tournament-defining shot out of the 11th-hole hay Saturday.
"It's target golf," said defending champion Graeme McDowell after the third round, echoing the views of many. "It's not really a U.S. Open."
Compounding the lack of firmness was unprecedented smoothness. Superintendent Mike Giuffre was supported by his regular crew of 55 and another 115 volunteers from around the globe who had Congressional so primped that the USGA declared the velvetiness unprecedented.
"Certainly in my 20-plus years at the U.S. Open, these are the smoothest rolling putting greens we've seen," said championship committee chair O'Toole. Throw in perfect bent-grass fairways (trimmed tightly to a spin-friendly .34 inches), bunker sand firmed up by rains and fescue rough thinned by record heat prior to the championship, and even a retro USGA setup of Congressional could not have stopped the red-number onslaught.
Still, the USGA did not dismiss Congressional's chances of a future Open.
"We will get back," said Davis, citing the "nation's capital" and the lure of the golf-friendly Mid-Atlantic region. But Davis also says Congressional's status as a host of the AT&T National is a drawback that negatively impacted early-week attendance and, unlike at California venues hosting tour stops in winter and Opens in summer, D.C. presents nearly identical conditions during a U.S. Open as it does when hosting the PGA Tour in July. Congressional is signed up for three more AT&T Nationals starting in 2012, but sources tell Golf World the Congressional membership is actively working to get out of that deal, believing the tour event is too much of a disruption to their short golf season.
Freeing themselves of the AT&T would also make the club more attractive for a return U.S. Open. But even if Congressional can wrangle its way out of the AT&T contract, the course faces a dramatically changing landscape that makes Open bids tough to come by for inland, heavy soil-based, penal designs as the USGA focuses on going to strategic, sand-based layouts.
"If you look at our Open venue selection process, obviously the first criteria depends on whether the golf course is good enough," said Davis. "And then we ask whether it can work operationally and finally, financially. But the more unique venues, the truly special courses, help the U.S. Open long term by making the event special and increasing the value of everything involved."
Of the next eight U.S. Open venues -- Olympic Club, Merion, Pinehurst, Chambers Bay, Oakmont, Erin Hills, Shinnecock Hills and Pebble Beach -- all but Merion nearly guarantee the USGA a strong chance of controlling firmness while offering strategy and more potential for drama than Congressional could produce. Meanwhile, for those longing to see a backlash next year, the USGA has no plans to abandon a course setup philosophy that has them back into the good graces of iconic venues such as Shinnecock Hills.
"We're not going to react next year to what the scoring was this year," said O'Toole. "We're going to take Olympic Club and set it up again [according to our setup philosophy] to test the greatest players in the world."