News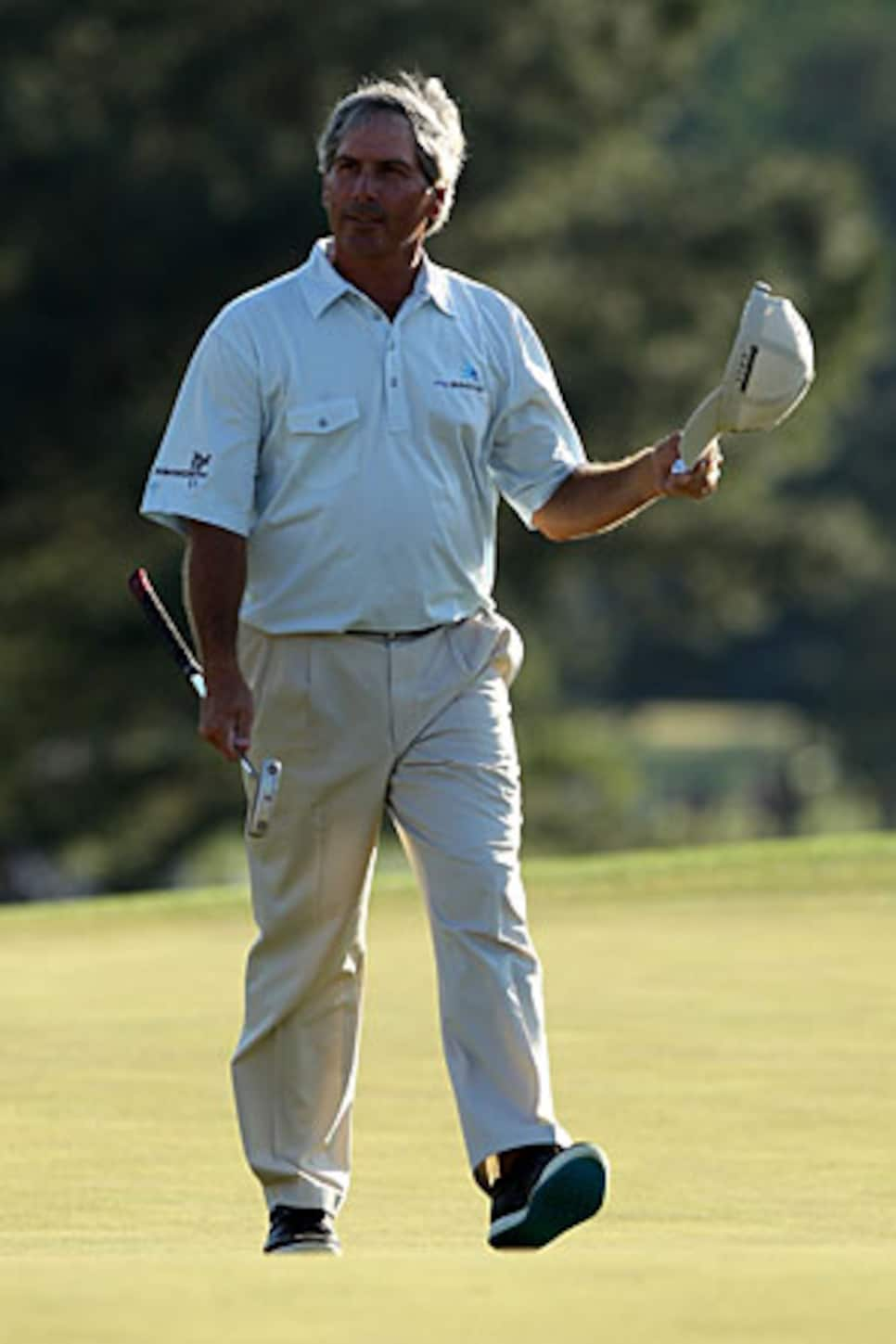 After a red-hot start to his Champions Tour career, Fred Couples is playing in his first senior major.
Since the Senior PGA Championship departed PGA National GC, its longtime home, after the 2000 tournament and began being played at different sites, it has been to some venerable locations across the country, including Ridgewood CC, Firestone CC, Aronimink GC, Laurel Valley GC, Oak Hill CC and Canterbury GC. Even the younger venues for the seniors' oldest major in the last decade -- Valhalla GC, Oak Tree GC, the Ocean Course at Kiawah Island -- have been around for a while.
Things are different this year.
The Champions Tour's first major of 2010 tees begins Thursday at Colorado GC in Parker, Colo., outside Denver, a Ben Crenshaw and Bill Coore-designed course that just opened in 2006. But Colorado GC has gotten plenty of acclaim in its brief history -- it was No. 6 on Golf Digest's 2007 ranking of America's Best New Private Courses -- and as PGA of America CEO Joe Steranka said when the course was awarded the event two years ago, "It's a testament to Ben and Bill that what they've created looks like it's been here quite some time."
That would describe the Senior PGA Championship itself, which was first played in 1937 and held at Augusta National GC its first two years. The Senior PGA and the U.S. Senior Open, which debuted in 1980, mean the most to many golfers on the Champions Tour, whose other majors are the Senior British Open, which has gained stature in recent years, along with the Jeld-Wen Tradition and the Constellation Energy Senior Players Championship.
The winner this week will receive the Alfred S. Bourne Trophy, one of golf's biggest prizes (40 inches tall and 30 1/2 pounds), and one with plenty of legends' names inscribed upon it. Sam Snead, who aged more gracefully than any other golfer, won the championship six times and is one of 11 men -- including Julius Boros, Raymond Floyd, Jack Nicklaus, Gary Player, Gene Sarazen and Lee Trevino -- to have won the PGA Championship and Senior PGA Championship.
If a marquee player in this crop of seniors were to win this week, it wouldn't be a surprise, given how former PGA Tour stars, led by senior rookie Fred Couples, have played this season. Couples has three wins, a second and a T-4 (with partner Jay Haas in the Liberty Mutual Legends of Golf), while bringing a bit of buzz to the 50-and-over circuit. Tom Watson outdueled Couples to win the season-opening Mitsubishi Electric Championship at Hualalai and is still going strong at age 60.
Should Crenshaw be able to find some magic and win for the first time in his Champions Tour career on his own creation it would be a fairy tale finish, but he would be a longshot on the rolling layout that used to be an Arabian horse farm. While the PGA Tour has been a regular visitor to Crenshaw and Coore's Plantation course at Kapalua, this is the first "major" at any of the well-regarded duo's courses.
"The course has to grow, things have to settle out a bit," Crenshaw told the Denver Post's Anthony Cotton earlier this week. "Experience, the way people play it, you have to see what happens. It takes time and this course is brand new, but what you want to see is interest. What do people think of it all? Do they want to play it again? This will be a great test for the club."
Colorado GC will play at 7,490 yards. The thin mountain air will shorten that, but also cause problems for club selection. "Playing at altitude is always a challenge," defending champion Michael Allen said after playing the course last month. "Because the way you flight the ball can really determine how far you hit it. You can hit an 8-iron up in the air and it can take off and go 170 or 180 yards, out of control. [But] if you flight it down, you can control it and keep it 160 yards."
The wind blew so hard on Monday, with gusts of 50 miles per hour, that the competitors who were on site didn't play many practice holes. But the weather was supposed to settle down for the championship. Colorado GC opens with a downhill 653-yard par 5 and has a 249-yard par 3 (No. 6) but also has two short par 4s (the 308-yard eighth and 326-yard 14th) that will be drivable for some players if they want to take a chance.
The altitude and the hills won't make it an easy walk for the seniors, but they won't be able to complain about the views. "This course … flows with the land," Allen said, "and I mean, it's beautiful."
More beautiful yet to whomever has to flex their muscles to hoist the Bourne trophy late on Sunday afternoon.