News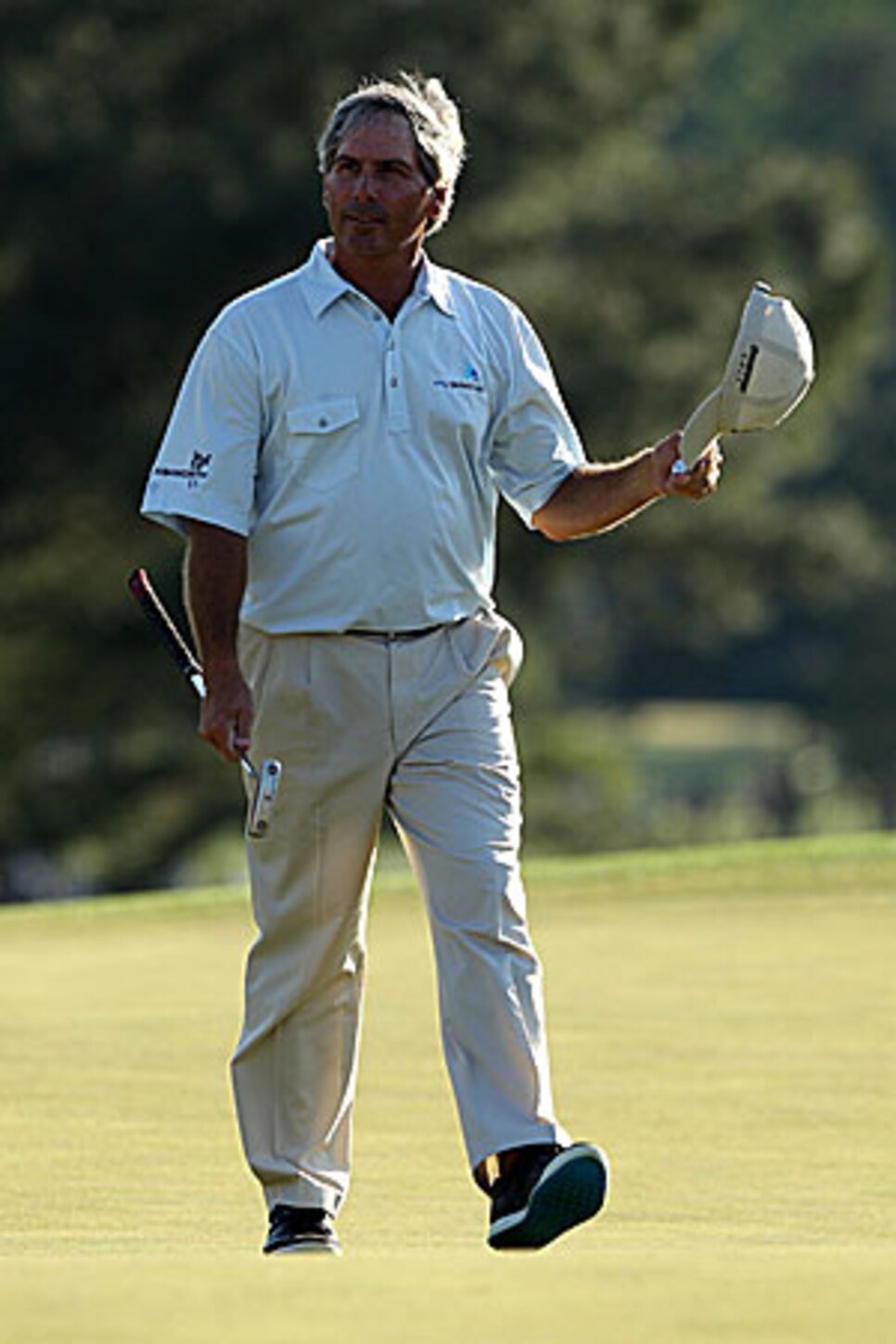 Fred Couples has three wins in his rookie season on the Champions Tour.
SAMMAMISH, Wash. -- Fred Couples, who grew up in nearby Seattle, will have a hometown, if not home course, advantage at this week's U.S. Senior Open at Sahalee CC. Couples is the championship's honorary chairman, a fixture on its promotional materials, and Tuesday afternoon the 50-year-old gave a junior clinic on the practice range.
It was on that same range 35 years ago, Couples told the kids, when his golf career truly started to take shape. Lee Trevino gave a clinic, and as one of the area's best juniors, Couples was given a prime seat. "That's the day I really felt like I wanted to be a golfer, watching Lee Trevino hit balls and give a clinic," he said.
Regardless of his roots, Couples would be front and center this week because of his strong 2010 play on the Champions Tour, where he and Bernhard Langer are battling for supremacy. Langer, 52, is the hotter golfer, having won the Senior British Open last week for his third victory of the season, matching Couples' win total and taking a narrow lead over him in the Charles Schwab Cup points race. (Nick Price, the other other senior with multiple wins in 2010 -- two-- won't play at Sahalee because of a toe injury.)
Couples continues to lead the money list and has four other top-10 finishes in nine senior appearances, including a playoff loss to Tom Lehman in the first senior major, the Senior PGA Championship at Colorado GC. Couples still leads the senior tour in scoring with a gaudy 67.17 average. He is among 32 players in the field who played in the 1998 PGA Championship at Sahalee won by Vijay Singh. (A smaller number also competed at Sahalee in the 2002 WGC-NEC Invitational won by Craig Parry.)
After a mediocre first 36 holes Couples rallied to finish T-13 a dozen years ago on the tight course, which plays through corridors of huge evergreen trees. "They're a lot bigger and a lot wider," Couples said of the firs and cedars. "I'm going to have to do whatever I can to get it in play."
The nature of the 6,866-yard, par 70 layout would seem to suit precision players such as Langer or Corey Pavin -- who was second to the German at the Senior British -- better than the long-hitting Couples, who leads the Champions Tour in driving distance with a 298.4-yard average and has feasted on par 5s, making birdie or better on 71.59 percent of the time.
Sahalee only has two par 5s, the 508-yard second and 545-yard 11th. "It's not a power-hitter's course, but it might be swell if you're hitting a 3-iron on a lot of holes. Three-irons usually go pretty straight," Loren Roberts noted, in that long hitters could still have an advantage by being able to place their tee shots with shorter clubs than others in the field.
Roberts spent Tuesday afternoon practicing and, like the other seniors who played abroad, trying to adjust to the eight-hour time difference from Scotland to the Pacific Northwest. He flew from Edinburgh to Newark to Memphis Monday, spent the night at home then took an 8:30 a.m. flight Tuesday to Seattle-Tacoma.
"I don't think fatigue or the time-zone change is going to be a factor," Roberts said. "Adrenaline comes into play, even if we are 50 and older. It's a major, a big tournament, and we have three days to get settled in. I think guys will be ready to play."
Couples won't be ready for bed when it's time for lunch. He skipped Carnoustie and instead played in the RBC Canadian Open, where he missed the cut. He was relaxed and had fun with the kids at the clinic, where he took questions and enlisted Washington club professional Ryan Benzel to assist him with critiquing several juniors who put their swings (which didn't seem to need much help) on display. "I, on the other hand," Couples joked, "know very little about golf."
After the first junior, Ashley Danforth, smoothed a few wedges, Couples said: "This is no normal pull-out from the crowd. You're a ringer! I thought we'd have to show you a few things. They're gorgeous [swings]. Let's screw her up. She'll go from shooting 78 to 178 in a matter of a few months."
Couples grew up playing at Seattle's Jefferson Park municipal course. "I started playing when I was 9 and now I'm 50," he said when asked when he began. "Let's not even do the math."
At one point the trophy of the Washington Junior Golf Association state championship was hauled out for Couples, whose name is on it for winning the inaugural event in 1977 -- well before he had made a national name for himself or earned his "Boom Boom" nickname.
The nickname, Couples said, dates to the 1981 Atlanta Classic, where he was paired for two days with Vance Heafner. There was a long par 5 that not many players were reaching in two shots. Couples got there Thursday, and he got there again on Friday. "He [Heafner] went, 'Boom. Boom,' and it stuck," Couples said.
Couples boomed a couple of drivers to end the clinic, but the big stick could be a rare sight come Thursday morning at 7:45 PDT, when he tees off with Tom Watson and Eduardo Romero. No matter. As Couples, who is as good with an endearing malaprop as Yogi Berra, is happy to be home, even if he doesn't live there. He'll be back, too, in a month, for another tournament, the Boeing Classic.
"To have two tournaments in the state of Seattle," he said at the clinic, "is a real privilege."