News
Bernhard Goes Back To Back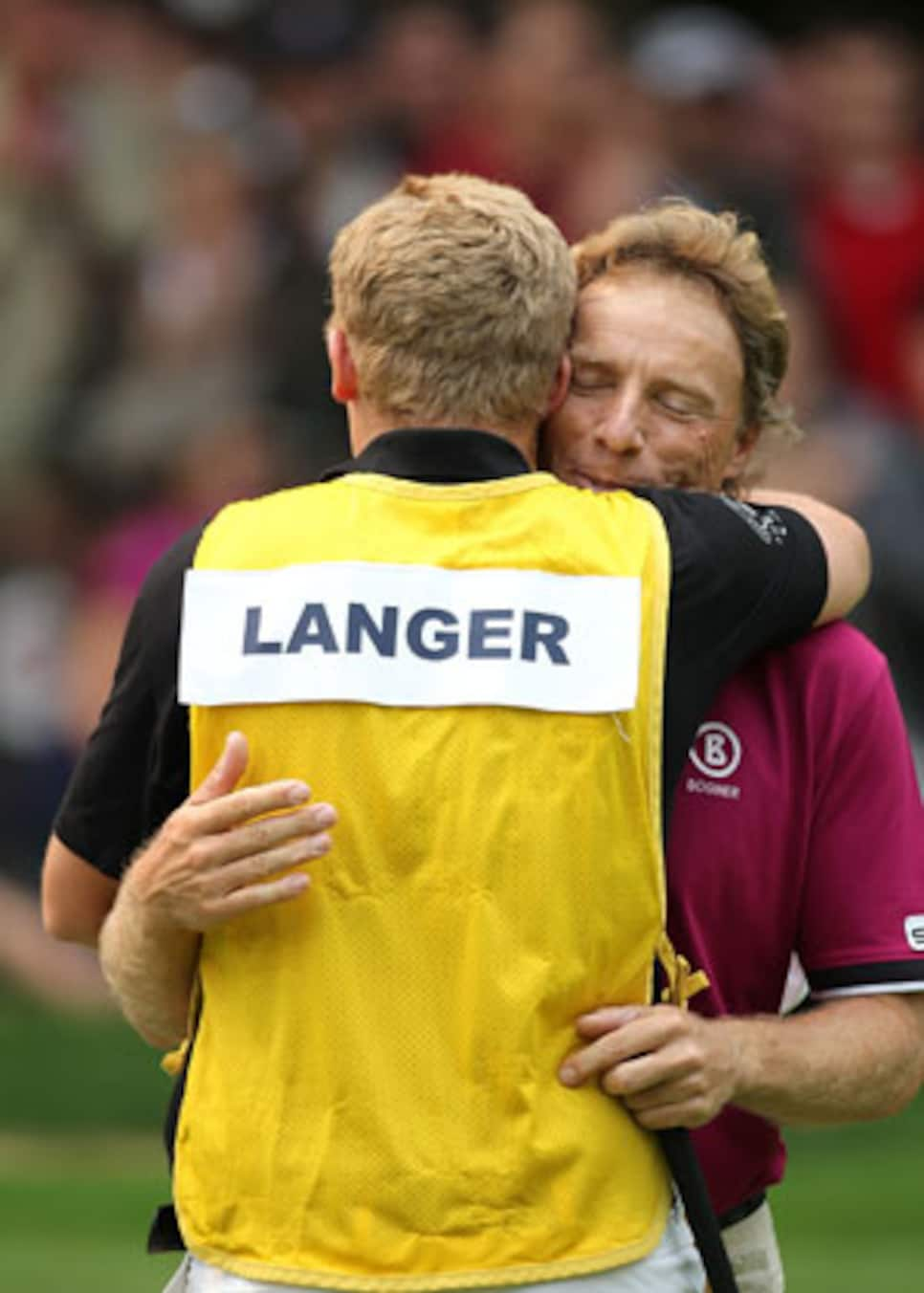 Langer hugs his son and caddie, Stefan, after picking up his second straight major on the Champions Tour.
SAMMAMISH, Wash. (AP) -- Bernhard Langer was more than willing to be the villain if it meant winning the U.S. Senior Open.
Playing in an atmosphere more suited for a Ryder Cup than the final round of a major, Langer was undeterred by a partisan crowd that was rooting hard for hometown hero Fred Couples.
The German shot a bogey-free 3-under 67 on Sunday, took advantage of Couples' one critical mistake and completed a daunting trans-Atlantic double by winning his second straight Champions Tour major.
A week after winning the Senior British Open title at Carnoustie, Langer finished at 8 under for the tournament at Sahalee Country Club. He fought off jet lag and had to tune out crowded galleries hoping Couples could pull out victory just 20 miles east of where he grew up.
"It's never much fun, but I've had it before. When you play in the same group with Tiger Woods or Jack Nicklaus or Arnold Palmer or any of the big names in America, certainly the Ryder Cups, I've played 10 Ryder Cups, five on American soil, you get a lot more of this," Langer said. "So I knew what was coming, which doesn't make it any easier."
Langer became the first German to win any U.S. Golf Association championship and the first Champions Tour player to win back-to-back majors since Tom Watson took the Senior British and JELD-WEN Tradition in 2003.
But Watson didn't travel eight time zones and win his titles on consecutive weekends like Langer, and with a massive audience rooting for his playing partner.
"They were definitely against me and for Freddy," Langer said.
While Langer could take extra satisfaction in overcoming the towering trees of Sahalee and the partisan crowd, Couples was again left with a twinge of disappointment playing a major championship at home.
At the 1998 PGA Championship at Sahalee, Couples stumbled through the first round and finished tied for 13th. This time, he put himself in prime position for his first major title on the Champions Tour taking the lead with a birdie at No. 1 Sunday.
Then came the second, and gone was any realistic chance of Couples winning the tournament.
It was the easiest hole on the course all week, a par 5 at 503 yards. For the first time, Couples laid up with his second after pushing his tee shot right and deciding not to chance a hybrid from the first cut of rough. The layup left him about 65 yards to the pin for his third.
The next two sounds left Couples in shock: chunk and plop.
"It was a pretty easy shot," Couples said.
His pitch landed in a greenside pond, well short of the green. The transgression was magnified when Couples hit his fifth shot over the green, then needed two putts to walk away with a triple bogey.
Suddenly a one-shot lead for Couples became a three-shot deficit. And Langer never opened the door to give Couples hope of rallying.
"When I birdied the first hole, that was what I thought I needed to get going," Couples said. "And then about 12 minutes later I was looking for a hole to crawl in."
Langer's counterpunches started at the third. He snaked a long birdie putt at No. 3 after Couples hit his second shot close and added another birdie at the sixth, a 480-yard converted par 5. Langer also made par saves at Nos. 8, 9.
Meanwhile, Couples failed to get any putts to drop. He had birdie attempts at every hole between Nos. 4 and 13 and failed to drop any. Couples finally made birdie at the 14th -- from the fringe -- to close within three. He curled in a 25-footer at No. 16 to give hope of a late rally, but that's where hope ended.
Langer went without a bogey in 44 of his final 45 holes.
"I never had the tee. He was up first all day. He hit it down the middle of every fairway," Couples said. "As I told him, he played eight great rounds to play the British Seniors and this without really a poor round of golf, which is tough to do."
Only once did Langer appear to wobble, at the 11th, when he got a fortunate bounce similar to Vijay Singh when he won the PGA here 12 years ago. Langer's tee shot was pulled well to the left and into some of the thousands of trees framing Sahalee. Instead of dropping into the deep rough, or kicking left and out of bounds, Langer's shot deflected into the middle of the fairway.
The lucky kick brought a collective moan from the thousands lining the fairway pulling for Couples.
In 1998, Singh found the trees on the 11th hole with his second shot, a 3-wood, but kicked on to the green where he two-putted from 30 feet for birdie en route to the championship. Langer settled for par, but kept his advantage.
Couples, who was runner-up at the Senior PGA Championship earlier this year, finished three shots back with an even-par 70. Olin Browne (65) and John Cook (67) were tied for third at 2 under. Watson was alone in fifth at 1 over after shooting 66.
"It's hard to believe I won two back to back majors with an 8-hour time change in between and two very challenging golf courses," Langer said. "I probably played some of my best golf these last two weeks."