News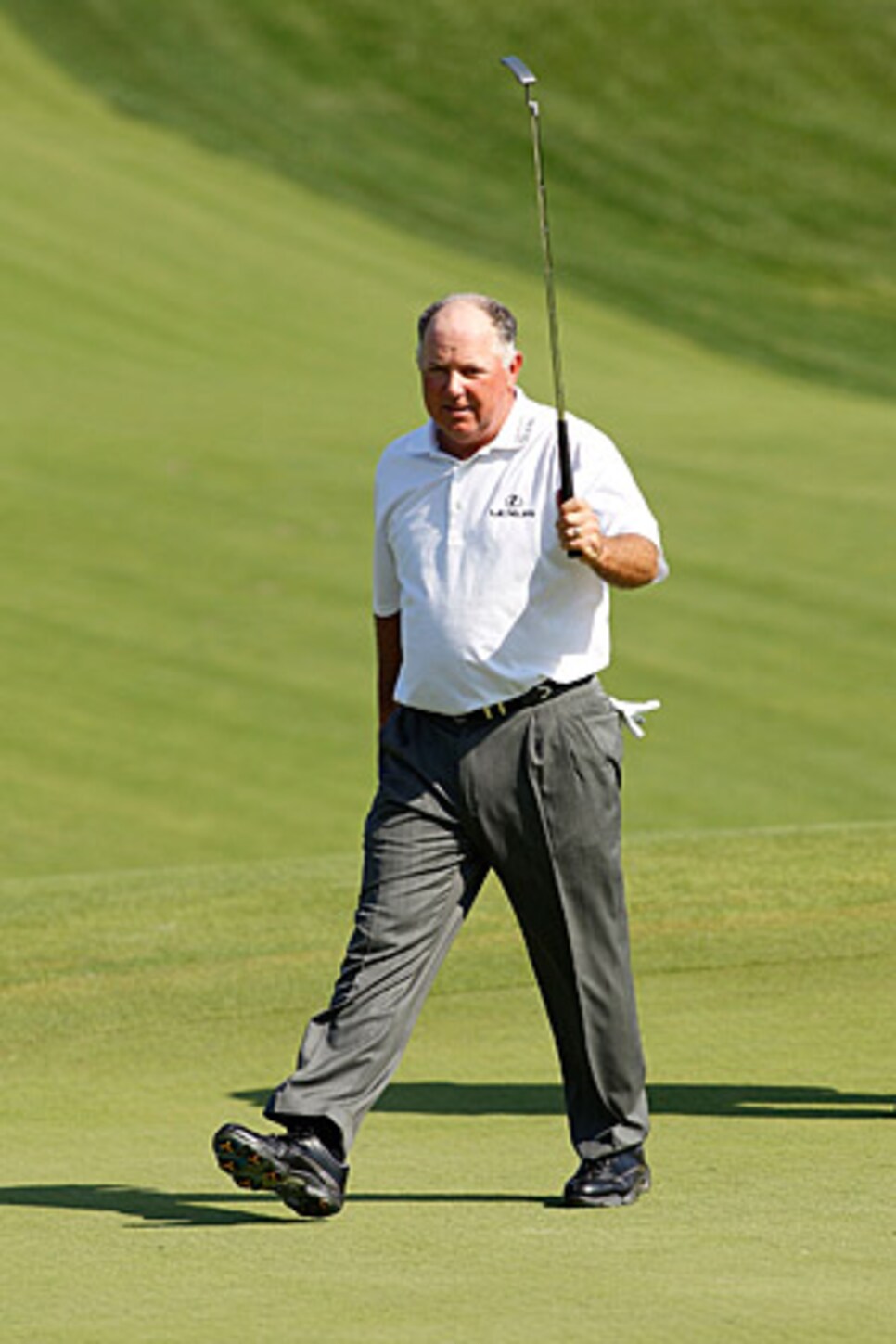 Having finally won on the Champions Tour, O'Meara eyes a spot in the Hall of Fame.
POTOMAC, Md. -- Reputations largely are set by the time someone's 50th birthday rolls around, but rare is the golfer with a serious pedigree who doesn't win at least once on the Champions Tour. It may be an asterisk written in faint ink, but it's still there. Ben Crenshaw and Curtis Strange know the feeling.
knew it, even after he paired with Nick Price to triumph at the Liberty Mutual Legends of Golf earlier this season. "Winning with Nick, sure that was a win, but it was a team win," O'Meara said. "Not to take anything away from that, but soon you have to win individually. I've come so close so many times in the last three years."
, O'Meara, 53, had nine runner-up finishes on the Champions Tour. O'Meara has had a few Sundays when his putting was shaky from close range, but others when he just was beaten by someone who played a little bit better. In his nine second-place finishes, O'Meara's closing rounds ranged from 64 to 72, with six of them in the 60s.
"There are just more guys out here who can win," said Loren Roberts. "I think a lot of players are surprised when they come out that the competition is as tough as it is. You have got to go out and finish it off. Unfortunately, Mark has played some really good golf and had some bad luck."
O'Meara was the solo leader through 54 holes in the Senior Players at TPC Potomac at Avenel Farm, by two strokes over Roberts, Russ Cochran and Michael Allen. It was the first time he had been in that position since the 1996 Mercedes Championships, which he converted for one of his 16 PGA Tour victories. However, it had been a dozen years since he won the Masters and British Open in 1998 (at 41, the oldest golfer to win two majors in a season), and six years since he claimed the Dubai Desert Classic.
Throw in the fact that the last few years have been a whirlwind -- going through a divorce, getting remarried, losing his father, Bob, this summer -- and O'Meara's mind hasn't always been on golf. It was so not on golf two weeks ago at the SAS Championship that he withdrew during the second round. "I was mentally injured," O'Meara said with a chuckle. "I didn't feel good about walking away, because that's not the kind of person I am. But yet I didn't want to waste my time and take any more beating."
O'Meara and his wife, Meredith headed to Oregon for some steelhead fishing in the Deschutes River. The peaceful setting quieted his frustration. "I got on the river and spent some time with my wife and just kind of recommitted, refocused," O'Meara said. After three sub-70 scores at TPC Potomac, the question was whether O'Meara could finally close the deal again. At least one thing was like the old days. He got a text from Tiger Woods. "Stay patient," his friend wrote. "Stick to your game plan."
While O'Meara's daughter, Michelle, a second-year law student at nearby George Washington University, spent the sunny Sunday studying in the library, her father got down to business outdoors.
It would have been a fitting day for O'Meara's 10th runner-up finish -- it was 10-10-2010, after all -- but starting with an 18-foot birdie on the first hole of a course that gave most of the field fits all week, O'Meara was up to the task. He bogeyed the third hole but immediately bounced back with a birdie on No. 4 then made a string of pars through the 12th hole. A birdie at the 13th boosted his lead to three shots, but it would not last. An O'Meara bogey at No. 16 combined with Allen's closing surge -- three birdies on the last five holes -- meant O'Meara needed to par the difficult last two holes just to earn a spot in a playoff with Allen.
O'Meara got those crucial pars, then, returning to the par-4 18th for the first extra hole, drove solidly while Allen's tee shot finished in the right rough on a steep slope. With Allen making a bogey, O'Meara needed a two-putt par from 30 feet. His first putt came up four feet short, but he made the one that followed.
"It's a thrill -- it's certainly been a long time coming," O'Meara said. "I just feel very fortunate, because a week and a half ago I was as far as you could [be] from thinking you're going to win a tournament. To hang in there and battle through the last few holes and win the playoff, I'm really elated. I've been doing this for 30 years. Sometimes I wonder why I don't just go check out and stay on the river. But I'm a driven guy. I love to compete."
Not only had O'Meara bagged a senior win on his own, but a senior major. The faint asterisk had been scratched out.
Now, O'Meara hopes there is an exclamation point.
"The Hall of Fame always comes up," he said. "I'll be honest -- I'm disappointed I didn't get in this year. I think there are guys that had maybe similar careers, they're all in. I'm thinking: When am I going to get the call?"
O'Meara, who was named on only 29 percent of the PGA Tour ballots this year (Fred Couples got 32 percent), has a point. Strange, who counts two majors among his 16 PGA Tour victories, is in. Crenshaw, who has two green jackets among his 19 wins, is in. Tom Kite, whose 1992 U.S. Open title is the only major in his 19 victories, is in.
"We'll see," O'Meara said. "You've just got to wonder if it's a popularity contest or what. I think my record hopefully is good enough."
Thanks to being more than good enough when it mattered, at least one wait is over.