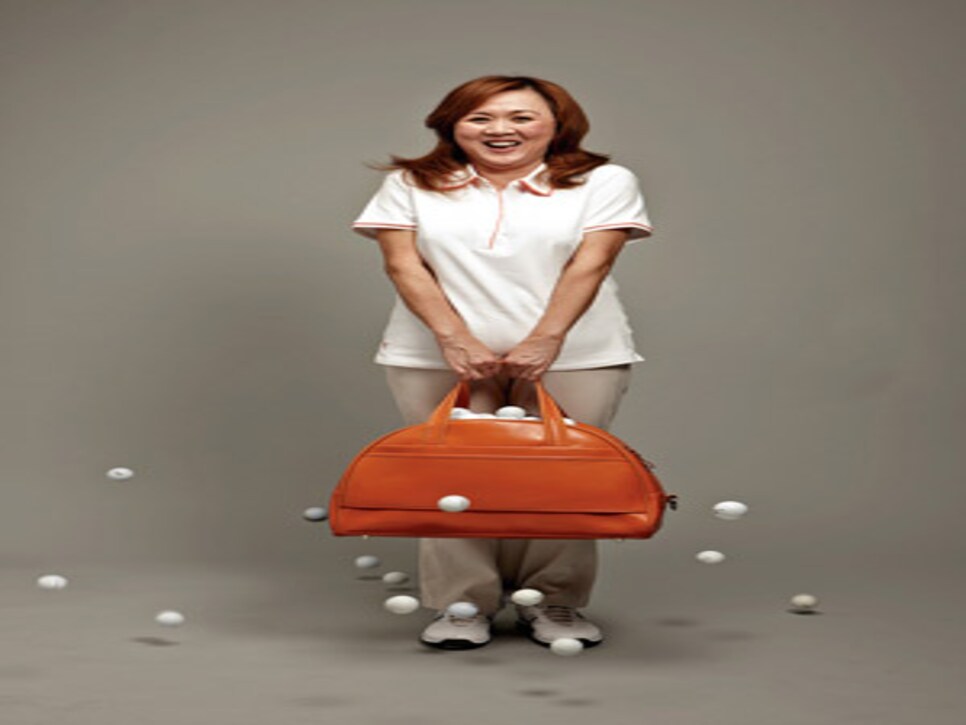 Growing up in Malaysia, I knew nothing of golf. After I married my husband and settled, we met some neighbors whose children were caddies. Then we had children. It wasn't until our family moved to Egypt, because of my husband's job, that I first saw and held a golf club, at age 39.
My husband is a marine engineer. He helps build ships that transport liquefied natural gas. We've lived all over the world. We typically stay in one country for six months to two years. Some places we return to, but many we do not. Cairo was the first place I experienced serious culture shock.
I didn't know a word of the language. The food was different, so much beans and bread, and when shopkeepers raised their voices I sometimes cried from intimidation. To avoid sickness, we were instructed to eat only at restaurants approved by my husband's company. Foreign women encounter fewer restrictions, but I was still warned not to dress in revealing clothes or disrespect the culture in any way that might expose me to danger. But for our daughter, Wei Yee, 11, and son, Yew Fai, 14, the international school was a very good experience.
Eventually I needed to get out of our apartment and do something. So I attended a 12-week beginners golf program set up for expatriate wives.
At first, all the women were enthusiastic to learn golf (and to spend time with our young, good-looking coach). The lessons were only an hour, and most women stayed afterward for lunch and to chat. For me this was the best part.
As the weeks progressed, many women started dropping out. At the end, there were just three others and myself. We decided to carry on. Soon we were playing 18 holes three times a week, briskly pulling our bags on trolleys.
But then my husband was assigned to South Korea. I was sad to part with my golf buddies, but what was most difficult was the situation facing our family. Our children wouldn't be able to continue their advanced education on Geojedo Island, our new destination. So my husband and I decided to enroll them in a boarding school in England, and I'd accompany him to South Korea.
The guilt of leaving my children behind hung from me like a weight. It would have been easy to stay in bed, do nothing and slip into depression. But I couldn't give up golf.
After a few months, I found myself back at a course, practicing, slowly picking up life where I left it. To show support, my husband took up golf. We both improved under our Korean coach despite having few words in common.
The grocery shopping was familiar, lots of rice and fish, but the golf was something to get used to. Young female caddies were compulsory; you rode in a cart while they ran around with radios communicating with each other. This was relaxing in a way, always having your ball found, but also a burden. Everyone seemed to pay strict attention to their attire, and even on bad shots, all Koreans hold their pose. Because rounds were so expensive, we spent more time going to the range and playing indoor golf on simulators with other couples.
Next we moved to Greece, where the golf course was poorly maintained, then to Houston, where golf was very casual. The course we played regularly was only $24, and you just showed up and got grouped with other people. This was a great way to learn the culture. Americans are relaxed on the course, and it isn't a big deal to drink beer or if your clothes have holes in them. About the only thing that overwhelmed me about America was the giant supermarkets. With so many sizes of milk and types of bread, it's hard to make a decision!
During every major school holiday, I visit my children in England. It's one country where I've never played golf.
My husband and I will be moving to another country soon. We're not sure where yet. Thanks to golf, which has no barrier to language or culture, I believe life will be good wherever we go.