Being totally blind is frustrating, but it has let me live without distraction. I don't have time to "watch" bad TV or shop for stuff I don't need. I can do most things, like vacuum a floor, board a subway and walk to an address; it just takes me longer. Much longer. That I can start the correct program on my screenless, nine-key computer and compose these sentences is a miracle, and also the result of much floundering. Because blindness limits my options, every move I make in this world, in a way, is like hitting a golf shot: focused. And I think my memories are richer for it.
Not to suggest my life is any more exceptional than my golf. My career low is 88, but I usually shoot closer to 110. With the support of my loving wife, Connie, I had a modestly successful career selling insurance, and we raised two beautiful daughters in our Nashville suburban home.
Last time I saw anything was the summer of 1966. I was 18, had a girlfriend, was attending community college to become a TV repairman and was making a little extra money from my part-time job operating the radio at a police station. One night after my shift, an officer invited me to ride along in the new cruiser. We ended up in pursuit of a speeder and crashed. I suffered several injuries to my skull, but there was hope that when the bandages were removed, I'd be able to see. You can imagine my disappointment.
Somehow, my optic nerve has remained partially stimulated deep in my head. I see only black with sparkling red and white stars that rush at me like a bucket of thrown sand.
The months recuperating at my parents' house I felt true despair. My buddies would visit and take me out in their car, and we'd try to laugh, but I knew I'd never keep up with anyone ever again.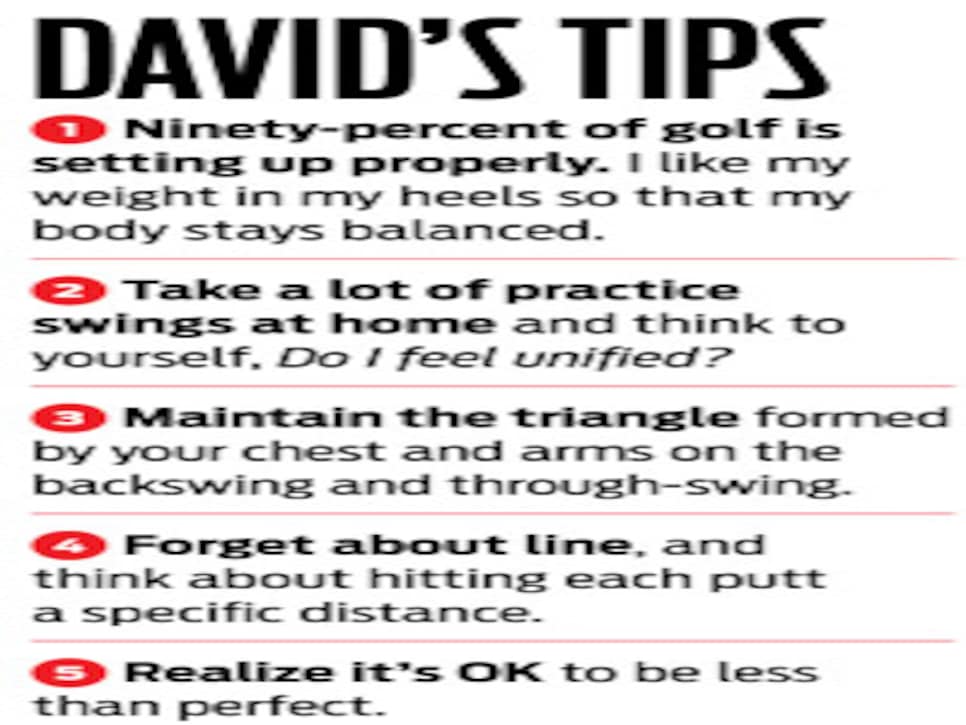 My dad felt terrible because it was through his urging and connection that I got the job at the police station. One day, I heard my golf clubs clanging up the basement stairs, and then my dad told me to get in the car. Was this a sick joke? I had more important things to do, like learning Braille and figuring out what I could do with my life.
But my dad was set on the idea. It was winter, and the course was empty. Neither of us knew that blind golfers had been competing in national tournaments for nearly two decades, yet my dad instinctively did what all coaches for the blind do. He bent down on one knee and placed my club behind the ball. He held the shaft and clubface in perfect position as I got balanced and comfortable. Then he backed away.
I will never forget that first shot--a 7-iron. The sound of the ball, the soft release of the divot, the wind on my cheek, all the senses came together so that it was like seeing the high draw trace the sky. (Before the accident I was breaking 80 regularly.) In that instant I realized a blind man can play golf, and who knew what else.
I moved to Chicago and found that smooth concrete and sharp corners are heaven for the blind. At a school for the visually impaired, I learned the skills I'd need to attend Southern Illinois University. There I placed an ad offering $1.25 an hour for a library assistant, and the soft-spoken young woman with delicate wrists who responded was Connie. For one business-class paper, I wrote about the Acushnet company, and we couldn't stop laughing from the innuendo of so many references to Titleist "balls."
I've won three National Blind Golf Championships, in 1977, 2011 and 2012. The last two I was coached by Everett Davis, a retired banker with a giving heart who is the most dependable man I've ever met. The first was with a teenager, Stuart Smith, a scratch golfer with perhaps unreasonably high expectations. I owe my understanding of swing mechanics and development as a tournament player to Stuart, who would get upset with anything worse than a par. When we won at Firestone Country Club in 1977, he took my arm and sprinted me down the fairway. Most people are hesitant to approach a blind person. That I'm a golfer is the best icebreaker. "No fooling?" people say. It immediately strikes them as ridiculous, yet plausible. It expands their imaginations of what the blind can accomplish. This is precisely the message I seek to convey through my work with the United States Blind Golf Association.
Down deep, I'm still desperate to do the things I can't. I wish I could drop my wife off at the door of a restaurant and park the car when it's raining, or even pay the bill. But when I stand over a golf shot, my world resets, and I feel like I'm in control again.
I like to think my presence adds extra meaning to my regular Saturday game with sighted golfers. Golf is about what's possible, for each of us. When we forget that, we might as well be four dudes having breakfast together.