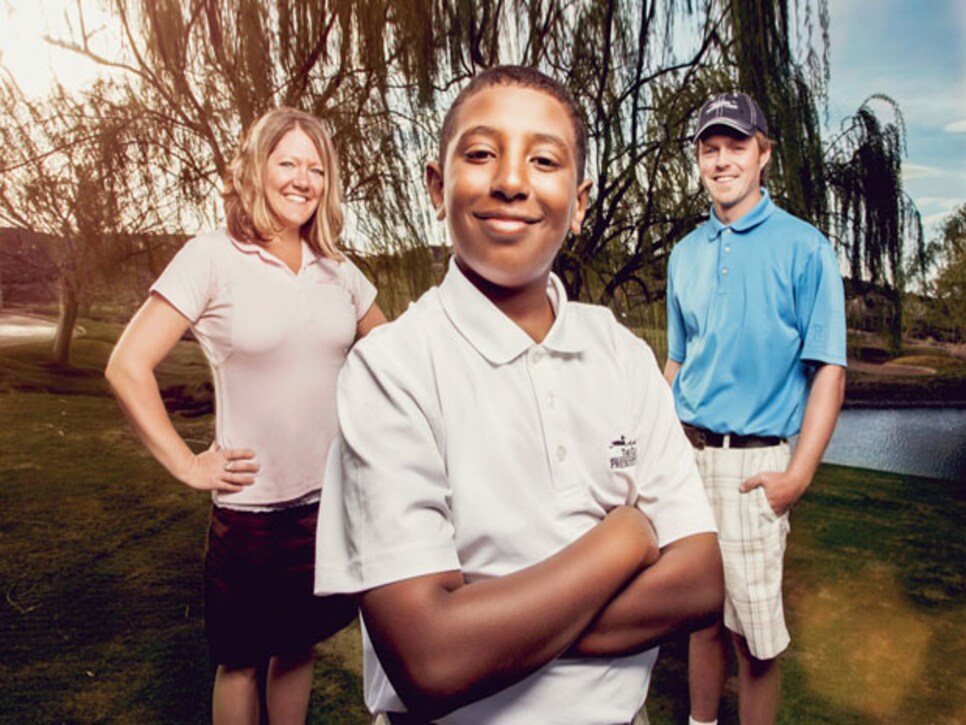 Beniam found a happy life with Carrie and Dan Osterloh.
You can call me Ben, but I prefer Beniam. In Ethiopian it means son of my right hand, or favorite son.
My parents, who gave me this name, came to America in 1993 as refugees. My mom had suffered beatings and other atrocities. This might be why my oldest sister, Senait, the only one of us four born in Ethiopia, is challenged developmentally and lives in an adult home in Seattle. But maybe not.
My mom was convinced most of the food in this country was poison. My dad, who spent time with alcohol and drugs, contributed little to our care. We ate infrequently, and our apartment was a mess. Our mom loved us, but she was not well. Schizophrenia was steadily taking her. Social workers confronted my dad, and one day we were placed in the care of the state of Washington. I stayed with my younger sister, Janna--I was just 5 years old, and she was a baby--and it was a long time before we knew where our older sisters, Senait and Susan, ended up.
We stayed with one family, but they didn't want to keep us. Then we stayed with another couple, Sandra and Curtis, for one year. Both were obese and smelled bad and took little pride in themselves. They received money for each foster child they housed.
When I came home from school, I got locked in my room. I had no toys, and I wasn't allowed to sit on the furniture. I was whipped with a belt, and my skin was often ashy and cracked. One night, one of the older foster girls ran away and told the police about sexual abuse. I was never abused this way. My sister was thankfully too young, but I sure was happy when the police came and drove us away. We were going to live somewhere else.
What transpired next, I can't exactly recall. I was only 6. I remember one building we stayed in, but it wasn't long before Janna and I were delivered to Mrs. Osterloh and her husband. Mrs. O, whose first name is Carrie, was my first-grade teacher and had been my kindergarten teacher. I liked her very much. That she was going to be my new mom felt like a real stroke of luck.
Janna and I were formally adopted by the Osterlohs, but my problems weren't over. I'm comfortable saying it now, but I was the crazy kid in school, and not in the way that makes friends. Psychologists diagnosed me with lots of D's: PTSD, ADHD, OCD. They stand for post-traumatic stress disorder, attention-deficit hyperactivity disorder and obsessive-compulsive disorder. Mr. Osterloh, whose first name is Dan, but I'm proud to call him Dad, loves golf. He started teaching me to play right away.
I love it, too. I can spend all day at the golf course. And because we moved to Arizona last year, this happens more often. My two new best friends, Riley and Trevor Lewis, are really good golfers and are members at The Club at Prescott Lakes, where last year I won the 14-and-under division of the junior club championship. When I grow up I want to be a tour player, though I realize the odds. I just turned 12, and my best round is 82.
Sometimes I feel angry and upset by my OCD. I don't like that I count when I get anxious, or that I sometimes can't sit still if I think a door is open. But I'm getting better. My dad says these tics are probably leftover coping mechanisms from when life was bad. He says I don't need any medication, that I just need to keep playing golf. The game has taught me that to be good at anything, I must control my emotions.
My sister Susan is thriving with her family in Seattle and will attend college next year. Our mom lives in a home not too far from her. I spoke to our mom on the phone last Christmas, but she doesn't speak much English, and my Ethiopian isn't any better. My biological father isn't allowed to contact me until I'm 18. Dan believes fate delivered us to each other. He calls me Beniam.