The Game Helped Me Recover From War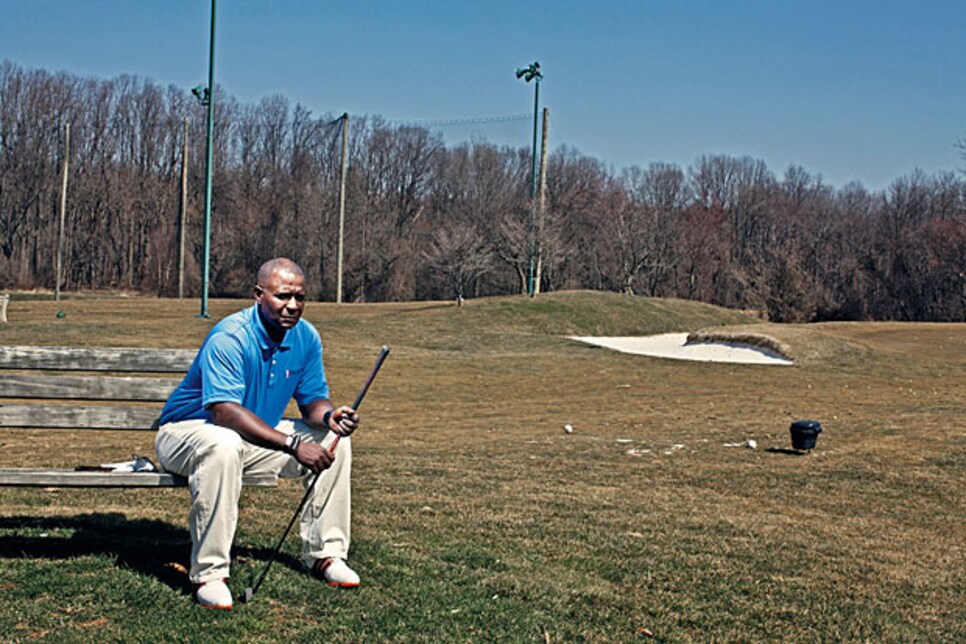 "Golf heals all day," says Osborne, at Olney (Md.) Golf Park.
On the plane home from Iraq they gave us a sedative. Sometime in the night, or day, we touched down in Washington and were transferred to Walter Reed General Hospital. I woke up, and there I stayed for four years and 18 surgeries. As monotonous as that time was, especially the six months in a wheelchair, I didn't have to look far to see others had it worse.
Near Baghdad in May 2006, I was a driver in a convoy of Humvees escorting 25 supply tractor-trailers. The pavement was pitted from IEDs (improvised explosive devices). These homemade contraptions of nails, bolts, glass and scrap metal have basic triggers, and their force varies. We hit a big one, and even with sandbags on the floor, our vehicle flipped. My right shoulder smashed into the radio box, and my left foot was mangled. The shock waves rattled my helmet, and in the weeks after my brain felt like a cooked noodle. It's hard to describe, but to this day if I move my head too fast I lose my balance.
Six wires attach my collarbone to my arm. There's a plate in my foot and two titanium vertebrae in my neck. But the most difficult part of my rehab has been psychological. When you've spent a year carrying a weapon every step, it's tough to suddenly relax. Your sense of security is compromised. Home in Fort Washington, Md., I couldn't walk out of a restaurant with my daughter without thinking what I'd do if we were attacked by criminals.
I feared deep sleep because it would be accompanied by nightmares. I've killed a person. It's possible there have been others, but one I know for sure. I see him in nightmares, and I know that maybe he was like me, a man with a family, fighting out of service and honor.
I re-enlisted in the Army when I was 42. I was in for seven years after high school, but the 1980s were a calm decade, and so when Operation Iraqi Freedom began I felt compelled to finally apply my training. My dad, also a military man, asked me if I could keep up with the younger men. I trained hard, but there is no way to mentally prepare.
There are lots of programs to help soldiers cope with PTSD (post-traumatic stress disorder): counseling, group therapy, yoga, writing workshops, tickets to sporting events. My friend introduced me to SMGA (Salute Military Golf Association), which provides lessons to veterans, but I refused. I'd been a football and basketball guy, never golf. Instead I wallowed in my worthlessness and let my weight balloon to 270 pounds as I explored combinations of medicines and their side effects.
I guess I was shocked into action by reports of soldiers returning home from Walter Reed, transitioning to civilian life, and dying within a year. Addiction to painkillers, physical inactivity and reckless living were common reasons. So after my final surgery in April 2010, I called the SMGA. Co-founder Jim Estes, a former PGA Tour player, told me to come in for a lesson.
Because of my weight, equilibrium issues and inflexibility in my neck, I only chipped and putted for the first month. But I didn't skip a day. To be outside enjoying a challenge on my own gave me new life. In time Jim moved me on to the full swing, and I was custom-fit for a set. (Ping and TaylorMade give clubs to all wounded warriors who complete Jim's clinics.) Now I walk two to four rounds a week. The physical therapy and stretching you get at a hospital might last an hour, but golf heals all day.
I'm down to 220 pounds; my only med is Tylenol, and my low round is an 81 at Argyle Country Club in Silver Spring, Md., whose members are kind enough to let us play their beautiful course. My goal is to help grow a nationwide network of clubs that open their gates to SMGA veterans now and then.