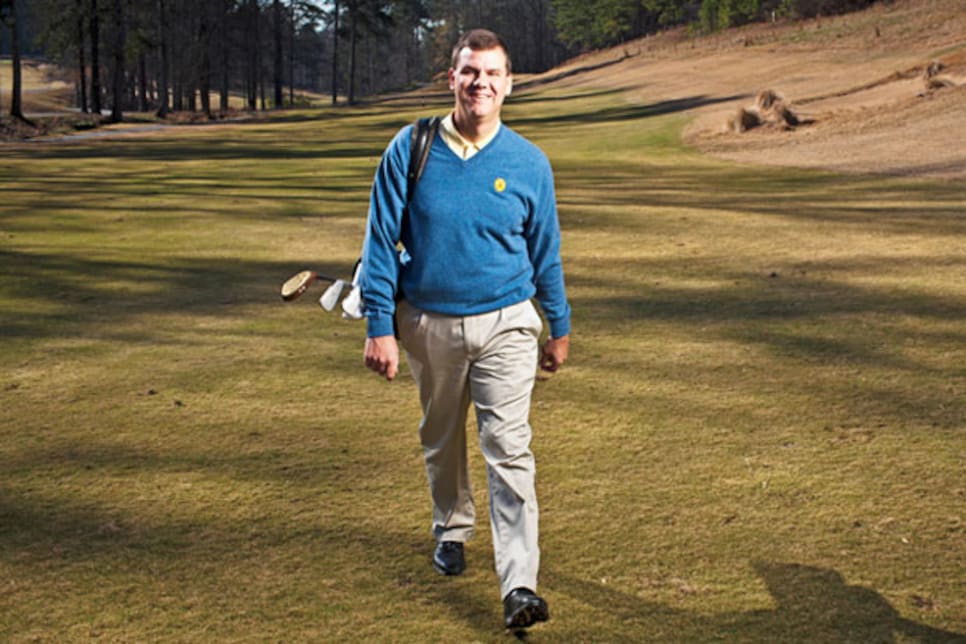 "If golf teaches you anything, it's to move on," Plumart says.
When I was 33 my identity was hijacked. No, my Social Security and credit-card numbers weren't stolen, but the stripping away of who I was occurred at a pace and sequence not dissimilar. Getting very sick as a young man took me by surprise, and over the course of 11 months the balance of my body and soul was steadily depleted. When the dust settled I was no longer the man I once was.
At 190 pounds I wasn't as bulky as I'd been in the Marines, but for a guy working a desk job I was in good shape. I kickboxed recreationally, and I almost never got sick, even when caring for my wife, Denise, or our two children when they caught a cold. But at 160 pounds (I'll keep the bathroom door closed on how I got there) I was gaunt with yellow eyes. Believe me, I would've preferred erroneous charges on my AmEx bill.
I was diagnosed with Crohn's disease. Go on Wikipedia, like I did, and read all about this life-altering, though generally not life-threatening, malady of the belly that can manifest out of nowhere. It wasn't good news, but at least I had an answer after so much mystery. To relieve the swelling in my joints--my ankles were like softballs--one of the prescriptions my doctor gave me was for Prednisone.
I didn't get better. I kept losing weight and couldn't sleep without pills. It's never convenient to get sick, but the timing was especially bad. I'd left my position at Merrill Lynch to start an investment firm with a partner. If we couldn't grow the portfolios of our new clients, we risked bringing in zero income for our families. Every evening I would come home and collapse. My wife took on all the little jobs around the house, like carrying out the trash. I hated myself. I used to be strong and capable.
I went to the Mayo Clinic in Jacksonville for more blood tests. I'll never forget the look on the doctor's face when she said, "I'm so sorry."
The doctor explained that I had suffered a severe case of food poisoning specific to someone of my blood type. I'd never had Crohn's. The misdiagnosis was unfortunate, because for nearly a year it had influenced which medications I could and could not take. The sustained dosage of Prednisone, in particular, was most unfortunate, because I had developed a side effect called avascular necrosis, or simply, the drug had cut off the blood supply to my hip bones, which were now irrevocably dying. I would need a double-hip replacement.
Although I considered it, I didn't sue the doctor who misdiagnosed me. But the irony of the nurses double-checking their work when I went in for surgery didn't escape me. "Are you sure you're here for a hip replacement?" each one asked, incredulous that a man my age would be having this procedure. This was November 2008. As I recovered, I watched the stock market tank, and psychologically I hit bottom.
One day a buddy invited me to play golf, and life started breaking the other way. With titanium hips I'd never run or play contact sports again, but golf was something to get excited about. I joined Rivermont Golf and Country Club in Alpharetta, Ga., and started playing nine after work.
Despite being new to the game, I realized it was a big deal to get an invitation to play East Lake Golf Club. It rained that day, so they didn't allow carts. I was a 15-handicapper, and this was the first round I'd ever walked. I almost didn't finish 18, but I realized this was the way to play. Now I walk every chance I can. It loosens my hips, and I've found there's nothing worse than a shuddering cart ride on a cold morning.
People often can't believe my lack of bitterness, but if golf teaches you anything, it's to move on. I like my new identity. We all have to grow up sometime, and you can't kickbox forever. The game has helped me professionally, too. A few months ago I avoided a business deal with a guy after watching him shoot 74 off a 9-handicap. I didn't trust him then, and it turned out to be the right move.