News
Golf's ironman Sungjae Im got his work in even during the pandemic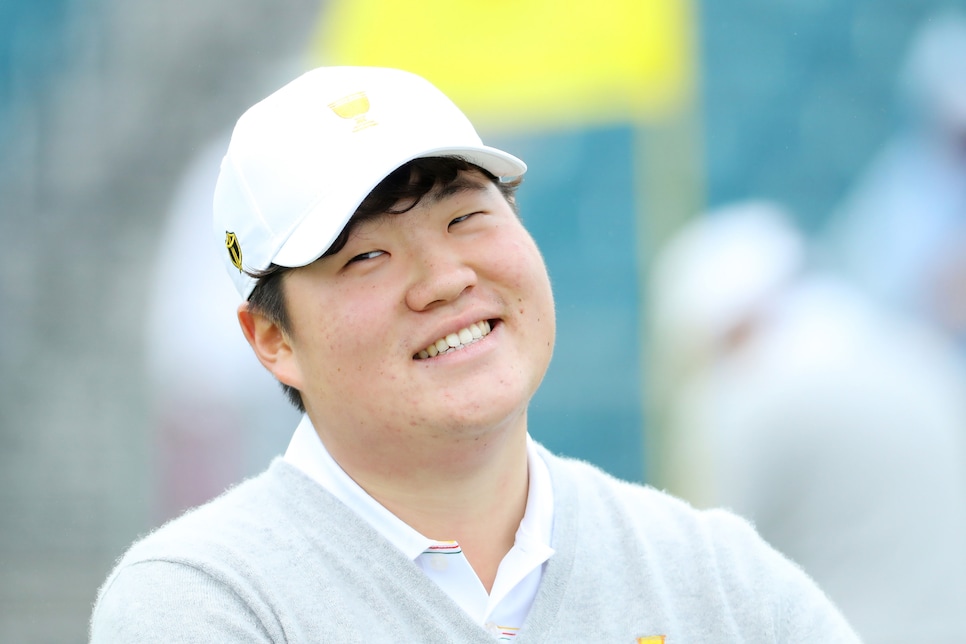 Warren Little/Getty Images
BC—Before COVID-19—Sungjae Im was on a roll. The 22-year-old Korean won the Honda Classic, was in contention at the Arnold Palmer Invitational before finishing third, and climbed to the top of the FedEx Cup standings [and is still there]. Then the Players Championship, where he opened with a respectable three-under 69, was canceled and the PGA Tour's season paused.
The Tour packed up its tents. Players headed home.
Im grew up on South Korea's Jeju Island and began playing at age 3, when he would tag along with his mom to an indoor range. He doesn't have a home in the U.S. Instead, he lives out of a suitcase, a proposition made easier when playing 35 out of 52 weeks, which he did in 2019.
But what happens when the show doesn't go on? Suddenly, the Tour's busiest golfer had no tournaments to play and nowhere to go.
So Im waited out the three-month break, along with his mom, who handles most of his duties when he's on the road, at Saddlebrook Resort near Tampa, Fla. While golf courses in South Florida were shuttered for a period because of the spread of coronavirus, they remained open in most of the state, including Tampa.
"Luckily, with the golf courses not closing where I stayed, I was able to practice about four to five hours every day during quarantine," Im said on Tuesday from the Charles Schwab Challenge, where the Tour resumes its season after 91 days off. "I felt like my short game needed a lot of work during the break, so I focused a lot on short game, but specifically, I tried to practice all parts of my game, and I feel ready to return this week."
Still, the time off in one location wasn't without its challenges for Im, who was making his 15th start of the season when play was halted. After all, there's only so much practicing he could do. The rest of the time he did what a lot of 20-somethings would: watch Netflix. One of Im's favorites was the movie "Extraction," an action flick starring Chris Hemsworth about a black-market mercenary hired to rescue the kidnapped son of an imprisoned crime lord with a body count that would make Quentin Tarantino drool.
"I would rest, sleep, just stay in my hotel," Im said. "There wasn't much to do. It was nice having my mom there, and I had a homemade meal every day, so that definitely helped the time go by."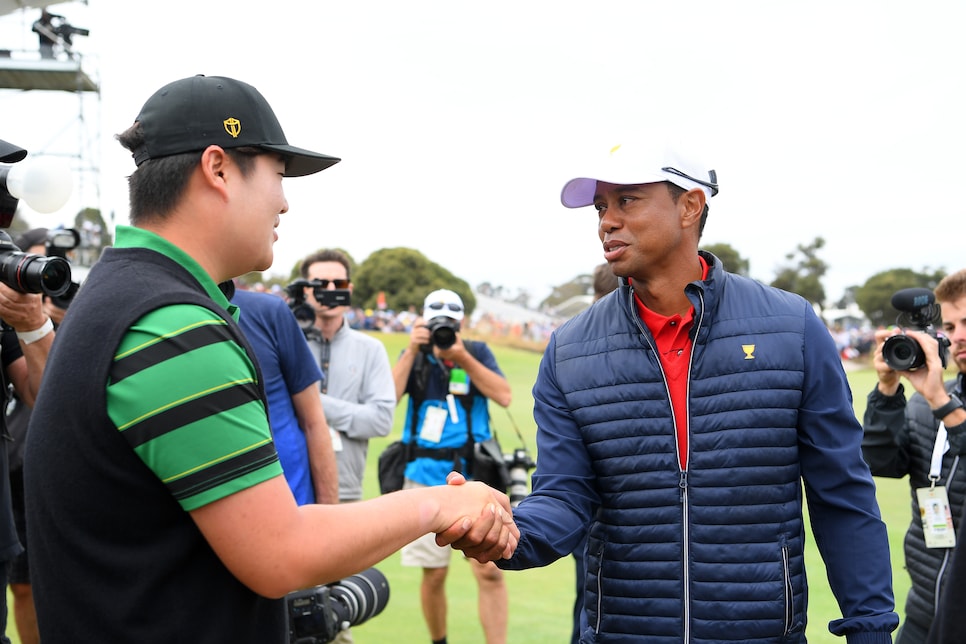 Sungjae Im played Tiger Woods in singles in the 2019 Presidents Cup.
Quinn Rooney
While practicing at TPC Tampa Bay, he bumped into South Korean baseball star Hyun-jin Ryu, a 2019 All-Star pitcher for the Toronto Blue Jays and notable for his work with the South Korean Olympic baseball team.
"It was actually pure coincidence that we ran into each other," Im said. "I was practicing at TPC Tampa Bay and he happened to be there, as well, and we kind of passed each other on the front nine, and he actually came up to me and asked for a photo and recognized who I was. I thought it was really cool that such an accomplished athlete and a megastar in South Korea and here, as well, recognized me and wanted to take a picture with me."
Now it's time to get back to work.
Said Im: "My plan is to play as much as possible, like I usually do."