News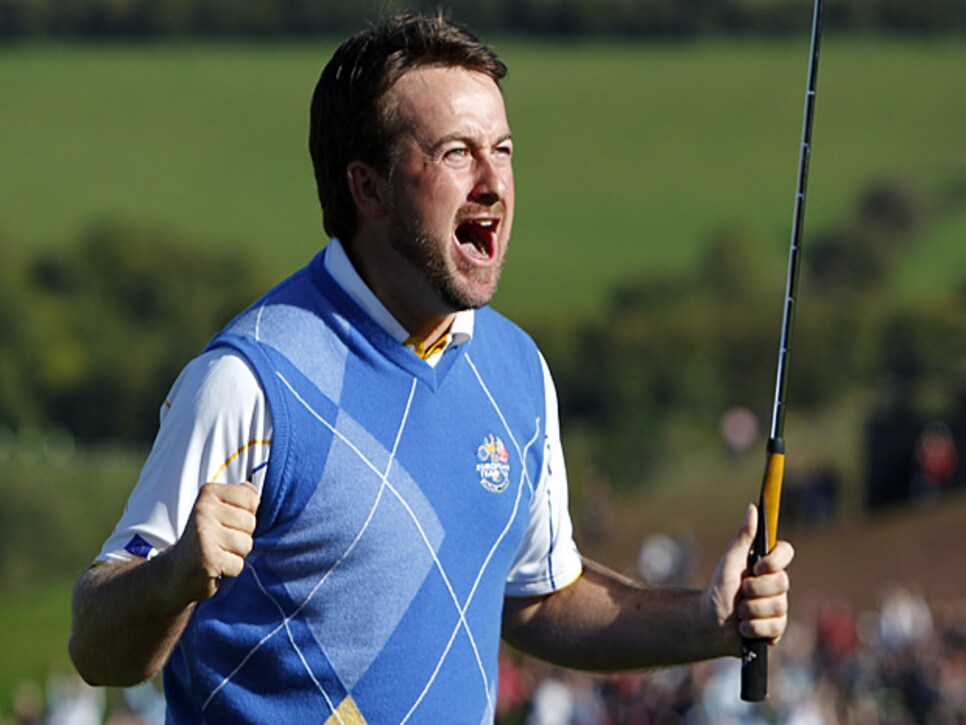 Graeme McDowell reacts after sinking the Cup-clinching putt at Celtic Manor in 2010.
SOUTH WELLFLEET, Mass. -- The amazing thing about the European Ryder Cup team is that no matter who is on the squad and no matter now many times they have won the biennial competition, they manage to go into the event with the sense they are the underdogs. I'm not sure how they do this, but they do.
The simple truth is that since 1985, Europe is 8-4-1 in the Ryder Cup, and since they were the defending champs, the Euros kept the Cup after that halved competition. So, over the last 27 years, the Ryder Cup has resided in the United States after only four of the 13 encounters. That's pretty close to domination.
Still, Europe manages to play with a healthy chip on its shoulder, feeling -- whether rightly or wrongly -- that many American fans and some American media feel that those who choose to play the European Tour full-time rather than the PGA Tour are afraid to take on the best.
Every smart captain of the European team taps into that sense of slight come competition time. And that perceived feeling that they are regarded as inferior is part of why the Ryder Cup seems to be more important to Europe than it is to the American player.
"Guys in the U.S., you can't understand -- [can't] overestimate how big a deal it is in Europe, the Ryder Cup," Padraig Harrington said last week at The Barclays when discussing his chances of being one of Jose Maria Olazabal's two captain's picks. "It's very important," Harrington said.
"Let's talk about that another time," Harington said, trying to get away from the topic, before returning to it by adding: "It's just a big, big deal." Not a big deal but a big, big deal. That sense of importance -- it is truly the fifth major for European players -- may also be why the Europeans embrace Ryder Cup week better than the Americans.
The Euros seem to treat the Ryder Cup as if it were a week-long fraternity party. The Americans? They may desperately want to win the Ryder Cup, but they seem to take little joy in the process of getting there.
The European team is now set. Lee Westwood, Justin Rose, Luke Donald, Paul Lawrie, Graeme McDowell, Rory McIlroy, Martin Kaymer, Francesco Molinari, Peter Hanson and Sergio Garcia all qualified with Ian Poulter and Nicolas Colsaerts as the captain's pick by Olazabal.
That's an extremely solid squad with Lawrie, Garcia and McIlroy coming off recent victories. It is also an extremely experienced team with Colsaerts the only one lacking Ryder Cup exposure.
The American side, on the other hand, is a lot less in focus and still will need this week's Deutsche Bank Championship to help establish some clarity before Davis Love III makes his four wild card selections Sept. 4.
What appeared to be the clear captain's picks for Love going into the Barclays last week is a lot less clear now.
With Tiger Woods, Bubba Watson, Jason Dufner, Keegan Bradley, Webb Simpson, ZachJohnson, Matt Kuchar and Phil Mickelson automatic qualifiers, it was thought that Steve Stricker and Jim Furyk were sure things as wildcards, while Hunter Mahan and Rickie Fowler were probables.
But what appeared to be a four-guys-for-four-spots situation going into Bethpage is now about a nine-guys for four-spots situation. With Nick Watney winning the Barclays, Brandt Snedeker finishing second and Dustin Johnson T-3, they all have to be in the mix now. And Bill Haas and Bo Van Pelt have a chance to help themselves this week at Deutsche Bank.
Further complicating things for the U.S. side are the guys who hurt their chances at Bethpage. Furyk and Mahan missed the cut at the Barclays while Stricker was T-54 and Fowler T-24.
Of those, Mahan probably made himself the most vulnerable. You still have to like the chances of Stricker and Furyk because of their experience and the fact they can both putt -- well, Furyk at least some of the time these days.
Fowler is helped because he is a fan favorite, which means we really could be talking abut Mahan, Johnson, Snedeker, Watney, Haas and Van Pelt fighting it out at Deutsche Bank for one spot.
Harrington, who has played every Ryder Cup since 1999, will miss this one, finishing No. 19 on the points list and being passed over as a captain's pick by Olazabal, with whom he has had a feud stemming back a decade when the Irishman accused the Spaniard of over-repairing marks on a green.
"From the character that he is, I believe he would put winning way above anything that's personal," Harrington said about Olazabal when asked if the feud would hurt his chances as a captain's pick. Then Padraig put the importance of the Ryder Cup into perspective.
"The Ryder Cup means so much to Europe, particularly to Jose as a European player," Harrington said. "Nobody, bar Seve, would understand in his mind what it means to Europe. Winning is what's important to him. I can't see that being -- I think he'd pick -- to get a winning team, I can't see personal coming into it to get a winning team, no. Why am I talking about it? There you go."
When it came down to it, Harrington was right. Olazabal simply felt Poulter and Colsaerts are playing better right now than Harrington. And that is another reason Europe does so well in the Ryder Cup. It never lets sentiment get in the way and the captain never worries about hurting the feelings of a struggling player by sitting him down.
The Americans are imprisoned by their sense of democracy and feeling everyone should play as much as possible. That notion that everyone should play at least three of the five sessions hurts the U.S. team in Ryder Cup after Ryder Cup. Europe is willing to hide its weak players.
Maybe the Americans need to embrace that mentality in order to get back in the winner's circle. As Harrington said, the Ryder Cup is a big, big deal in Europe. Maybe it's time the Americans start thinking of it that way as well.