News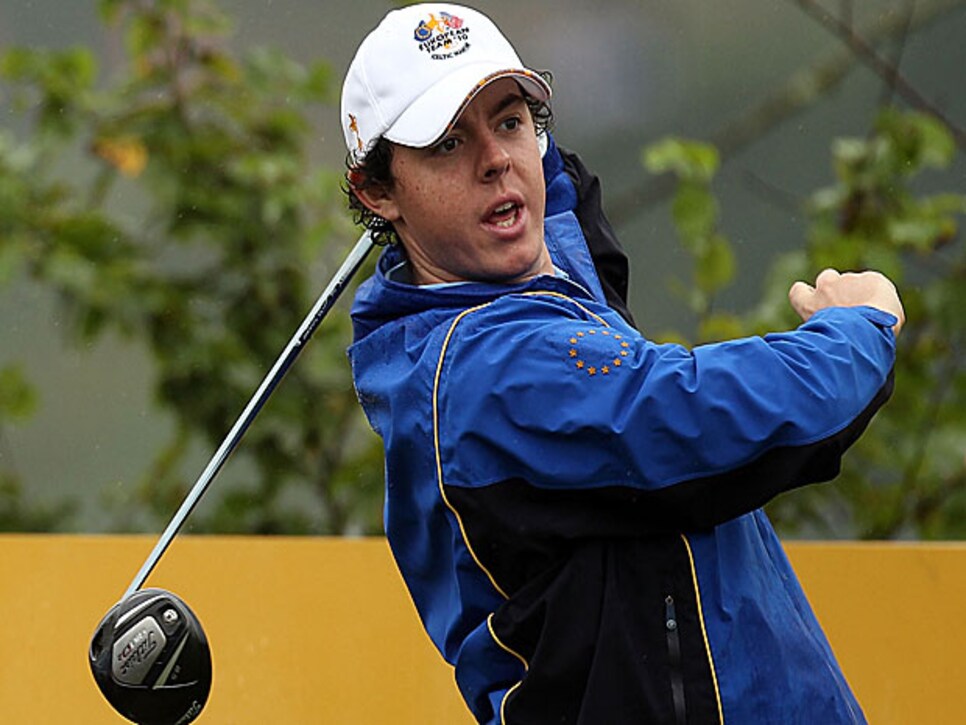 Rory McIlroy is one of 11 Ryder Cup rookies playing this week in Wales.
NEWPORT, Wales -- As a former U.S. Secretary of Defense might well be moved to observe of this Ryder Cup, never have so many known unknowns played such a pivotal role in the upcoming unknown unknowns, otherwise known as The Matches their ownselves.
Shall we begin at the beginning? Tiger Woods. The former best player in the universe and still the No. 1 player on the third rock from the sun, hit bottom with an unnerving splat in August at Firestone CC. He's taken to rebuilding his swing with Sean Foley. Success on the golf course may be the only thing that will rebuild his psyche. Or is it vice versa? Serious observers think Woods is on the right track. He's regained his once amazing speed through impact and is hitting the ball farther than he has in years. Woods doesn't have a dominating Ryder Cup record. He's only been on one winning U.S. team, at Brookline. Forget the Presidents Cup. This is the Bigs. Woods may be more motivated for this Ryder Cup than any he's ever played in but, are he and his work-in-progress golf swing ready to play in front of 50,000?
The questions only continue from there.
• Europe's best player, Lee Westwood, hasn't played since he was forced to withdraw from the WGC-Bridgestone Invitational, the same week Woods disintegrated. Suspected at first of having a blood clot, the injury turned out to be a torn plantaris muscle that caused swelling in his right ankle and calf and required complete rest to heal. In Ohio, Westwood said he was going to go home and, "sit on my backside for six weeks. It's the only way to improve it." This is pretty much what the man who finished second in both this year's Masters and the British Open did. His only tune-up was a two-day charity event. Presuming his health is 100 percent -- and even if it's not, he'd be certain to limp his way through just as he did at St. Andrews -- what effect will the lack of competitive rounds have?
Europe's most decorated player, three-time major champion Padraig Harrington, shot a final-round 64 to finish out The Vivendi Cup and had his game pronounced fit by his captain, Colin Montgomerie. But Harrington missed the cut in the Masters, the Open Championship and the PGA this year, his worst showing in the majors since his O-fer in '05. Two years ago at Valhalla, Harrington was 0-3-1 and was visibly exhausted from the summer campaign when he successfully defended his British Open title and won the PGA at Oakland Hills. With Westwood playing nearly as poorly in Kentucky, going 0-2-2, the Americans were able to win the Cup. Could Team USA be as fortunate twice in a row to have Europe's best two players off the boil?
• Phil Mickelson is America's designated Numero Dos. Overtaking Westwood at Augusta National to win an emotional Masters made Phil's year. Since then, however, Mickelson's season has been mercurial. He fell just short in the U.S. Open at Pebble Beach but was a non-factor in the Open Championship and the PGA. A lot of the up and down nature of his year can be attributed to two factors, the difficulty of his wife Amy's cancer treatment, and his own recently diagnosed arthritic condition. Amy Mickelson is supposed to make an appearance at Celtic Manor. Are the wonder drugs keeping Phil's own aches and pains at bay?
• The biggest known unknown of all applies equally to both sides: The rookies. Europe actually has more rookies than the U.S., 6 to 5, and much will hinge on which of these groups is able to come through when the cotton mouth sets in. The Euros have the talented Italian version of the Herberts -- Edoardo and Francesco Molinari. Germany's 25-year-old Martin Kaymer won the PGA Championship in a playoff, beating one of America's rookies, Bubba Watson. He was deprived of the opportunity of facing another U.S. rookie, Dustin Johnson, in extra holes at Whistling Straits after the now-infamous two-shot penalty for grounding a club in a bunker. Matt Kuchar, who has been the most consistently solid player on the PGA Tour this year, is rumored to be a force on the ping-pong table in the U.S. team room.
But, of all the rookie combinations, no pair has drawn more attention than the 21-year-olds, Rory McIlroy and Rickie Fowler. The young northern Irishman, who shot 63 on opening day at St. Andrews, has already expressed his desire to take on the World's No. 1, Woods. It's something Woods more or less responded to by saying, be careful what you wish for, young fella. Fowler is the third youngest player in Ryder Cup history and was a pick of Captain Corey Pavin even though he has never won a tournament as a professional. "You know, it's all nerves on the first tee and then just go from there," said Fowler.
By Sunday night, if the rain holds off, we'll find out who's able to do just that, leaving us with nothing but the known knowns.