News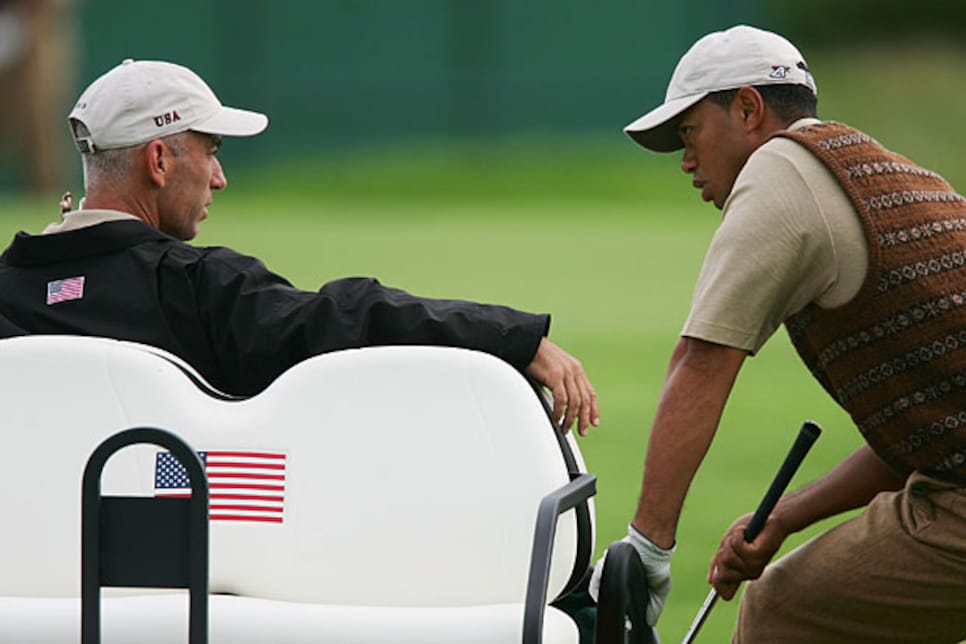 Tiger Woods is one of the question marks surrounding Corey Pavin's team for the upcoming Ryder Cup.
AKRON, Ohio -- Forget the New York Yankees, break up Europe.
If we could climb into the Wayback Machine from "The Rocky and Bullwinkle" show and return to the days of yore when the American colonials played the Ryder Cup Matches against a team comprised solely of pipe-smoking professionals from Great Britain and Ireland, well, it probably just wouldn't matter. After all, it's not like Colin Montgomerie is going to be trotting out Alf Padgham this autumn to face Corey Pavin's minions at Celtic Manor.
With the year's last major just a week and a couple of Great Lakes away, a lot of the conversation at the WGC-Bridgestone Invitational revolved around the Ryder Cup and who would or wouldn't qualify for the American and European sides. And the more you looked at it, the bleaker the picture seems for the U.S. -- not that the Europeans were anxious to provide any motivational quotes for the team room billboard.
"I think we were the favorite last time at Valhalla," said Justin Rose, one of the many Englishmen who'll likely be in uniform in Wales. "I think that's the way people were talking two years ago. Being the underdogs, it always helped the European team for a good number of years and, obviously, it helped the U.S. team. They almost had nothing to lose, went out there and played free. So, I guess that's the scenario that we don't want to fall into again."
Let's count heads along with Corey: With the Englishmen Lee Westwood (3), Luke Donald (7), Paul Casey (9), Ian Poulter (10), Justin Rose (19) and Ross Fisher (20) paired with the Irishmen Rory McIlroy (8), Graeme McDowell (11) and Padraig Harrington (15), that gives GB&I eight of the top twenty players in the World Golf Rankings. Ryder Cup captaining legend Tony Jacklin made a career out of hiding his other four. And that's not going to be a problem for Monty.
And, yes, the Americans have a few high-ranking players of their own, but even excluding Jim Furyk, who may have played his best golf in March and April, and Steve Stricker, who battled a bad shoulder before winning the John Deere Classic, the form of some key players is a matter of conjecture. Tiger Woods remains the world's No. 1 and is just outside the top eight. If he misses as an automatic qualifier, there's no way he wouldn't be one of Pavin's picks. But, if Woods' play continues as it has, how much has he got to give? The goatee has resurfaced, giving Woods the look of someone who's already in peak off-season form. And, speaking of playing their best in April, which Phil Mickelson are we likely to see in Wales? Furthermore, while Anthony Kim is back from thumb surgery and trying to get his game in shape, he's still got pain when he swings. "It only happens every two years," said Kim of the matches. So, there's no way he won't play. What remains to be seen is how effective he'll be.
No captain has ever done any player a favor by picking them when they weren't on their game -- think Lanny Wadkins selecting Curtis Strange. "The one thing with the Ryder Cup which makes it different to all other events, and I think people definitely miss out on this," said Padraig Harrington, "you can be coming down the stretch in a tournament but when you're nervous, you're backed up by the fact that you've played well that week. So, you get the same pressure, or more pressure, but without the confidence that you would have built up by playing the first 63 holes of the tournament and knowing that your game is in good shape.
"That's what makes the Ryder Cup so tough," continued Harrington. "You're not being asked to play your best golf on your good week. You're being asked to play your best golf on (that) week, as if you're told to turn up and perform, which is a tough test. My coach always said it like this: The difference between the good and the great player is a good player can play great on his week; a great player can play good when he wants to."
Right now, the Europeans not only have a lot of want-to, they seem to be on the boil. That could be a tough combination for Corey Pavin to counter with a quiver full of Ryder Cup rookies, unless his great players can find it in themselves to be very, very good.