News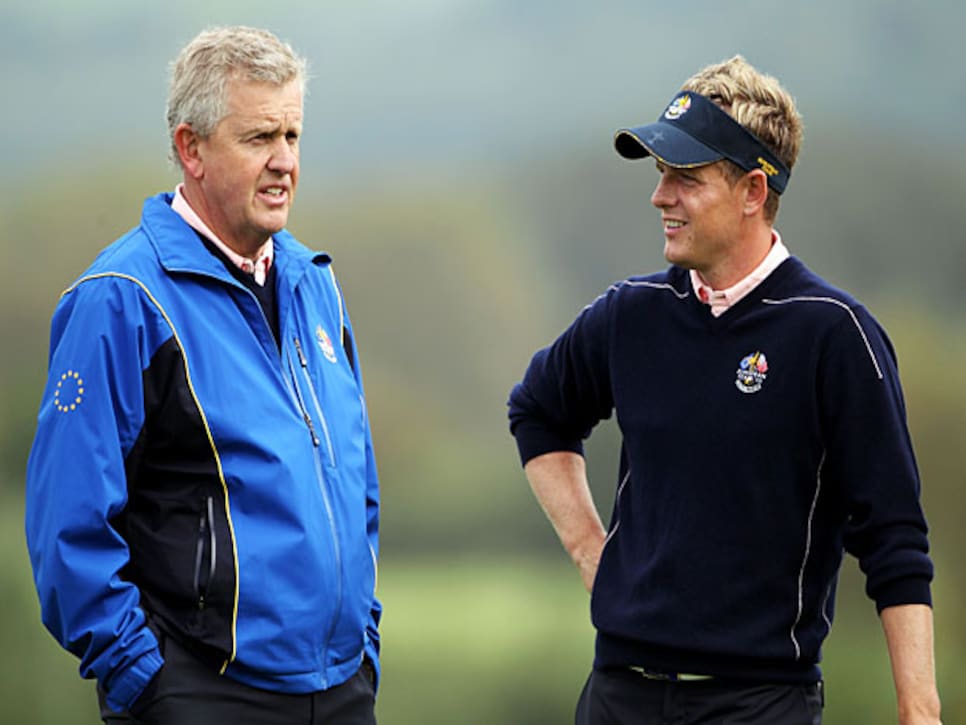 Led by captain Colin Montgomerie (left), the European squad has made more noice than its American counterpart leading up to the Ryder Cup.
NEWPORT, Wales -- So it was, inevitably and predictably, the phoniest of conflicts. But, for what it is worth, it says here the home side is already ahead on points going into this 38th Ryder Cup.
Easily beating out an apparently uninspired United States squad (a dreary dozen with the notable exception of Phil Mickelson) led by Borey, sorry Corey, Pavin, the European side drawn from six countries proved to be far more interesting, illuminating and animated during an interminable four-days of all-too-often tedious interviews. Well, they did until CP endearingly forgot to introduce Stewart Cink during the formal opening ceremony anyway.
Which is not to say that Colin Montgomerie and his merry men did not also perpetrate the odd verbal slip-up. Take this silly Rory McIlroy/Tiger Woods thing. By conceding that the young Ulsterman has been "upset" at the over-the-top reaction to perfectly reasonable comments re the current form -- or lack of it -- of the world No. 1, Monty gave unnecessary credence to the childish reaction of Woods. "Me too," had been the 34-year old Californian's brief and comically dramatic response when asked if he shared McIlroy's enthusiasm for a match-up or two over the next three days.
Still, from a European standpoint, Lee Westwood made a better fist of all things oratory. Pressed on the presence of as many as six European rookies here at Celtic Manor, next week's world No. 2 hit the equivalent of a Fenway Park home run over the Green Monster.
"Well," said the 37-year old Englishman. "Let's see. One of our rookies is a major champion (Martin Kaymer). Another is 21-years old, has already won in Europe and America and is ranked in the world's top-ten (McIlroy). Two of them have won the last two qualifying events going into this Ryder Cup (Peter Hanson and Edoardo Molinari), so they can certainly play under pressure. Another is unbelievably impressive tee-to-green and qualified easily (Francesco Molinari). Whom have I missed out?"
"Oh yes, he is a world match play champion and we are playing match play this week." He didn't then say "any questions?" but one had the feeling he could and should have.
Anyway, less-savvy eyebrows have been raised at Montgomerie's claim he did nothing out of the ordinary in setting up the oh-so pedestrian 2010 course. Past captains like Sam Torrance and Ian Woosnam openly created a hostile environment designed to hamper the style of play prevalent amongst the U.S team. Most memorably, Torrance oversaw the cultivation of sneaky long grass directly over fairway bunkers only American siege guns could carry back in 2002 at The Belfry.
But, says Monty, he has done nothing. No narrowing of fairways. No sneaky fertilization of strategically placed knee-high rough. No tricks at all, in fact. Which may be true given the 47-year old Scot's limited expertise in the area of anything other than hitting five-yard fades. But far more likely is that, with sharp golfing minds like Thomas Bjorn, Paul McGinley and Darren Clarke to call on, Monty has simply taken a well-advised backseat in the course setup department. So "I have left the course alone" doesn't necessarily mean that others in his employ have done likewise.
As for the first morning pairings, Westwood dropped broad hints that he will hit Europe's opening tee-shot in the fourballs alongside Kaymer. And so it shall be. Leading off with his two best players, captain Monty is clearly making an early stab at the American jugular, following up a sizzling "Ulster-fry" in the shapes of McIlroy and U.S Open champion Graeme McDowell, the birdie-machines that are Ian Poulter and Fisher and, at the back, a pair of "steady-eddies" in Luke Donald and Padraig Harrington. It is a potent line-up.
OK, enough. Let the real battle commence. Finally.