News
European Vice Captains Named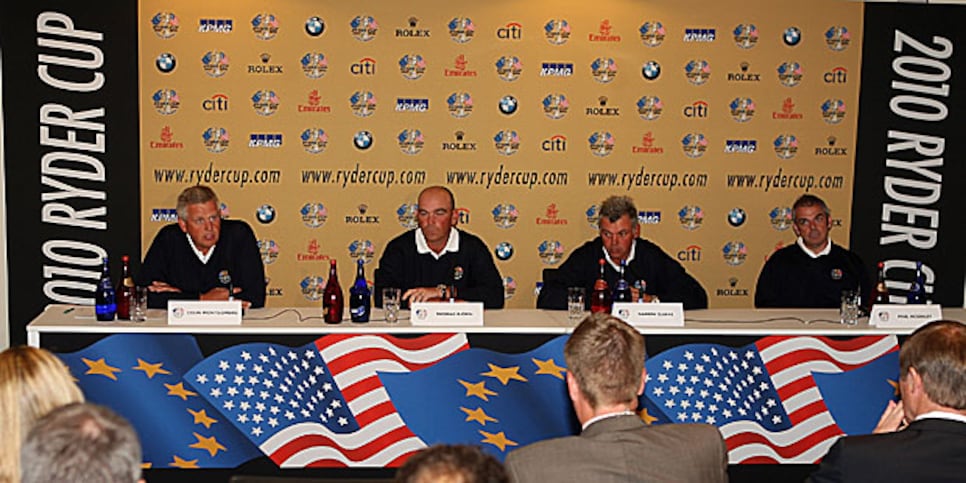 WENTWORTH, England (AP) -- Europe Ryder Cup captain Colin Montgomerie selected Darren Clarke, Thomas Bjorn and Paul McGinley as his vice captains on Tuesday, saying they had the qualities to help the team regain the trophy from the United States.
Europe is widely regarded as the favorite heading into the event at Celtic Manor, Wales from Oct. 1-3. With three tournament veterans assisting him, Montgomerie said the team had a great chance to make it six wins in the last eight events.
"The Ryder Cup is about passion, commitment and will to win, and all three men I've named possess these qualities in abundance," Montgomerie said. "They have all been part of successful European Ryder Cup teams in the past and know the players who will be part of the team. I think this is the strongest team we have ever assembled, on and off the course."
United States captain Corey Pavin has selected four vice captains in Tom Lehman, Jeff Sluman, Davis Love and Paul Goydos.
Tiger Woods and Phil Mickelson are the top two players in the world rankings but there is a sense that the balance of power in world golf is shifting toward Europe.
Four Europeans filled the leading five positions at the British Open at St. Andrews last week, while Northern Ireland's Graeme McDowell won the U.S. Open, ahead of Frenchman Gregory Havret. Justin Rose, struggling to qualify for the European team, recently won two tournaments on the PGA Tour.
Montgomerie still has to finalize his 12-man team, which will be chosen after next month's Johnnie Walker Championship at Gleneagles.
The nine players currently occupying the automatic qualification places for the European team are McDowell, Lee Westwood, Rory McIlroy, Francesco Molinari, Luke Donald, Ian Poulter, Martin Kaymer, Miguel Angel Jimenez and Ross McGowan.
Among those who could be fighting to be picked as one of three wild card choices available to Montgomerie are Rose, Paul Casey, Henrik Stenson, Padraig Harrington, Alvaro Quiros and Sergio Garcia.
Among Montgomerie's vice captains, Northern Irishman Clarke is a veteran of five consecutive Ryder Cups from 1997 to 2006, and was on the winning side four times. Bjorn of Denmark played in the victorious 1997 and 2002 teams and assisted Bernhard Langer at the 2004 event that Europe won at Oakland Hills, Michigan.
Irishman McGinley holed the winning putt for Europe in 2002 at the Belfry.
"The four of us will be a team. We are very much together and we will be making decisions from now on together," said Montgomerie, a veteran of eight Ryder Cups. "All of us have huge respect from the players, and respect on the course is vital."
Bjorn and McGinley have long been regarded as potential vice captains but Clarke is arguably the surprise addition. He is fondly remembered for his display at the K Club, Ireland, in 2006, when he won three points from three just weeks after his wife Heather died from cancer.
Europe won that year by a record-tying nine-point margin.
"In the Ryder Cups I've been involved in, the spirit in the team room has been fantastic and we want to generate that as much as possible," said Clarke, who still has an outside chance of qualifying for the team as a player. "We've all been there and done it before."
Montgomerie said he decided against selecting Jose Maria Olazabal as a vice captain because the popular Spanish player had been absent from the European Tour for much of the last two years because of rheumatism in his shoulder.
Under captain Nick Faldo, Europe lost the trophy in 2008 at Valhalla, Ky., having beaten the U.S. in 2002, '04 and '06.
Montgomerie said there would be no complacency in the European team, adding: "There is no overconfidence here. We know these matches are very, very close.
"You only have to look back at the (18½-9½) win Europe had in 2004 in America: 11 matches went to the last hole and we happened to win nine of them. If it was the opposite way, we would have lost the Ryder Cup - that's how close these matches are and we are under no illusions at all about how difficult the task this will be to regain the Ryder Cup."