News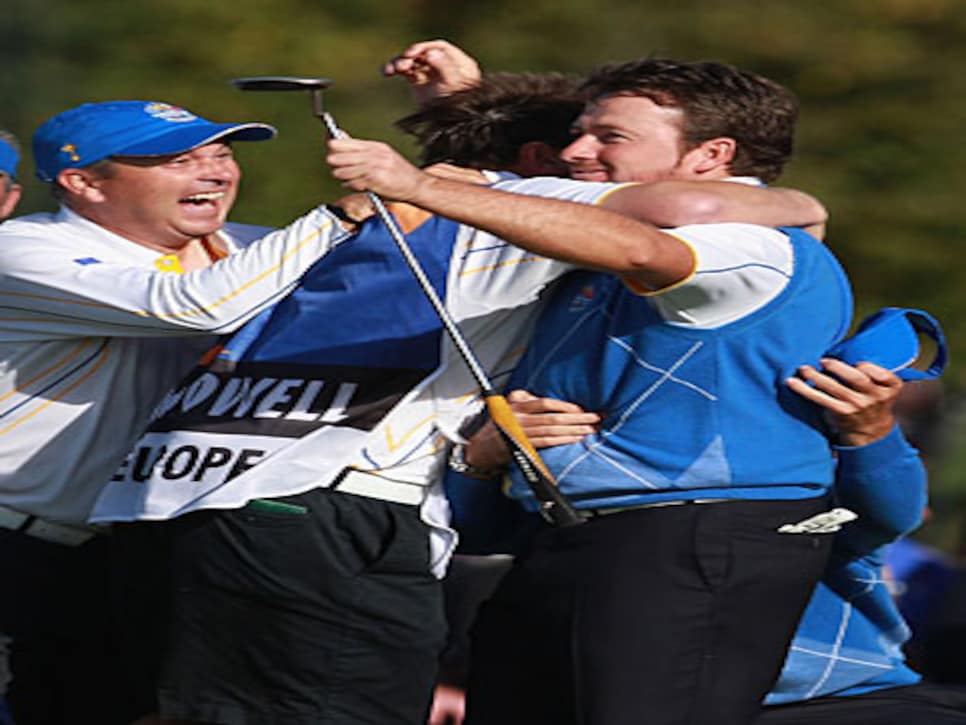 Graeme McDowell's win over Hunter Mahan in Monday's final match clinched the Ryder Cup for Europe.
NEWPORT, Wales (AP) -- The pressure was more than Graeme McDowell wanted.
The heartbreak was more than Hunter Mahan could handle.
The longest Ryder Cup in history came down to the very last match Monday at Celtic Manor, exposing the rawest emotions found in golf and delivering a moment that defines a career -- even for a U.S. Open champion.
Clinging to a 1-up lead with three holes to play, with Europe needing his match to reclaim the precious gold trophy, McDowell gently sent his 15-foot putt toward the cup and set off a ground-shaking roar when it dropped for birdie.
"The best putt I've hit in my life," McDowell said.
One hole later, Mahan was well short on the par-3 17th, flubbed a chip and conceded a par to McDowell that gave Europe the 14½ points it needed to take back the cup.
It was the first time since 1991 that the Ryder Cup was decided by the final singles match, a thriller made possible by the Americans getting big wins from their best players, and a stunning comeback by 21-year-old rookie Rickie Fowler.
Leave it to McDowell to cap off a great year -- for himself in the U.S. Open, for all of Europe in the Ryder Cup.
Under far greater pressure than he felt at Pebble Beach, McDowell could barely keep his hands steady on his 6-iron from 181 yards to hit the shot in the 16th hole. And he couldn't hold back his emotions on the 17th, when the match ended with his 3-and-1 victory.
"That birdie on 16 was huge," Mahan said, fighting back tears. "He beat me."
That was all he could say before bowing his head. This, from the player who delivered the most crucial putt two years ago Valhalla in a U.S. victory.
Such a heart-stopping finish salvaged what had been a drab week at the Ryder Cup, with two big rain delays that forced a revamped schedule and led to the first Monday finish in Ryder Cup history.
Under a beautiful blue sky in Wales, all was forgotten.
Memories of mud and umbrellas were replaced by Fowler winning the last three holes with birdies to escape with a half-point, Tiger Woods holing out from the fairway for eagle and not even knowing it, Miguel Angel Jimenez finally playing a Ryder Cup on home soil and winning a singles match for the first time.
Ultimately, this was about team -- and Europe was the best again.
"We've won nine of the last 13," Luke Donald said. "We're starting to get down to that word 'dominance.'"
The Americans have not won the Ryder Cup away from home since 1993, although this was their best effort since then. For the longest time, it didn't look as though it would come down to the McDowell and Mahan, the anchors of this singles session.
"Graeme McDowell was put there for a good reason - he's full of confidence and that showed," European captain Colin Montgomerie said. "That birdie on 16 was just quite unbelievable. Quite unbelievable."
McDowell saw mostly European blue on the boards and figured his match wouldn't matter. Then came a swift switch to red, and as he glanced at a leaderboard off the 10th green, he had a sick feeling.
"I hoped that I wasn't going to be needed," McDowell said. "At that point, I got extremely nervous, and coming down the stretch there, I've never felt nerves like it in my life.
"The U.S. Open felt like a back nine with my dad back at Portrush compared to that."
That was due to a resurgence by the Americans. Woods holed out for eagle during a seven-hole stretch that he played in 7-under par. Steve Stricker won the opening match and Phil Mickelson built a big lead to win late. Jeff Overton, the first American to make the Ryder Cup team without a tour victory, won three straight holes to beat Ross Fisher.
Then came Fowler, the first PGA Tour rookie to play in the Ryder Cup, making 15-foot birdie putts on the 17th and 18th holes to scratch out a half-point against Edoardo Molinari and making the Americans believe for the first time all day they could win.
That gave them 13½ points, and they only needed a halve in the last match to retain the cup. Just as Fowler was being mobbed by his teammates, Mahan made a nervy birdie putt on the 15th to cut McDowell's lead to 1 up.
That's when McDowell channeled his nerves into a putt he won't forget. What soon followed were more showers - only these came from bottles of champagne sprayed in every direction.
"It's been the best week of my life," said Rory McIlroy, who holed a 5-foot par putt on the 18th hole to earn a half-point against Stewart Cink that turned out to be crucial.
Montgomerie is renowned for a career missing only a major. This felt like one, maybe even better.
"This is one of the finest moments of my golfing - wait a minute - this IS the greatest moment of my golfing career," he said.
Europe thrives on winning the Ryder Cup, yet this year went beyond the matches. McDowell won the U.S. Open, and Martin Kaymer of Germany won the PGA Championship, the first time two Europeans have won majors in the same year since 1999.
For U.S. captain Corey Pavin, it was a week where everything seemed to go wrong, from forgetting to introduce to Cink at the opening ceremony to rain suits that malfunctioned to pairings that blew up on him.
That changed in a two-hour window that shifted momentum, and almost the Ryder Cup, to his side.
"We nearly got there today," he said. "We started off a little slow. We came back hard. We almost got there. I'm very proud of their resolve, of their sportsmanship and their fine play. I can only say it's been an honor and a privilege to call them teammates."
His voice breaking, he walked over to each of them at the closing ceremony to shake hands.
The Europeans were inspired by a phone call earlier in the week from Seve Ballesteros, the catalyst for European dominance in the Ryder Cup. He is battling brain cancer and could not travel to Celtic Manor. They kept a poster of Ballesteros in the team room, then displayed it for the crowd at closing ceremonies.
McDowell got the loudest cheer when Montgomerie called out his 12 players one by one. They know him well in these parts. In his final tournament before winning the U.S. Open, McDowell won the Wales Open at Celtic Manor.
Mahan made a mess of the 17th, memorable because it was the last match. The bigger blow might have been Cink. He was 1 up on McIlroy and drove the par-4 15th green, only to three-putt for par and lose the hole.
Cink had a chance to go 1-up on the 17th when he missed a 5-foot birdie putt. McIlroy scratched out a critical half-point on the 18th when he hit into a bunker going for the green in two, left his first shot in the bunker, and made a 5-foot par putt.
Luke Donald, who along with Poulter won three matches this week, twice made 20-foot birdie putts when Jim Furyk was inside 4 feet to halve the holes and keep the lead, and keep Celtic Manor humming with cheers of "Luuuuuuuuuke!"
Poulter led the team in passion, pumping his fists and screaming above the din with every birdie.
"We have played from the heart today," Poulter said, his face soaked with champagne. "And do you know what? We brought back this trophy. This is a special day."
Woods had his best Ryder Cup, winning his opening two matches with Stricker and bouncing back from his worst defeat to overwhelm Francesco Molinari on the back nine for a 4-and-3 victory.
The Americans put up a bigger fight than expected, but left Europe with a familiar feeling -- and without the cup.