News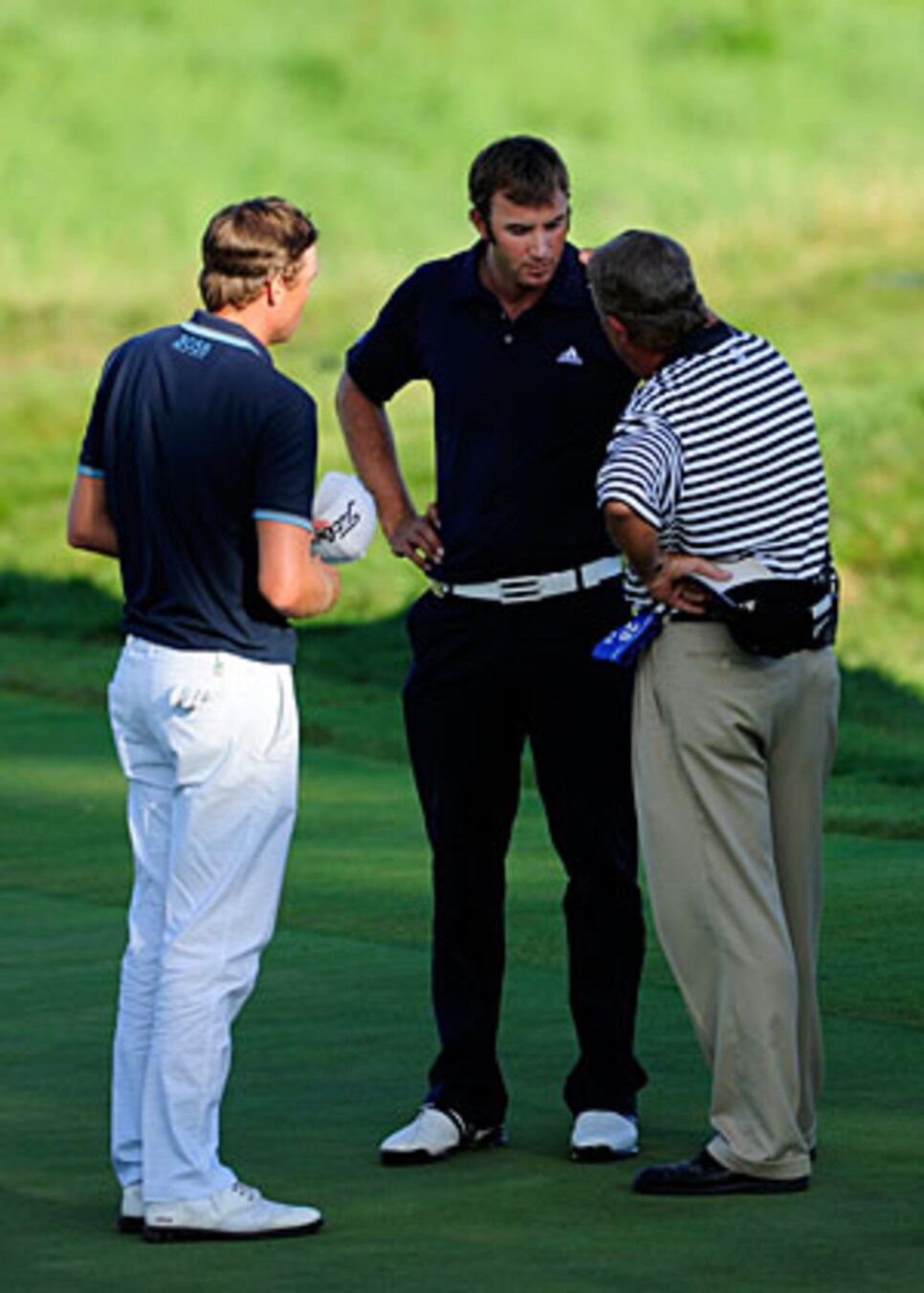 David Price had the unenviable task of informing Dustin Johnson he had probably committed a penalty on the final hole of the PGA Championship.
MILWAUKEE, Wis. -- From afar, David Price had seen how Dustin Johnson had blown this year's U.S. Open at Pebble Beach. Up close, as co-chairman of the PGA of America's rules committee and the rules official for the final pairing of Johnson and Nick Watney in the final round of the PGA Championship at Whistling Straits, he was impressed to see Johnson rally from a lackluster start with back-nine birdies to take a one-stroke lead heading to the 72nd hole.
"Especially given what happened in the U.S. Open, he was making such a great comeback," Price said. "He turned a so-so round into a really good round. You hate to see it happen. Obviously I feel for Dustin."
A day after Johnson suffered a two-stroke penalty for grounding his club in a bunker on the 72nd hole, Price was in a Wisconsin airport Monday, waiting for a flight to Texas, where he is the longtime head professional at Bent Tree CC in Dallas. At 60, Price is also a seasoned rules official, having officiated at 21 PGA Championships, 11 Masters, five Ryder Cups and two British Opens.
Price first worked the PGA Championship in 1987, where he had a long debate with Seve Ballesteros about where a ball crossed the margin of a hazard. "We resolved it," Price said in his comfortable southern accent, "but it took a little time." At the 1999 Ryder Cup, Price was walking with the Tiger Woods-Andrew Coltart singles match when Coltart had a controversial lost ball on the ninth hole.
"It created quite a furor, a great deal of controversy. [European captain] Mark James was not a happy camper," said Price, who has a low-key officiating style, tending from experience to let players speak to him first. "I've been eaten up more times than you can imagine for trying to help them out and they say they don't need my help," Price said. "We're there to help, but it's the player's responsibility to know the rules."
When Johnson hit a wild drive way right on the 72nd hole at Whistling Straits, where his ball settled in a small bunker hollowed out of a steep hill, Price didn't anticipate being in the center of another golf storm. Even with spectators within its borders and footprints in its sand, Price was sure it was a bunker. "There was no question it was a bunker," Price said, "no question whatsoever."
He certainly believed Johnson thought so, too, or if he was unsure, that he would ask. Twice on the final nine, Johnson or his caddie, according to Price, queried before Johnson made a stroke. At No. 14, when his ball was near but not in a bunker, Johnson wondered if, during a practice swing, he could touch the hazard without penalty (He could.). On the 16th, Johnson wondered if he could remove stones from a bunker. He could; a local rule was in effect allowing it. That stipulation was on the same supplemental rules sheet that described the bunker policy -- every sandy hollow, even the itsy-bitsy ones and the tracked-up ones outside gallery ropes. They all were being treated as hazards, but Johnson later admitted he hadn't paid any attention to the local rules.
For Price, the pressing need on the 18th seemed to be getting the large gallery out of Johnson's way so he could play his second shot. "It was very chaotic," Price said. "This was a very difficult situation based on the topography. There was a very high hill, completed filled with people, because once the grandstands on the right side of 18 filled, this was the only place people could see the green from. The hill was filled with people, and the other side of it was very steep, so people couldn't back up and go down. The marshals did the best they could, but there were probably 3,000 or 4,000 people on that hill."
Price left the area around Johnson's ball to walk 30 yards toward the green and help clear a wider gap on the right. Before he walked away, he "asked Dustin if there was anything he needed, if there was anything I could do. I just didn't have any question it was a bunker, and had there been a question, he should have asked before he proceeded. He knew I was there because I already had answered a couple of questions concerning a bunker with him." Johnson played this shot without asking any questions.
It was after Johnson had played his approach that Price, on his two-way radio, was informed by PGA rules colleague Brad Gregory, watching on TV, that Johnson was suspected of grounding his club in the bunker and possibly subject to a two-stroke penalty. After Johnson holed out for a bogey, seemingly headed for a playoff with Martin Kaymer and Bubba Watson, Price approached him.
"I asked him if he recalled grounding his club," Price said. "He waited a second and said, 'No, I do not recall, I don't know if I did or I didn't.' "
Upon seeing the TV replay, Johnson was sure he had breached the rule. He went to take a shower. Price went to run the two-man playoff, impressed with how Johnson handled the disappointment -- "I've been in situations where a player gets extremely upset, uses a lot of profane language," Price said. "I'm telling you, this young man handled it with pure class."
But neither Johnson nor Price will get the chance to replay the 72nd hole. "I'm probably going to beat myself up over this thing," Price admitted. "Yeah, I could have walked up there to Dustin and said, 'Hey make sure you don't ground the club in the hazard.' It just never dawned on me that he would."