News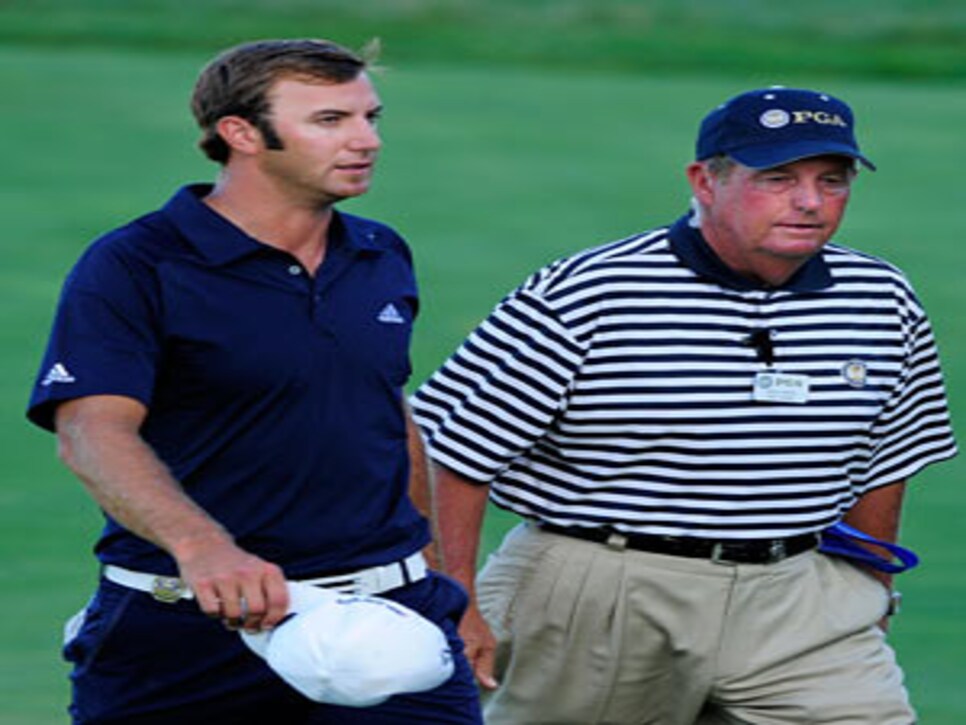 Wow! Those PGA guys are jerks. Lousy local rule -- lousy enforcement (where was the rule guy when needed). The pro and his caddy know about bunkers. They did not ask for a ruling because they didn't need one. I grew up along Lake Michigan and there is sand everywhere. The sand could have been knocked out of a bunker or that could be the nature of the soil. Why not send a reporter and a photographer out to 18 and figure it out. Otherwise a great tournament on a great course.
-- Dr. Tom Telle, Fredericksburg, TX
The two shot penalty that Dustin Johnson got for grounding his club in a "bunker" was unfair. In his view, and mine, that piece of dirt didn't look like a sand bunker. It is not reasonable to let people walk and stand in sand bunker and then expect golfers to play out of it. Therefore Johnson's ball was not in a bunker by the generally accepted definition of a sand bunker. As a long-time member of the USGA and a golfer for 60 years, in my view a local rule should not make a piece of dirt into a sand bunker.
-- Robert Love, Bloomfield Hills, MI
While Dustin Johnson may indeed have grounded his club in what may have been a sand trap, is their any precedent in the history of tournament golf where spectators could fill a trap, from one end to the other, that was in play? There is precedent for traps to be outside the ropes, but in the 54 years I have been watching golf I have never observed anything like this. The principals of the tournament, irrespective of their care to inform the participants of their definition of a bunker, could surely have done so verbally, had a rules official been at the ball, which was completely surrounded by spectators, and obviated this repugnant event. Like the British Open officials, who destroyed a man's career when he kept a completely accurate card on another competitor's scorecard, these officials made the wrong decision. The area looked like a trampled cart path, not a bunker.
-- Michael Auerbach, Phoenix, MD
The PGA of America "letting spectators stand in a bunker that was in play" is the reason Dustin Johnson lost his playoff spot at the 92nd Championship at Whistling Straights. This must be corrected for the 2015 PGA Championship with more defined ropes and much better spectator control!
-- Dan Lynch, Centerville, OH
After watching the PGA yesterday, I cannot believe how incompetent the PGA officials are. How can you penalize Dustin Johnson for something that wasn't enforced all week? Also, by signing an incorrect scorecard aren't you automatically disqualified? He clearly put a five on the card because he was shown on television erasing his score . The only question would be if he signed his card or not. What a disappointing ending to a great day of golf. It just goes to show how incompetent the PGA officials really are.
-- Steve Wiel, Carnegie, PA
What kind of course setup allows for the gallery to stand in bunkers that are in play?
-- Jim Fuchs, Costa Mesa, CA
Richard Tufts was rules chairman and president of the USGA. He said there were only three rules in golf. Play the course as you find it, the ball where it lies and when in doubt, do what is fair. The PGA rules officials blew it on the last hole of the tournament. I think he was the same guy who called the runner safe and blew the no hitter.
-- John H. Mahler M.D., Cumberland WI
Dustin, keep your head high, as you are a true golfer and gentleman.
-- Kurt Hansen, Kansas City, MO
When you play a golf course that is a joke, no wonder you end up with a ruling on the last hole that is a joke, and probably decides the winner. What a shame.
-- Mike Millsap, Tampa, FL
Truly the game is global. The game is bigger than one person. The rules continue to be an integral part of the game. The game is greater today than it has ever been before. What a Championship!
-- Jon Roth, Academy Instructor, The Golf Academy at Castle Hills, Lewisville, TX
The intellectual indolence of the PGA of America managers in covering their inability to properly marshal and maintain the championship venue and thereby allow obvious waste areas to be designated bunkers [hazards] performs a real danger to the game of golf. In the late 1970s when I produced and served as announcer on the Golf Digest National Long Drive Contest broadcast in the half hour leading into ABC Network Sunday coverage of the PGA Championship, I was yearly besieged by the PGA brass for on-camera exposure, as were ABC Director Jim Jennet and Producer Bob Goldsmith. One should keep in mind that the PGA of America membership consists almost exclusively of individuals who run club and public course pro shops, fill the vending machines in locker rooms and rent carts to the players. Such a profession seldom prepares one for upper-echelon judgment. When you ask Pete Dye what label he intended to apply to those literally hundreds of scruffy areas at Whistling Straits, one of which trapped Dustin Johnson this afternoon and eliminated him from the playoff varsity, the purity of Mr. Dye's approach to his profession surely would supply the proper and authoritative label. He early on had waste areas at the TPC at Sawgrass, where the Players Championship is contested. Why not at Whistling Straits? David Price's cop-out explanation offered to CBS commentator Peter Kostis has surely rained a combination of doubt and derision on the millions of baffled viewers and on-site patrons. We know a waste area when we see one!
-- Ted Harbert, Sr, Rancho Mirage, CA
I cannot believe what happened at the PGA! If the sand traps inside or outside of the ropes cannot be maintained, then they should in fact be treated as waste bunkers. I know Dustin did not think he was in a trap. I know rules are needed, but I think they went too far at Whistling Straits this week end. The course is hard enough with the wind and high grasses without having traps that do not even appear to be traps. Maybe the PGA should rethink coming there in 2015.
-- Sue DeSimon, Frankford, DE
The PGA, Whistling Straits, and Herb Kohler should be ashamed by what just happened to Dustin Johnston. It is not classic courses like the Greenbrier, but tricked out courses like Whistling Straits and Chambers Bay which should be denigrated for their resemblance to miniature golf. Was that a sand trap or a wind mill?
*- Bill White, Watch Hill, RI *
Poor Dustin! When did they decide that spectators could stand inside bunkers? Maybe that will now happen in all tournaments. That spot looked more like a sand dune than a bunker. Not very good.