News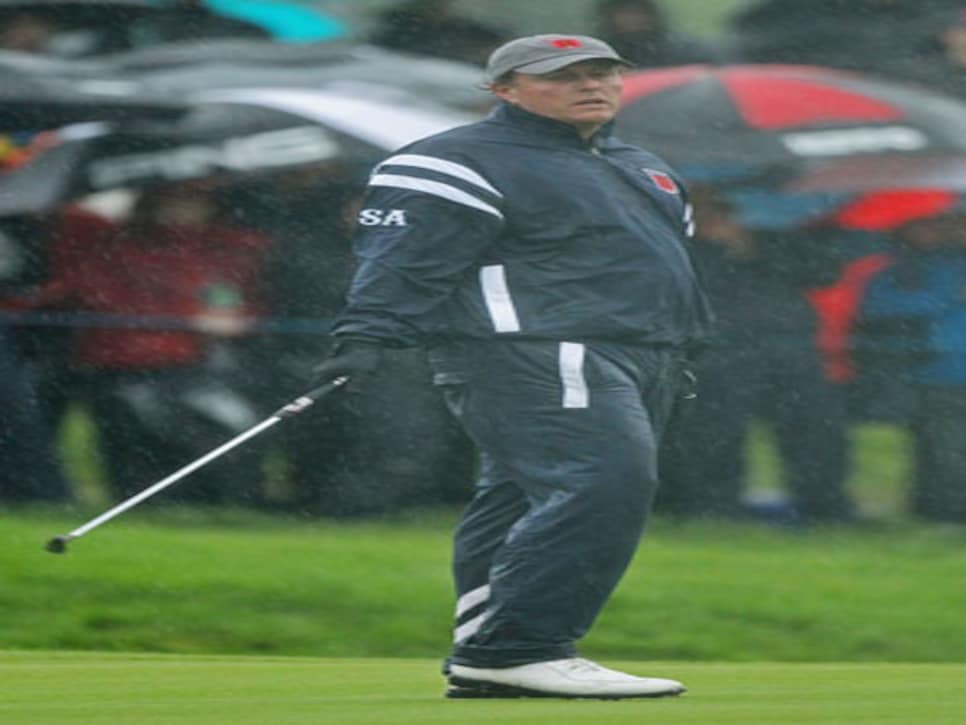 Americans like Phil Mickelson (above) had trouble staying dry, even in rain suits.
NEWPORT, Wales -- Jack Nicklaus used to say that all a Ryder Cup captain had to do was make sure there were enough tees and towels for his team. The rest came down to the golf, not the pairings, and certainly not the wardrobe changes. Times have changed, but the weather in Wales hasn't.
Four hundred and fifty towels were not enough to keep the United States Ryder Cup team dry on Friday. Neither were the team's rain suits. But if Corey Pavin caught a break during the interrupted and incomplete opening-day session at Celtic Manor, it was that his waterlogged team is still paddling in spite of the conditions and lack of preparedness.
It was Nick Faldo who said at Valhalla, "See you in Wales in 2010...bring your waterproofs." The then-Euro captain presumably meant waterproofs that were waterproof. His opposing captain, Paul Azinger, made the point on ESPN that Pavin's team would have lost all four matches had the rains not sent the teams to their respective locker rooms for a seven-plus hour session of text-messaging, eating, Tweeting; and for the European side of the clubhouse, competing in Tiger Woods 2011 on their Playstations.
Rory McIlroy was 1 up on Ross Fisher when Fisher's wife called to interrupt their game. But on a more important scale, the United States was down in three of the matches and Colin Montgomerie was already gloating. "Our team room is obviously happier than our opponent's right now," the European captain said at the time.
While this was going on, a PGA of America official was dispatched to the Tented Village, where 24 proper rain suits replaced those approved by Captain Pavin and the "Captainess," Corey's wife, Lisa. At 320 quid a pop, that set back the club pros over $10,000 in U.S. currency. There was also a cry among U.S. caddies that the retro all-leather Belding bags selected by the Pavins were soaking up water.
So Watergate replaced Wargate, which replaced Twittergate, which replaced Rorygate, which replaced Chartergate. Funny, none of these involve Tiger Woods directly, but it's early.
We don't even have a Day One result yet, and Day One went on for what felt like 40 days and nights -- without the ark. Usually, the opening session of the Ryder Cup is the most important of the week, but with more rain mixed with fog in the forecast, Pavin and Montgomerie have more pressing matters. Like how to pair with the new playing schedule. "There's going to be a lot of golf to watch the next two days," Pavin said.
Or frankly, possibly not much at all. That will lead to Schedulegate, an indictment on the PGA Tour for not being more flexible with its FedEx Cup to accommodate the Ryder Cup. Ty Votaw, vice president of the tour, made a good point. Two years ago, the Ryder Cup at The K Club in Ireland ended on Sept. 24, and it poured for most of the week. Eight years ago, the Ryder Cup at The Belfry, 90 minutes north of Celtic Manor, ended on Sept. 29, without a drop of rain.
The point is, it's Europe, land of dodgy weather, and when it comes to the Ryder Cup, plenty of contrived controversies.