News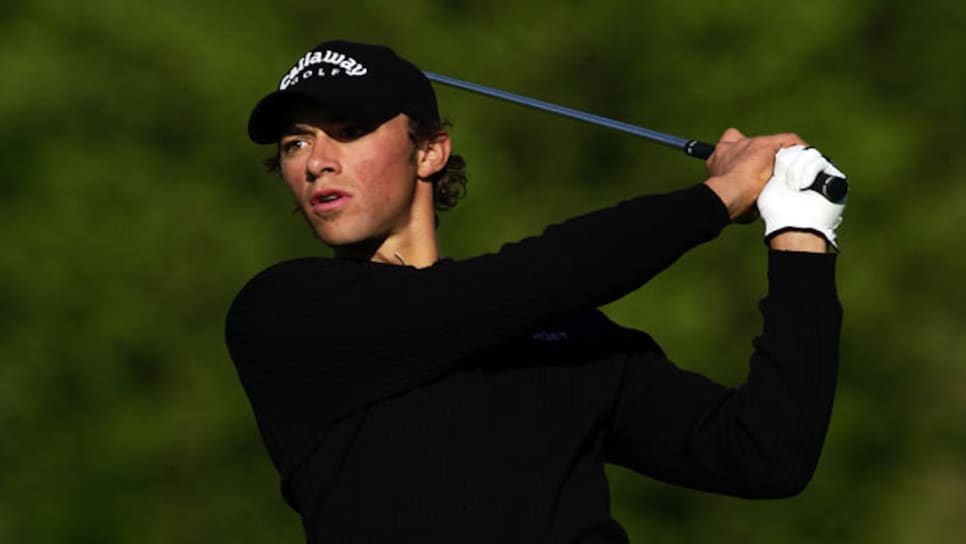 Tryon made the cut in the Honda Classic at 16 but will play in his first U.S. Open this year at 26.
Ty Tryon was driving through a Navajo Indian Reservation in New Mexico Friday, his Toyota 4Runner following the navigation system coordinates honed in on Pebble Beach. Cruising with Tryon was his wife, Hannah, and the couple's 4-year-old son, Tyson, who was in the back seat playing Nintendo. Tryon's only fear was not the arduous U.S. Open, but an open desert and a fuel gauge that was creeping towards empty. "I'm a little bit nervous," he said. "I'm trying to find a gas station."
Tryon's 3,000-mile journey from his home in Orlando to his first major was a joyride compared to the odyssey he's traveled since qualifying for the PGA Tour in 2001. Now every time a young player flashes across the television screen, Tryon's name is brought up as a reality check to the downside of being labeled a phenomenon. There was a tone to Tryon's voice that reflected a tank full of enthusiasm and maturity as it related to his life, and left-for-dead golf career.
After a bout with mononucleosis derailed his PGA Tour rookie season in 2002, Tryon bounced to the Nationwide, Asian, Hooters and Gateway tours without gaining traction. He met Hanna in 2005 and made a decision to stay at home when Tyson was born the following year. This is what he was always searching for. "This is really, really exciting to us," he said. "I couldn't be any more thrilled. I'm just glad to be going to Pebble Beach."
At 16, Tryon made the cut in the Honda Classic as an amateur and signed endorsement contracts worth millions after becoming, at 17, the youngest player in tour history to advance through Q School. He just celebrated his 26th birthday by squeezing through U.S. Open sectional qualifying at Rockville, Md. The only competitive golf he's played lately has been what Tryon calls "moonlight events" around Orlando. He spent six months last year working as an apprentice instructor at David Leadbetter's Academy at Champions Gate.
And now through the wonders of the qualifying process, he's in the Open. At 16, he was medalist in a local qualifier, but has never mustered the type of 36-hole score that would get him through sectionals -- even when he was a prodigy.
"Twenty-six? I guess it's young. I feel like it's young," he said. "I went through a period where I was the youngest this, the youngest that. I never got a healthy perspective. I've definitely got that more now. I'm just happy I'm healthy enough and able to compete."
Tryon heard about teenager Jordan Spieth making the cut at the HP Byron Nelson and has followed the progress of Ryo Ishikawa, Rory McIlroy and Rickie Fowler. His contemporaries would be Hunter Mahan, Sean O'Hair and Dustin Johnson, so in that regard he's got some catching up to do. Less than two years ago, he shot 87 in a second stage PGA Tour qualifier, but that was in his rearview mirror as he pulled into Pebble Beach on Sunday.
"I'm not that surprised about it any more," he said of this year's youth movement. "The kids are getting younger and younger. I can definitely relate, but everybody's journey is different. I turned pro in the 11th grade. When I look back on it now, it was pretty young. I made my own decisions, they led me to where I am, and in a lot of ways I am very happy. I didn't capitalize on it, but I knew I could do this. I just had to deal with the inner demons that make you doubt yourself. Dealing with it is a lot easier to do when you're an adult."