News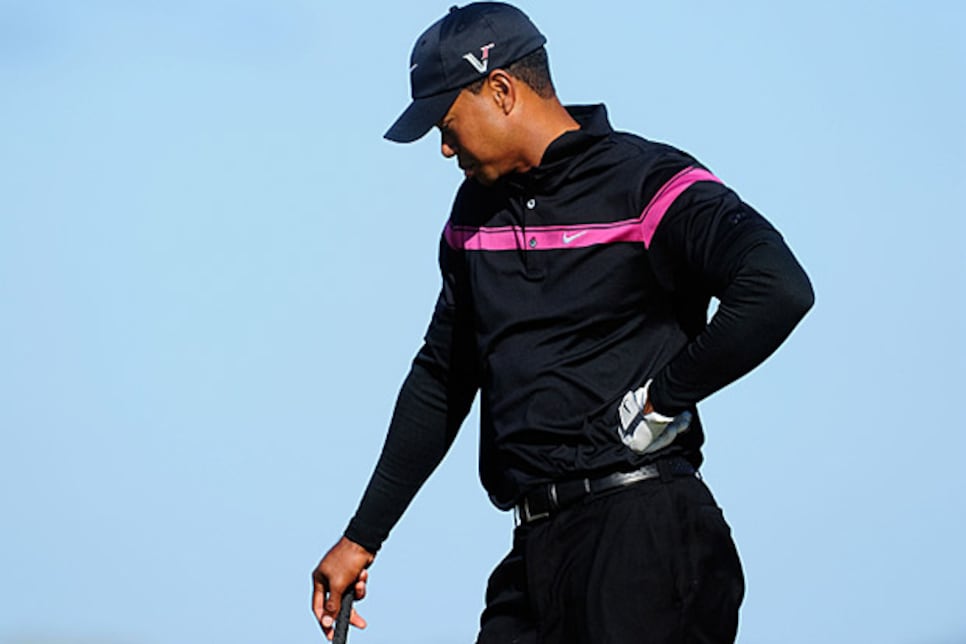 Tiger Woods' play is just one of the questions for the Americans heading into Wales.
There was a race for low American honors at St. Andrews on Sunday. It just occurred so far down the leader board, you probably didn't notice. That's not intended to be a cheap shot, nor should the mediocre American performance at the Old Course be seen as a precursor of what to expect in the Ryder Cup, because from what I'm told, Wales in early October is going to make summer in St. Andrews look like San Diego.
All I'm saying is that among the top 10 names to post scores on the Old Course, only two were carrying United States passports, with Sean O'Hair and Nick Watney in a four-way tie for seventh, 10 strokes back of Louis Oosthuizen. The top 10 included two South Africans, three Brits, a Swede, an Irishman and a German.
This is not unusual for the British Open. Two years ago at Royal Birkdale, Padraig Harrington beat Ian Poulter, with Greg Norman in third. Three months later, Paul Azinger's team whipped up on the Europeans at Valhalla.
But that was two years ago. This was the second-straight major where a U.S. player was not in contention on the back nine Sunday. At Pebble Beach, Northern Ireland (Graeme McDowell) beat France (Gregory Havret), with South Africa (Ernie Els) taking the bronze.
With four weeks remaining in the Ryder Cup points race, what is captain Corey Pavin to read from the results on the Old Course? Next to O'Hair and Watney, good weeks were put in by Jeff Overton, Rickie Fowler, J.B. Holmes, Dustin Johnson and one of Pavin's assistants, Tom Lehman. Among those players, Overton, 25, Fowler, 21, Holmes, 27 and Johnson, 26, have put in solid seasons and represent fresher blood for the U.S. side. But only Johnson, who showed immediate bounce back from the final-round 82 that cost him the U.S. Open, has a victory in '10. Fowler finished birdie-birdie for a closing 67, and the kid would look good in a red, white, and blue painter's cap, especially given his strong Walker Cup record.
Five tournaments remain, including the PGA Championship, where the top eight make it. Pavin will make his picks on Sept. 7. Whether Tiger Woods even plays is one question. How he would play is another. Two more months of tournament golf could be what Woods needs to get it back, but the world No. 1 did not seem inspired by playing St. Andrews. Phil Mickelson didn't seem engaged, either, and finished four strokes back of Woods. Coming off a victory at the John Deere, Steve Stricker was not a factor at St. Andrews and neither was Jim Furyk. Pavin is also looking at Anthony Kim coming off thumb surgery, still not hitting full shots as of last week.
Meanwhile, the nine players who could qualify for Colin Montgomerie's team right now would be Lee Westwood, Rory McIlroy, McDowell, and Luke Donald (off the world rankings); and Ian Poulter, Martin Kaymer, Francesco Molinari and Ross McGowan (off a European Ryder Cup list). Monty's talent pool for his three picks on Aug. 29 include Padraig Harrington, Paul Casey, Justin Rose, Eduardo Molinari and Alvaro Quiros. So stacked are the Europeans, in fact, that a stalwart like Ryder Cup Sergio Garcia would have to have a remarkable couple of weeks to even be considered.
The Ryder Cup is one major, one World Golf Championship event and the entire PGA Tour Playoffs away, but if mid-season form and play on foreign soil means anything for an event that starts Oct. 1, the story will not be of the low American, but the lowly Americans.
There was greater symbolism in Zack Rasego carrying the winning golf bag in the British Open on Nelson Mandela's 92nd birthday than in the victory by Oosthuizen. "Even though we have our differences, when it comes to sport, we are one nation," Rasego said when we spoke on Friday. "It's what keeps us together. [Mandela] wanted to see the country united and I think we are headed that way." The black caddie has become rare in professional golf, but Rasego has been caddying for Oosthuizen for seven years and refers to the pair as a rainbow team. Rasego, 48, grew up in Soweto poverty and caddied for Gary Player at Sun City CC when he was 16. One of his best friends on tour is Steve Stricker's caddie, Jimmy Johnson. Rasego once carried Johnson's bag when he played the South African tour. His win, worth 85,000 pounds, also saved his job. Oosthuizen was planning on a caddie change, going with a more experienced Irish caddie Mike Kerr. He's now forced to reconsider. "It would not look too clever to sack your caddie after you have just won a major," said Oosthuizen's manager, Chubby Chandler.
The growing Korean influence in men's golf was felt last week at St. Andrews, and not just because of the presence of PGA Championship winner Y.E. Yang or K.J. Choi with his side-saddle putting. Six other Korean qualified for the draw, but none distinguished themselves as much as 20-year-old Jin Jeong. As the only amateur to make the cut, Jeong played well in tough conditions and finished with an eagle to tie for 14th, seven strokes better than Yang. Most amazing is that he had never played a link course before a trip that started unceremoniously with a missed cut in the St. Andrews Links Trust, thus missing a chance to compete (and gain local knowledge) on the Old Course. Jeong quickly adapted by winning the British Amateur at Muirfield and setting the course record at Hillside during practice before the Open. Among many distinguished honors to go along with his silver medal is that while based in Australia, Jeong was considered low Asian, too. He will turn pro after the 2011 Masters.