News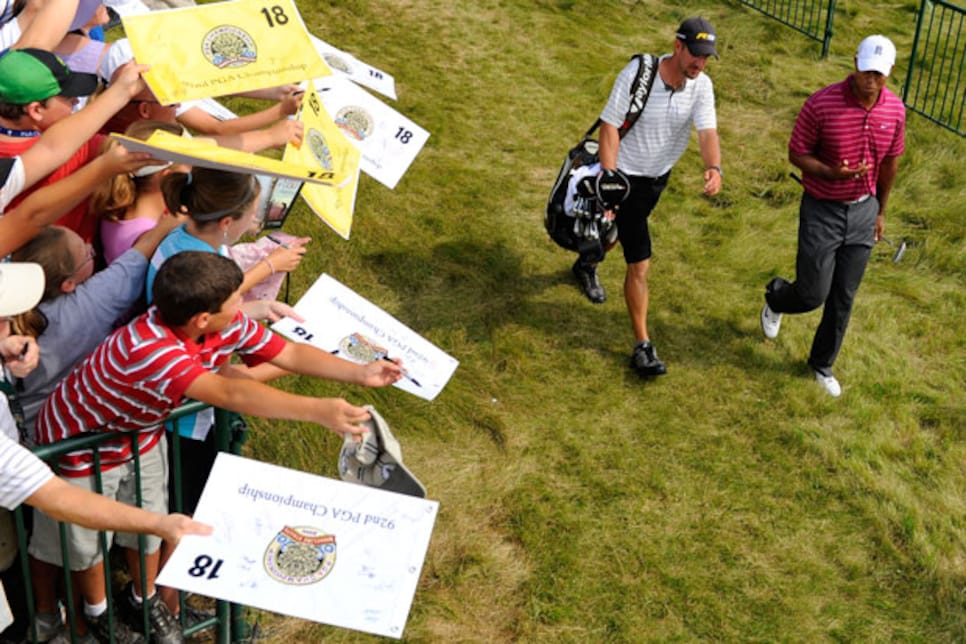 Woods finished 30 shots behind the winner, Hunter Mahan, at the WGC-Bridgestone Invitational last week.
HAVEN, Wis. -- At the height of Tiger Woods' success and popularity around the turn of the millenium, Mark O'Meara said the true measure of the superstar's greatness will be when he faces adversity.
O'Meara never dreamed of adversity like this. Tiger's back on Joy Behar and getting 90 seconds of Jay Leno's monologue, only this time it's not for some sordid scandal, but bad golf. There is rampant speculation that some new drama has erupted in his private life considering just how lifeless his game was at a venue that was anticipated to trigger the old Tiger.
Instead, Akron revealed a Woods that was more like the Quail Hollow Tiger than the Tiger who shot 66 at Pebble Beach on Saturday, or who drove the ball convincingly at St. Andrews. With a major coming up, the loss of confidence could create the type of adversity that could result in Tiger's final two competitive rounds of the 2010 PGA Tour season.
O'Meara believes Woods needs some space. "There's a lot of speculation going around about what he should do, couldn't do, can do," O'Meara said. "Let's do what's in best interests of Tiger Woods right now. Help him find himself, do what's right for him and his family, and if he needs a pass, he's more than entitled. I'd rather see Tiger do what's best for Tiger right now, get back on track, close to the golf he used to play."
John Cook hinted that if Woods didn't get his swing sequence in order this week, he wouldn't be surprised if Tiger "just shut it down." Truth is, Woods may not have a choice unless he wants to play Fall Series events. It would take some doing, but at 119th in the point standings, the potential is there for six players to pass him and bump Woods from the FedEx Cup all together.
Shrinks are weighing in on ESPN. Sales of his EA Sports game are down. Woods' No. 1 ranking is hanging by threads. So what have we learned from the past nine months, everything going forward from Thanksgiving Day to this week at the PGA Championship? As it relates to the golf, it's that Woods is more human than we thought, flawed to the point where he's become a sympathetic figure. Think Superman after being exposed to kryptonite. The mentally strongest and toughest man to play the game, rendered powerless.
Last week in the WGC-Bridgestone Invitational, he finished 30 strokes behind the winner. But while some have declared that 18 over performance at Firestone rock bottom, the worst could be yet to come. Whistling Straits and this year's PGA Championship, is far more penal off the fairway. If there is no improvement between his struggling to break 80 on Sunday at Firestone and Thursday's opening round at the Straits, Woods may plunge even deper.
To his credit, Woods showed extraordinary bounce-back from where he was on Sunday in Tuesday's noon press conference at Whistling Straits. The word for the day was "normalize." It came up four times in the dialogue, in relation to Woods' personal life. What he meant is that the paparazzi and tabloid lurkers and stalkers have moved onto other fresher scandals.
"I think in life you just have to keep moving forward, and that's what I'm doing now," he said. "Life is certainly getting a lot better."
The golf is another story, but in relation to life's troubles, what's shooting 77? That seemed to be the message Woods was sending now that he's regrouped and played two practice rounds around Whistling Straits, some of it with Steve Williams holding a golf club to his head in an effort to keep it still. Tuesday seemed to be all about moving forward, whether it was acknowledging he had swing instructor Sean Foley video him, revealing he would accept a wild card pick for the Ryder Cup team, or suggesting that he's solved the mechanical issues that made him look, as the question was posed to him, like the "one of the worst players on the planet."
Woods turned that question around with a zinger and the old Tiger smile. Later he explained, "To be honest with you, I thought I would have been here a little bit sooner, with all that's going on. But somehow I've been able to play a little bit better than I thought for a stretch, and then it finally caught up with me last week. "
When asked to elaborate about the reference to "here," Woods was specific. "Playing this poorly. For sure," he said.
But this is another week and he's still Tiger Woods, thinking about tomorrow instead of yesterday, trying to get better knowing it can't get any worse.
"That's one of the great things about this sport is that no matter how poorly or how well we all play the week before, it all begins anew," he said. "And that's something that I have always looked at down the road in the past and how I'm approaching this week, as well."
It goes back to what his father, Earl would tell him in times of trouble. "You've just got to keep living," Woods said. Or in this case, playing.