News
A Coming Of Age For Palmer's Grandson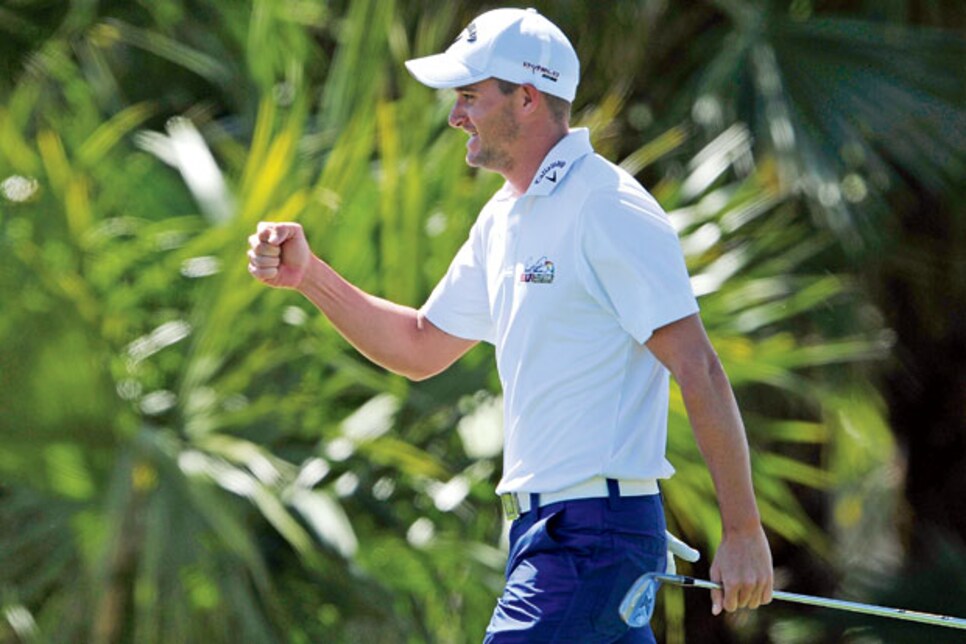 Saunders, who has received four sponsor's exemptions in 2010, has shot par or better in 10 of his last 13 rounds.
The shot defining his fourth event on the PGA Tour as a pro had nothing to do with genes, and everything to do with Sam Saunders. Thinking he needed eagle to make the top 10, Arnold Palmer's grandson took the head cover off his driver on the 18th hole at PGA National Sunday, and from 290 yards out on the 72nd hole of the Honda Classic, slashed one off the deck just like you know who. "I wasn't thinking what he would do," the 22-year-old said after the round. "Honestly I thought I had a shot to pull it off. I needed 3. I was just going to rip it."
Twenty-six years ago his grandfather walked off that same 18th green at PGA National after winning the 1984 Senior PGA Championship. On this day Palmer hit balls at Bay Hill and nervously waited for his "Sambo" to appear on television. Late in the broadcast, he watched Saunders hit his second shot into a bunker 60 yards short of his target at 18 and his third into a bunker behind the green, where it could have become expensive. Saunders saved a few dollars by making bogey 6 to finish T-17 at even-par 280, saying afterward the overall risk in seeking an exemption into the Puerto Rico Open was worth it. But, was it?
Saunders knew his "only coach," would be proud. "He used to give me a hard time," Saunders said. "He would say, 'You don't ever listen to me.' Finally I said, 'I do listen to you.''' Saunders and Palmer share a relationship that is captured in pictures on display in the hallways of the Bay Hill Club and Lodge in Orlando. In one, young Sam is sitting on the lap of the icon he lovingly called "Dumpy," while Arnie is giving a press conference. Palmer said he would not drive to PGA National and be a distraction. Not surprisingly, Saunders said his presence wouldn't have bothered him.
Growing up around the Palmer Family put Saunders in close proximity to the Nicklaus family as well. "In one of the last Father-Son tournaments, he shot 63 on his own ball the last day," said Roy Saunders, Sam's father. "Mr. Nicklaus shook his hand, looked him in the eye and said, 'You've figured it out. You've come into your own as a golfer.' It was pretty inspiring hearing it like that." Saunders secured a sponsor's invitation to the Honda, his fourth of the year, by writing a personal letter to Barbara Nicklaus, the driving force behind the Nicklaus Childrens' Health Care Foundation, the charity the tournament supports. When the request came across the desk of Gary Nicklaus, he responded by saying, "Mom, Sam can play."
Saunders showed that a week earlier with a 66 in the first round of the Waste Management Phoenix Open, but followed with a 79 to miss the cut. At Honda he qualified for the weekend and a late Sunday tee time with three rounds of 69. "I've said many times that my game will become good enough, and I'll become a good enough player that I'll be known as Sam Saunders and not Arnold Palmer's grandson," he said. "I think I'm getting there."
The final round at PGA National was a struggle, with Saunders reaching the jaws of the vaunted Bear Trap figuring three under was the number to qualify for Puerto Rico. Three over for the day and even par for the tournament, he began the home stretch by making an 8½-foot birdie putt at the par-3 15th to pick up one stroke. On 16 he displayed the short game that veteran caddie Ron (Bambi) Levin praised as he watched Saunders play the final holes. "A lot of talent," said Levin, who worked for Todd Hamilton at the Honda. "He's like a quarterback coming out of college drafted by the pros. He just has to learn the offense."
The flag at 17 was tucked way right, and Saunders wasn't tempted. Saunders blew his tee shot into the back bunker and made an 11-footer for par with his parents watching from near the electronic scoreboard 100 yards away. He was still two strokes off what he thought was going to be the number for a top-10. "I have a newfound appreciation for what my mother went through," said Sam's mother (and Palmer's daughter) Amy.
What Saunders couldn't know when he made his decision to go for the green on 18 is that the groups behind him would make a mess late on the back nine. Five players inside the top 10 would combine to go 12 over on the last three holes to bring 10th place closer to Saunders. In reality, a birdie 4 on 18 would have given him a T-9 at two-under 278 and a spot in the field at Trump International at Rio Grande, P.R. "At the time there was no way I would have known that," Saunders said Monday, back home in Orlando. "You could say, 'Oh man, all you needed was birdie,' but you can't control what everybody else is doing. I played for what I thought was the whole deal."
At Phoenix, Saunders learned, "It wasn't the golf swing. It was between the ears." At Honda, he learned he's got what it takes to be more than Arnold Palmer's grandson. He will attempt for Monday qualify for the Transitions Championship and prepare to compete at Bay Hill. His winnings for T-17 ($68,444) were more than Palmer ever took home for a victory ($50,000 in the 1971 Westchester Classic) 00 with more to come. "This week I've realized I can play out here and I belong,'' he said. "I think I can win out here. If I keep doing the things I'm doing and working hard, I think it will happen pretty soon."