News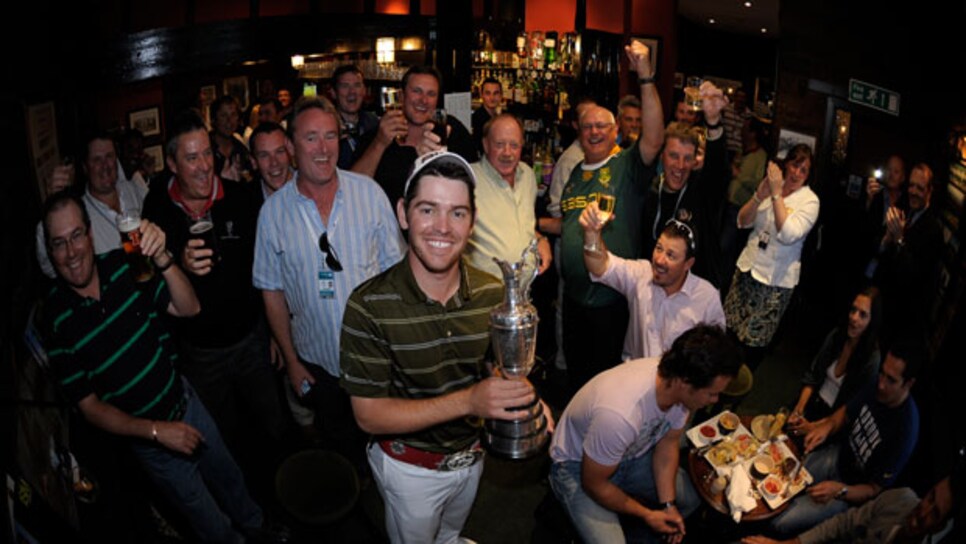 At the Jigger Inn last week, the famous watering hole next to the 17th hole on the Old Course, Louis Oosthuizen, his wife, Nel-Mare, and daughter, Jana, would drop by for dinner. They would quietly grab a booth in the back of the pub, then disappear to a rented home to put their 7-month-old to bed. For the farm boy from South Africa, unwinding at night was a way to fight off the mounting pressure of trying to win golf's oldest trophy, the claret jug.
Oosthuizen began his stay in St. Andrews as the most anonymous among the stable of stars managed by Andrew (Chubby) Chandler, who also represents Ernie Els, Lee Westwood and Rory McIlroy. For the second straight Open at St. Andrews, Chandler leased the Jigger as a hangout for his players and clients. Ernie and Lee came in for their pints, and Oosthuizen and his family would eat from the buffet.
But as his week unfolded and his swing kept repeating, Oosthuizen's countrymen and friends were hardly surprised by his exquisitely crafted seven-stroke British Open win over Westwood. Late Saturday night, Els and South African magnate ­Johann Rupert were talking over cigars about how solid Oosthuizen was. Els knew first-hand: His foundation funded Louis' amateur career. Ernie told Johan two years ago that Louis was ready to win major championships.
"It has never been a question of whether he's got what it takes," said countryman Trevor Immelman, the 2008 Masters champ. "It has been more surprising that he hasn't won more. The man has one of the most beautiful swings in professional golf, and this week he married his short game with his ball-striking."
Although Oosthuizen's father eventually built a golf hole with a bent-grass green for him on the family farm, the 27-year-old played most of his childhood golf on the sand-and-oil putting surfaces at Albertinia GC, about nine miles from his home in Gouritz River near Mossel Bay on the country's southeastern coast. In 2002 he shot 57 on the nine-hole layout at Mossel Bay GC where, as at St. Andrews, the wind always blows. Supported by Els' foundation, he won the Irish Amateur at Royal Dublin earlier that year, showing his aptitude on links courses.
Oosthuizen certainly had what Westwood called "the bottle" during his dismantling of the Old Course. When Rory McIlroy led after the opening round with a major-championship record-tying 63, Oosthuizen quietly shot 65 in the windy afternoon draw. Since McIlroy was the story and Oosthuizen a no-name, there weren't enough hands raised by the press corps to extend a visit to the media tent.
When he shot 67 to back it up Friday morning and take the lead, Oosthuizen came in for a news conference that would be his introduction to the mainstream golf world. He was asked how to pronounce his name ("LOO-ee WEST-high-zin,"), how he got "Shrek" for a nickname and how he could go from withdrawing with a bad back at the Alstom French Open just two weeks earlier to playing as well as he had through 36 holes at St. Andrews after missing seven of eight major championship cuts in his career.
If he weren't a pro golfer, Oosthuizen would have been a farmer like his father, Piet. Back home in Mossel Bay, in the midst of its worst drought in 150 years, the 62-year-old dairy farmer was tending to cattle as his son played near-flawless links golf. Reached by phone Friday evening, Piet explained that as a boy, Louis was always the first to jump on a tractor, and whether it was driving farm equipment or the golf ball, the younger Oosthuizen never showed fear.
In September, Louis plans to move his family to a property purchased next to his father's farm, where he hopes to breed Arabian horses and, according to his website, put a John Deere tractor in his back yard. "He was always keen doing something new, never afraid of difficult things," said his father. "He's not afraid of the unknown."
Unknown at St. Andrews was how Oosthuizen would hold up on the weekend of a major. (He was 28 under in winning the 2008 Telkom PGA Championship by 14 strokes, but didn't break through on the European Tour until the Andalucia Open earlier this year.) When he came back with 69 Saturday to take a four-stroke lead over England's Paul Casey, there was the predictable skepticism about his chances of hanging on. But swing coach Pete Cowen, who also works with U.S. Open champion Graeme McDowell, wasn't worried. "He's one of best ball-strikers out there," Cowen said. "Ask the caddies. They know better than anybody."
Gary Player called Sunday morning and, speaking to Oosthuizen in his native Afrikaans, recalled a practice round with Oosthuizen at Augusta National before the 2009 Masters. "He's very deceptive," Player said. "He's one of those guys [who doesn't] look that strong, but he's very strong and he's got a beautiful golf swing." The legendary grand-slam winner also told Oosthuizen to expect the pro-British galleries to be rooting for Casey, the way the American fans did for Arnold Palmer when Player beat him at the 1961 Masters.
Oosthuizen more than held on -- he swung the club as confidently as Immelman did in the final round of his Masters victory. An eagle at No. 9 and a birdie at the 12th when Casey drove into a gorse bush and made triple-bogey 7 provided the cushion he needed. His seven-stroke victory over Westwood was comparable to Tiger Woods' eight-stroke margin in 2000. In fact, since 1980 only Woods and Jack Nicklaus had won a major by seven or more strokes (Woods at the 1997 Masters and 2000 U.S. and British Opens; Nicklaus at the 1980 PGA). "This is absolutely unbelievable," Els said. "It would be difficult to find anybody in the world who is more proud of him right now. I could not be happier."
On the night before his final round, Oosthuizen skipped the Jigger and had a barbecue at his rental home, eating the leftovers the next morning after a good night's sleep. But Sunday night he was back at the Jigger, smiling with the grin that produced his nickname. "Funny nickname, that," said Cowen, back at his home in the British Midlands. "He's got the gap in the tooth and protruding ears when he puts his cap on, but he's actually handsome with an attractive wife and a beautiful daughter."
Cowen started working with Oosthuizen "when he was a lad coming over from South Africa." Cowen has never heard Oosthuizen swear, and despite repeated questions at his news conferences about an old temper problem, Oosthuizen was unflappable. When longtime caddie Zack Rasego uncharacteristically showed up later than expected on the range Friday morning, Cowen said Oosthuizen never lost his cool. "He's a calm character," Cowen said. "And very, very religious as well."
Not so religious that he wasn't drinking a pint or two Sunday night. As friends and family jammed into the old white building, daughter Jana used the top of the claret jug as a teething ring. Charl Schwartzel and officials from the South African tour were there, along with American Rickie Fowler, who hopped the rock wall separating the Jigger from the Old Course. In the middle of it all was Rupert, the father of modern-day South African golf. In the morning, Oosthuizen awoke with Jana cradling the jug and texted Chandler, "I've got this funny old jug next to my bed."