News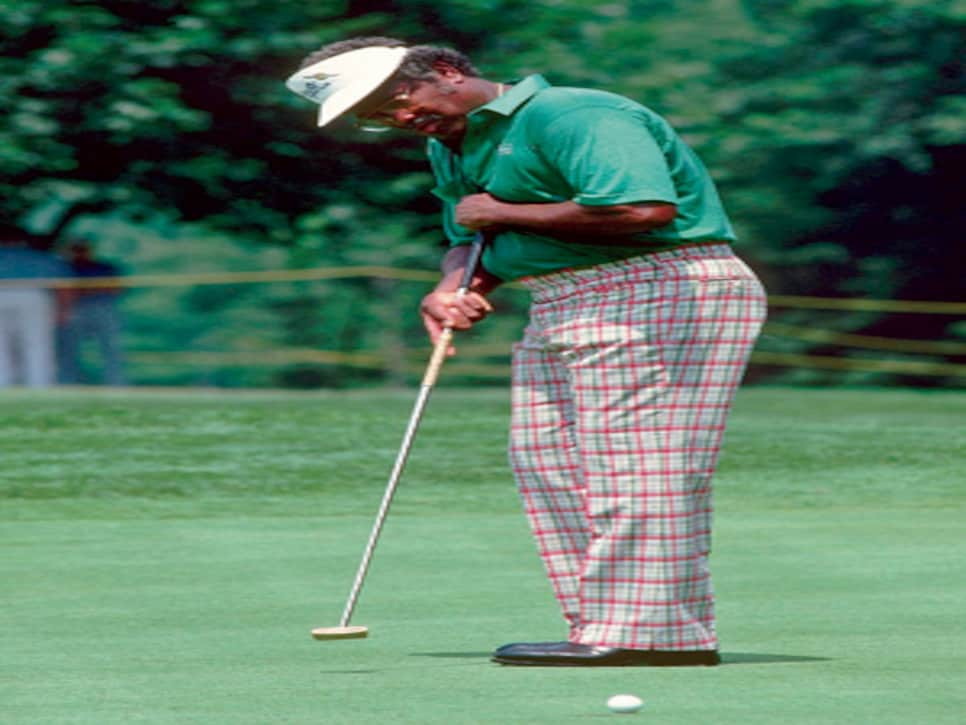 Owens, using the "Slim Jim" putter during the 1987 U.S. Senior Open at Brooklawn CC in Fairfield, Conn.
From his home in Tampa, 81-year-old Charlie Owens keeps close track of his invention and its impact on professional golf. Owens sees how the long putter has turned around Adam Scott's career and recognizes that Keegan Bradley was the first player to win a PGA Tour major using a long putter or more sophisticated form of the 51-inch "Slim Jim" broomstick he created in 1983. The equipment trendsetter took pride when Webb Simpson became the third consecutive player to win on tour with an unconventional putter and when Michelle Wie, age 21, used a belly putter well enough to finish T-2 at the CN Canadian Women's Open.
"I don't see any bad putters using the long putter," Owens said, meaning once players make the change, no matter how young or old, male or female, the yips are gone. "If you take your time and set up right, it's like you're putting with a GPS."
And just as GPS systems in cars were hardly commonplace in the mid-1980s, neither were young players with long putters. That is no longer the case in the summer of 2011. At the PGA Championship, Bradley called himself a long-putter "lifer," adding he "won't be changing anytime soon." The 25-year-old New Englander made the switch to a 46¼-inch putter 2½ years ago when he was not making enough putts on the Hooters Tour. Converting birdie putts with a strong driver-wedge game has turned him from a mini-tour grinder to a major champion. "It's a great tool to have in pressure situations," Bradley said. "Because you just put that right in your belly and it's not going anywhere."
Like Bradley, Simpson wasn't born when Owens first started tinkering in the pro shop at Rogers Park, a public course in Tampa, 28 years ago. Nor would he remember that Rocco Mediate, in the 1991 Doral-Ryder Open, was the first player to win a PGA Tour event with one. All Simpson knows is that his teammates at Wake Forest stopped razzing him about it the more he filled the cup.
Simpson, 26, has used the belly putter since his freshman year. "It was kind of a joke that I tried it in the first place," Simpson explained at the Barclays. "I went to the pro shop with my dad, and I was making fun of the belly putter. I thought, 'I just have to make a couple putts with this.' I went on the green, and made a few long ones. I took it out on the course for nine holes and made everything."
Like Bradley and Valero Texas Open winner Brendan Steele -- the third-round leader of the PGA -- Simpson represents a mindset that doesn't think there's any shame attached to long or belly putters.
"I think you're seeing younger guys use it," Simpson said. "I just like it better. I putt differently with it, and I've never found anything I like better."
For a visual, look at Scott's body language when he stands over a putt of any distance, from the short knee-knockers for par to the birdie putts in the 10-15 foot range. It screams "confidence." Scott made the change to a long putter after missing the cut at this year's Sony Open, at the suggestion of his brother-in-law/swing coach Brad Malone.
The first time he was in contention after making the switch, Scott finished T-2 at the Masters. He backed it up with a win at the WGC-Bridgestone Invitational. "As you putt better and take a bit of pressure off the rest of your game, you allow yourself more freedom," Scott said after opening with a 66 at Barclays. "That's what I lacked last year. My game was fantastic, but there was still pressure [on my short game] because I had to get it so close and it's hard. This year I got comfortable with that long putter, and it has taken pressure off my chipping, all the wedge shots, everything. There definitely is a trickle down effect all the way to the irons. I've just got to run with it."
Originally viewed as taboo on any tour, long or belly putters have been a common sight on the Champions Tour since Owens passed the concept on to Orville Moody, John Brodie and Gay Brewer more than 25 years ago. Now Fred Couples has found new life by going to a belly putter, winning four times last year and the 2011 Constellation Energy Senior Players Championship. An even better example is Bernhard Langer, who won three straight player of the year titles on the Champions Tour using a long putter.
Still, some traditionalists, such as Tom Watson, would rather miss putts than change. When caddie Neil Oxman suggested to Watson at Westchester CC that he go to a long putter, Watson just shook his head. It was a nonstarter for the very reason Steve Flesch stated after winning in New Orleans with a belly putter in 2003. "This is like cheating!" Flesch said.
Luke Donald is from the same camp and notes conventional putters won the first three majors this year. "I've never dabbled, and hopefully never will," said the world's No. 1 player. "I feel very confident in my putting. I don't really feel the need to even try it."
Phil Mickelson admits he has pulled a few long putters out of golf shop equipment racks, but hasn't yet felt the urge to go there in competition. He wonders if there could be a retroactive ban, the way there was with square grooves and paddle grips. Matt Kuchar claims he is old school but uses a long shaft anchored against his forearm. Jim Furyk has bounced back and forth for seven years but with less regularity than Vijay Singh. Mired in a putting slump, even Ernie Els experimented with a belly putter this year.
"Ten years ago, no one ever went to the belly putter unless they couldn't putt," Furyk said. "So I didn't really think of it as unfair. I thought of it as desperation, if that makes sense. Now some guys have gone to it [who] are decent putters, but they think it's a better way."
Owens thinks the day is coming when the long putter will make the conventional putter obsolete, but there's no anecdotal evidence that a paradigm shift will happen soon. In the U.S. Amateur, no player in the final 16 used an unconventional putter, but as young players see Scott, Bradley and Simpson raise trophies, they will be more prone to try it.
"My honest opinion," said Scott, "is I believe it's just simply a better way to putt."
Culturally, we are so ingrained with seeing long putters that the only time it looks awkward is celebratory moments. Bradley looked as if he had a ski pole attached to his arm while fist-pumping after his bomb on the 71st hole at Atlanta AC, but in the end he was the one who hoisted the Wanamaker Trophy.
"You can take someone out with the thing," Scott said.
The Aussie meant literally, but he could have meant figuratively too.