News
Can Paddy Find His Way Again?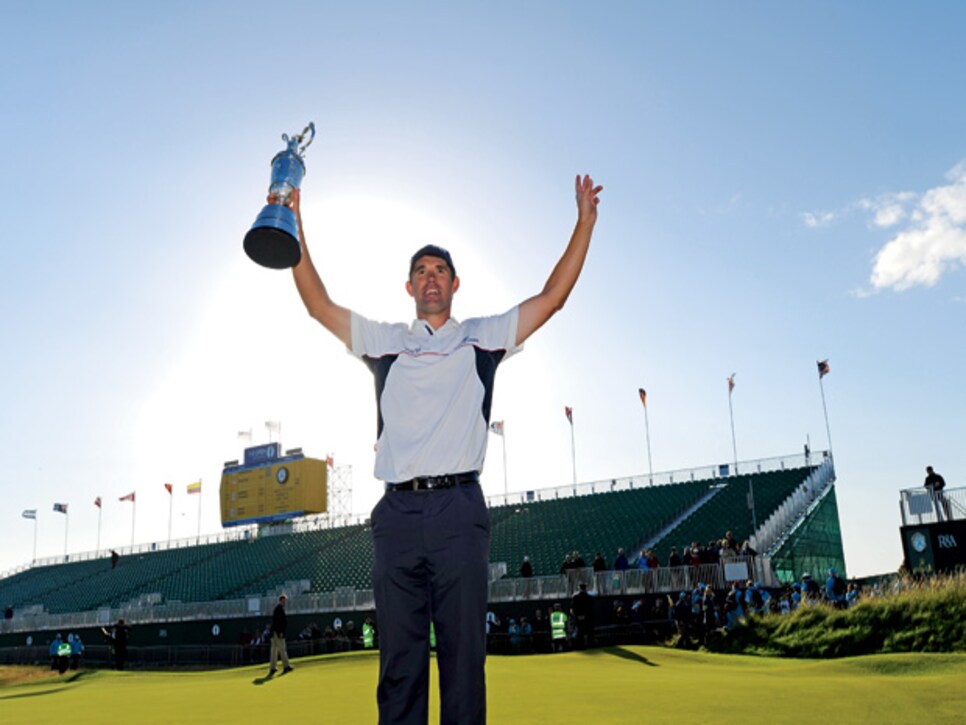 Harrington's victory at the 2008 British Open was the second of three majors he claimed in a 13-month span.
Before Darren there was Rory. Before Rory there was Graeme. But people outside the pubs of the Emerald Isle tend to overlook that this wave of major championship winners from Ireland started with Dublin's Padraig Harrington. In sports there are no Irish borders or last names needed on their golf heroes Clarke, McIlroy and McDowell.
Same with Paddy, the face of modern-day Irish golf. "I take pride that I got it done and led the way," Harrington said last week in the locker room at Firestone CC. "I take pride in the fact that even if it had nothing to do with me, that they've done it, they've represented Irish golf in a big way and that's great."
Approaching his 40th birthday, just days after separating from the coach he credited with developing a swing that produced three major championships and on the verge of working with a new instructor, Harrington seemed far removed from the form he held between the 2007 British Open and 2008 PGA Championship that earned him two claret jugs and a Wanamaker Trophy.
Coming off back-to-back missed cuts in arguably two of the biggest tournaments of his year, the British Open and the Irish Open, Harrington had dropped to No. 69 in the world. By week's end at the WGC-Bridge-stone Invitational, he was no longer talking about leaving swing instructor Bob Torrance, but of a new relationship with Pete Cowen, the teacher of Clarke, McDowell, Lee Westwood, Charl Schwartzel and Louis Oosthuizen. Saying there was a time and place for everything, he didn't anticipate spending much time with Cowen before the PGA Championship. ("There is nothing in it yet," said Cowen of their new arrangement. "He might not like what I have to say.") With Harrington ranked No. 130 in the FedEx Cup standings, however, the PGA could be his last tournament in America until next year.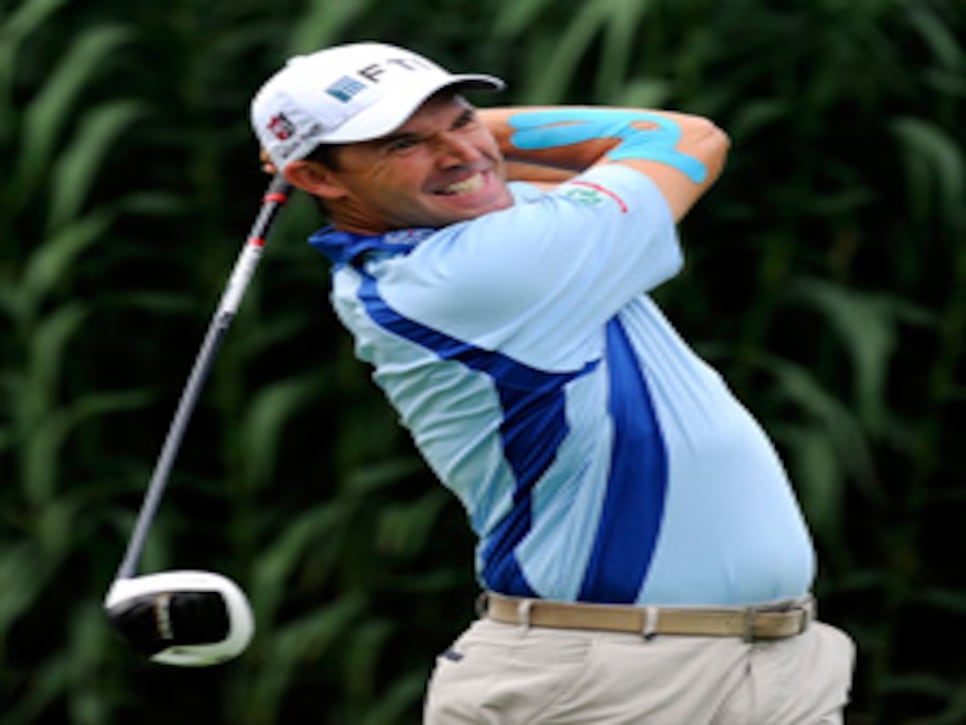 "I'm certainly better now than I was going into either of the two Open wins," Harrington contends. "Both of them came off poor form." His play in the WGC-Bridgestone Invitational wasn't that great, though, with rounds of 71-70-73-72 for a T-59 in a field of 76 players. He goes to Atlanta AC looking for his first top-20 in a major since the 2009 PGA.
There were some mixed feelings about the separation with Torrance and the move to Cowen. Torrance, the father of former European Ryder Cup captain Sam Torrance, had been with Harrington for 15 years. At 79, Torrance believes in the basic fundamentals that Harrington is seeking to find in his swing, even during the periods when he's tinkering with it.
"One of the reasons I made the move is because I value my relationship with Bob, my friendship, more than anything, and I didn't want to be continually arguing over the direction I wanted to go," Harrington said. "Bob doesn't trust what I'm doing at the moment, and as much as I trust Bob, he's 79 years old and he's set in his ways. One thing I figured out with a little bit of maturity, he ain't changing."
Harrington is 39. He can't beat 1,000 balls a day like he used to. There were times at the WGC-Accenture Match Play at La Costa a decade ago when Paddy would be knocked out in the first or second round, but hit more balls on the weekend than any of the competitors. Now the Irishman is trying to take a more 21st-century approach to sports training and wants no heavy hovering by the swing coach on the range during a big tournament.
"Interestingly, it's a lot more to do with how I prepare for tournaments than anything else," Harrington said. "Everything Bob teaches I still work on, but a lot of times I don't generally want to have a swing coach at a golf tournament. When I prepare for tournaments, I prepare by getting my head right. I do more of the mental stuff and just found myself maybe being undermined at that. I just felt we were arguing over different things."
Harrington was remarkably upbeat considering he looks to be in a phase where nothing seems to be clear, physically or mentally. "Here's a perfect example," he said. "Fifteen years as a pro, and for 13 I've been doing the Bob Rotella stuff. For the last 18 months I've been very, very diligent about focusing on my target, but it's amazing. Focus on your target is how I won three majors. But I go out there and focus on my target [and] it's not staying. So I have to find a new way of doing the same thing."
Harrington and Torrance were both rolling their eyes two years ago at the Firestone when, paired with Tiger Woods in the final round, Paddy was put on the clock. He rushed through a series of shots at the 16th hole, made a triple-bogey 8 and finished T-2.
The story before that finish, though, was Harrington wanting to make swing changes less than a year after his back-to-back majors at the end of 2008. At the time he called the process, dating back eight months, "very constructive." He was also suffering from neck pain, a byproduct says Harrington of Torrance being an instructor "who wants you [to] stand there and hit 1,000 balls in a row."
His work last week reflected the place he was in: ebbing more than flowing, looking at the careers of Jack Nicklaus and Woods for perspective that even the two greatest players also went through their down times. It's all about managing the ins and the outs. "It's annoying, but I know the only way to do it is to go through all the clichés," he said. "I could name a list of them."
Needless to say, looking forward, not back, is one of them.