News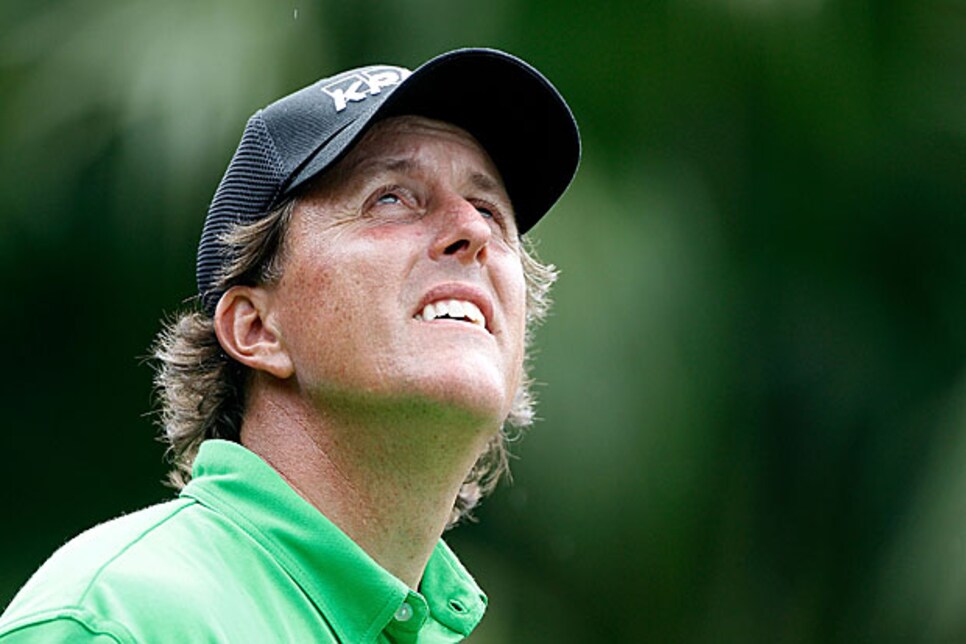 With so much optimism heading into the season, Phil Mickelson has been stuck in neutral in 2010.
The party is almost over. Three tournaments remain before the master returns at the Masters and golf has a dominant player again. Unless Phil Mickelson gets his act together or Ernie Els backs up his win at the CA Championship, we will come away from these four months with no clear cut Padraig Harrington to emerge from this most recent window of opportunity left open by a Tiger Woods hiatus.
The circumstances were so bizarre, so unlike the control freak we have come to know, that returning from ACL surgery after eight months on the shelf now seems so mundane. But if you believe these scars will heal just as quickly, that the "indefinite break," was rehabilitating in more ways than one, then Woods returns just in time for Augusta National, Pebble Beach and St. Andrews -- three major championship venues Jack Nicklaus referred to as Tiger's meat. "I expect him to come back and be Tiger," Nicklaus said in his office last December.
Remember, before all the commotion, Woods was coming off major knee surgery with a seven-win season that started with an in-the-dark putt at Bay Hill and was punctuated by a victory in the Australian Masters. So what if he was pitching drivers and dropping F-bombs? That turned out to be the least of our worries, as the Champions Tour nearly surpassed the PGA Tour in popularity, and as Groovegate and The Lay-Up became the stories of the West Coast.
With Woods still undecided on Bay Hill or Augusta, Els stepped to the microphone at Doral and said, "I think it's a good opportunity for a lot of players to basically try and strike now." Who struck? Who struck out? You might be surprised.
Living in the Bears Club has subliminally rubbed of on Els, who decided to travel less and be home with the kids more -- while not relying so heavily on others to sort out his problems on the golf course. This is straight from the book on how Jack Nicklaus won three majors in his 40s, while still watching the kids grow up. So rather than jet to the Middle East for another Dubai check, Els watched daughter Samantha play soccer. And rather than jump back and forth between instructors and sports psychologists, Ernie decided to be Ernie again. The results started to show through in the WGC-HSBC Champions last November -- when only a water ball on the 72nd hole doused his comeback -- and carried over to the West Coast. "It was like old times," said caddie Ricci Roberts. For the most part, that would be a good thing. But when it comes to turning back the clock, Ernie's spotty record against Woods is a part of his history he'd like to move past. Whether he can do so is one of the biggest questions when Tiger returns.
The Brigade Of Painters Caps And Big Belt Buckles
Rickie Fowler was a weekend spectator at the Honda Classic. I caught up with him late Saturday afternoon, hanging out by the putting green, and just had to ask him about his debatable move on the 15th hole Sunday at Phoenix, when his layup from 231 yards might have cost him the tournament. Fowler wasn't defensive about it, even talked like he'd do it again, then laughed about all the conversation his decision had incurred. His missed cut meant he wouldn't qualify for the CA, but that too seemed to be only a passing concern. What I took away from this conversation was the sense that Fowler believes he'll have plenty of chances to win and plenty of CA Championships before his career is over. Still, how will this 21-year-old play the first time he gets the Tiger Pairing? And how will any of these players in their 20s respond now that they've got some confidence going after tasting victory -- players like Bill Haas, Dustin Johnson, Hunter Mahan and Camilo Villegas? And is this a different A.K. than the Anthony Kim who couldn't handle Woods last July at Congressional? These are the questions not only of the moment, but also of the next 10 years of their careers.
Remember how Ian Poulter said he was going to be the No. 2 player in the world? Guess who started calling him "No. 2"? Woods. If you think this won't resonate when the Accenture Match Play champion gets a late Sunday tee time with You Know Who, then you don't know You Know Who. This won't be anything like Stephen Ames or Rory Sabbatini, but Woods doesn't like mouth, even, if in Poulter's case, he backed up a stellar Ryder Cup with a WGC win. His opponent in the All-England final was a player who jumped to No. 3 in the world just as Woods was recovering from his leave of absence, Paul Casey. They presently stand Nos. 5 and 6 in the world, just behind Lee Westwood, who has had his chances in majors when Woods was paired with him (2008 U.S. Open) and when Woods was already home after missing the cut (2010 British Open). Unless Woods comes back like a chanting monk and not a roaring Tiger, it's hard to see the British Invasion continuing straight through to the Ryder Cup in the rain and cold of Wales.
Lefty Trying To Get Things Right
So much was expected of Phil Mickelson. After a hot finish to the 2009 season, a healthy medical report for wife Amy, and time to groove the Dave Stockton putting method that led to victories in the Tour Championship and HSBC Champions, Mickelson was expected to fill the void left vacant by Woods. You can't say Mickelson becoming the main character in Groovegate was a distraction, not when he was first immersed in the controversy with the USGA's Dick Rugge during last year's playoffs. He also gets a pass because of some complications with Amy. But where it all falls short is that the putts Mickelson was making in Atlanta and Shanghai aren't going in the hole. The one thing Mickelson has going for him is that he beat Woods in those last two tournaments, but to continue doing that, he has to get his putting back on track starting at Bay Hill and Houston.
Steve Stricker has a win and leads the FedEx Cup points race, but other than he and Els, there are no players in their 40s -- and none past 45 -- in the top 20. Kenny Perry, a runner-up to Cabrera in the Masters, has been searching to replace the feel in the Ping putter that broke at Kapalua. Vijay Singh, after shaking off injuries in 2009, was playing well in Florida -- T-4 at PGA National and T-11 at Doral -- until pulling out of the Transitions with a sore back. Stricker, who turned 43 in February, showed that he has what it takes to play with Tiger in the Presidents Cup. But while being his partner has proven to be a tough fit over the years, being his opponent has been even tougher. Of Stricker's four wins since last May, only one has come with Tiger in the field, and Woods started far enough back on Labor Day in the Deutsche Bank that his final-round 63 didn't shake "Strick."
What do Angel Cabrera, Lucas Glover, Stewart Cink and Y.E. Yang have in common besides outplaying Woods in the 2009 majors? Other than Yang, who rushed a tee shot into the water on the 71st hole of the Phoenix Open, none have factored in the opening quarter of 2010. Cabrera, Glover and Yang each have a top-10 finish, while Cink has two. But among this group, Cabrera and Yang have proven that Woods is mortal in majors after all, with the Argentine and South Korean outplaying Tiger down the stretch at Oakmont and Hazeltine, respectively -- while Glover outplayed him by four shots at Bethpage and Cink had him by seven strokes (138-145) at the halfway point of the British Open. Yang sensed nerves in Woods when he popped up a shot on the back nine of their battle in the PGA Championship, and Cabrera welcomed back the Woods challenge in his pre-tournament Masters news conference. "Obviously, I want Tiger to be there," Cabrera said. "He's the best and when he's there, he makes tournaments different."