News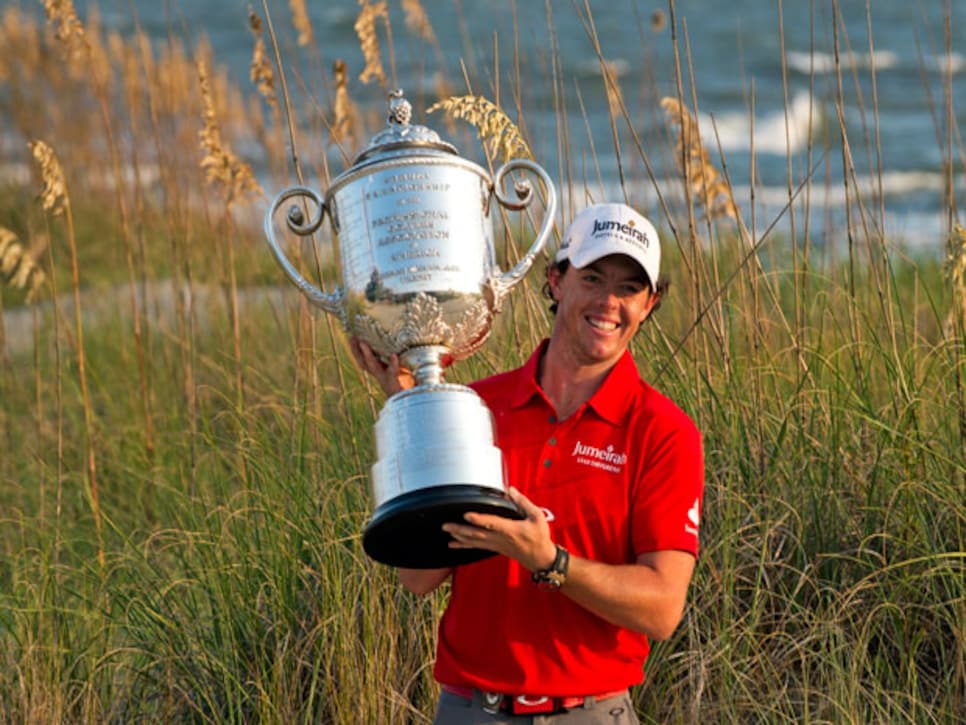 Rory McIlroy holding the Wanamaker Trophy; his second major title in two years.
If this feels like a familiar place, it is. We've been here before. Let's see if this time Rory McIlroy can handle it a little better than the last time around and truly become a breakout player in professional golf. Get ready for Rory 2.0.
Barely over a year ago, when he won the 2011 U.S. Open at Congressional by eight strokes, McIlroy was proclaimed to be the next great thing. A Tiger-deprived world had found its next superstar. Then it became a case of, "Not so fast, Sparky."
The likeable young man who seemingly has that head covered by a curly mop of brown hair screwed on straight threw five dreadful majors in a row at us, finishing T-25 in the Open Championship last year, T-64 in the PGA, T-40 in the Masters, missing the cut at the U.S. Open, and T-60 in the British this year.
What made that run of irrelevance especially shocking after his overwhelming win at the Congressional was that McIlroy had finished T-3 in three of the six majors before he won at Congressional and was T-15 in the 2011 Masters when he began the final round with a four-stroke lead before melting down.
Rory also got a little snarky along the way as the quality of his play dropped off, snapping at officials, becoming impatient with fans and grousing when the media wondered whether his high-profile romance with tennis star Caroline Wozniacki was hurting both of their careers.
So now the reset button has been set and McIlroy has had his Etch-A-Sketch moment. Let's try Take 2 of Rory Becomes Tiger. On Sunday, he won the PGA Championship by eight strokes, overwhelming Kiawah Island with a closing-round 66, and took over the No. 1 spot in the world ranking.
Once again, he is the next great thing. At 23 and change, he has two major championships at a younger age than Woods. That's not to say he's GOING to be as good as Tiger, but it certainly gives reason to think he COULD be.
So what do we learn from this? Well, now we know McIlroy is good at winning by eight strokes -- he has done it twice in majors. Next he has to prove to us that he can grind out a close one, and that he can give himself a chance to win consistently. That's how you win a lot of majors -- by being in contention on Sunday.
But the real question is not what we have learned about Rory but what has Rory learned about himself and about the discipline it takes to be a great player. He admitted earlier this year -- when he was missing consecutive cuts at The Players, BMW PGA and U.S. Open -- that he had lost that discipline in terms of practice and his workout program.
The distractions that are thrown at a player after winning his first major have derailed many. There are not only endorsement opportunities, but also party opportunities, and McIlroy succumbed to both. Again, he seems to have learned. He is working harder and playing with greater focus.
The great thing McIlroy has going for him is that he already has most of the pieces to the puzzle. He is the greatest driver of the golf ball since Greg Norman and, with the help of Dave Stockton, is much more solid on the greens when it comes to those momentum-saving short putts.
And then there is the other stuff. At his best, McIlroy has the game of Woods and the charm of Phil Mickelson. As his star continues to rise, Rory has to maintain his best qualities and contain his worst. Here are some tips for staying on track:
Practice: One of the reasons Woods was so dominant was that no one outworked him. There is a difference between getting to No. 1 and staying there. Keep working hard. As Tiger would say, "It's a process."
Commitment: Tom Watson once said about Nicklaus: "Jack never hit an indifferent shot in his life." By that he meant Nicklaus committed to every shot as if it were the 72nd hole of the U.S. Open. Tiger plays like that. That's how you win a lot.
Fan friendly: McIlroy's kid-next-door charm connects with the galleries. He has to maintain that in the way that both Mickelson and Arnold Palmer did. Sign autographs, smile and wave. It goes a long way.
Media available: At the Players this year, after missing the cut, McIlroy stood outside the scoring trailer for 20 minutes and answered every question in a polite, insightful, amusing way as he tried to explain what went wrong. Don't lose that. It will pay off in spades when bad times come. Ask Tiger.
Discipline: Both McIlroy and Wozniacki live in the fast lane. The worlds of pro golf and pro tennis bring with them a lot of temptations. And when you are 23 years old, the alarm clock is an annoyance. Have fun but stay focused. That's not as easy as it sounds.
Behavior: Shortly before winning the 2011 U.S. Open, McIlroy made a trip to Haiti as a UNICEF ambassador and was openly moved by what he saw in the poverty-stricken nation. Somehow, he has to remain that person and not succumb to the sense of entitlement that fame and fortune bring.
Just be smart: So far, most of McIlroy's instincts have been unerring. Late last year, while on a swing through Shanghai, Singapore and other points east, McIlroy sounded like a tired puppy who was overplayed, over traveled and over extended when he attributed a bad finish one day in Hong Kong to "a bit of mental and physical fatigue." Resist those temptations and build a smart schedule.
At the moment, there is every reason to think that McIlroy is the next big thing. But things can get easily off track in life. Just ask Tiger. McIlroy is halfway to the career Grand Slam. Now he has to do what he needs to do to keep winning. I like his chances.