Q&A
'Most people don't assume they are dealing with a pathological liar': How we spent months piecing together a golf pro's deceptions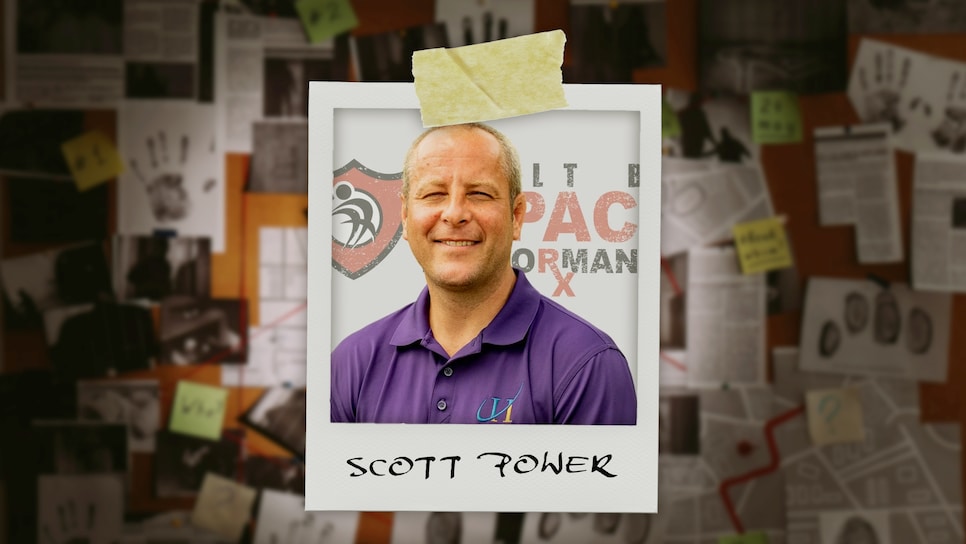 Earlier this year, Golf Digest Senior Writer Joel Beall approached his editors with an intriguing tip: a golf pro named Scott Power was accused of defrauding the owner and customers of a new golf academy in Georgia. Even more remarkable, Beall learned, was that the most recent case only scratched the surface of Power's deceptions.
We spoke to Beall about his process in reporting on Power, the challenge of sifting through countless stories layered with fabrications, and his report's surprising, even encouraging, aftermath.
Joel, you brought this story to us what feels like months ago, so it's worth revisiting how it first got on your radar.
I received a message on Twitter from a man named Chason Perry in mid-January. Perry said he was recently the victim of a "con job" and asked if we would be interested in hearing more. Tough as the situation sounded, I initially didn't know if one bad business deal constituted a story. But I called Perry just in case, and within a few minutes of our conversation it appeared this wasn't just a one-off scam but potentially part of a series of fraud-related instances. By the end of the month we had started our reporting.
I imagine one of the challenges of writing about fraud is everyone's version of the truth is a little different. How did you contend with that?
Yeah, that was easily one of the biggest challenges of this story. For better or worse, there's an inherent skepticism to what we do. So even if I believed someone on a personal level, it still necessitated proper vetting. That includes Perry and his associates, one of Power's previous business partners in Dr. Wade Port, even some of the law enforcement sources who guided us in certain directions. If something wasn't corroborated—and there were a handful of details that, while likely true, we couldn't verify or support—we ultimately left it out.
If you are inherently skeptical, it feels like a lot of people didn't do enough digging on Power's background before partnering with him. How do you explain it?
I'm sure an outside observer thinks of it as laziness or negligence, but the reason Power and others like him are able to get away with these things is how convincing they can be. Not only with their personalities or charm, but the story they are selling. In Power's case, his resume was so detailed and specific; most people don't assume they are dealing with a pathological liar. One of my fears with this story was people would dismiss it as Perry's fault. But as the story detailed, he is far from the only guy who fell for Power, and there's a reason millions of fraud cases happen in this country every year. People want to trust other people, especially if there's no reason to doubt them
The extent of Power's deception also meant your story kept getting bigger. How did the final version of the story differ from what you originally envisioned?
To me there were two endings: One where Power has to answer to what he's done, the other where he's still evading justice. I tried to work back on both from there, although I did feel like it was important to end on a note from one of Power's victims, to underline the damage they are still dealing with no matter the outcome.
One thing that came to fruition that I admittedly thought would not happen was a conversation with Power. I had been trying to get him since early February, and by the time summer rolled around I had come to peace that it likely wasn't going to happen. That conversation happened on Aug. 4; on Aug. 7 one of Power's ex-wives filed a domestic dispute charge, and by Aug. 10 he was arrested on the charges filed by Perry.
Now that Power has been caught and the story has been published, what has the reaction been?
There have been a number of people who have reached out with their stories of Power, some which we were vaguely aware of but couldn't nail down, others that we had no idea happened. One man accused Power of stealing worth of $50,000 equipment from his Facebook Marketplace account. Another person wrote that he had moved from Pennsylvania to Georgia to teach for Power, and that he had almost the same experience that Perry and Port had. There were plenty of other readers that sent in different fraud experiences with those in the golf industry.
An upshot that I wasn't expecting was an outpouring of support for Perry. A lot of people are drawn into crime stories without remembering there are people on the other end of the crime. That doesn't seem to be the case here; since the story has gone out Perry has been receiving calls, emails and messages, with some even offering ways to help him out. Think that's important to note, because while this story dealt with some unsavory characters, this outcome was a reminder that people are ultimately good.