News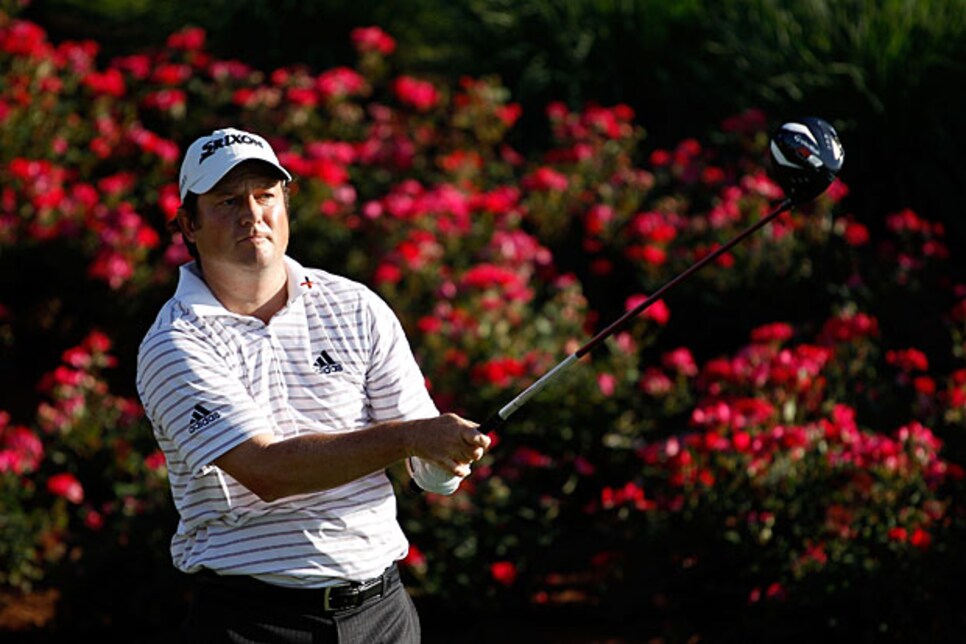 Clark didn't have a bogey in his final 26 holes over the weekend at TPC Sawgrass.
PONTE VEDRA BEACH, Fla. -- This was fitting. This was perfect. Here was a golfer whose PGA Tour career had been defined by late-afternoon disappointment, and now his first tour win would have to come by way of the hole that churned out disappointment by the truckload.
If you're going to face your demons, you might as well run straight into them. Only at that moment, as Tim Clark made the walk from the 16th green to the 17th tee, he could barely put one foot in front of the other. Fans urged him to hang on, and the 34-year-old South African could offer only a pained smile in return. From behind the tee, a man called out club advice for the 137-yard tee shot, but Clark tried not to hear him. He threw blades of grass in the air. He teed his ball, then teed it again. Across the lake, the green looked the size of a throw rug.
"Seventeen looms every day you go out there," Clark said.
Finally, Clark pulled back his 9-iron, watched his ball climb into the air and then land safely in the middle of the green. For a moment, Clark motioned for the ball to trickle down toward the hole. His playing partner Charley Hoffman told him to knock it off.
"Timmy," Hoffman said, "it was a pretty good shot."
Given the stakes, it's hard to think of one better. On a day when the Stadium Course at TPC Sawgrass dished out all kinds of suffering to the world's greatest golfers, Clark was an unlikely candidate to emerge unscathed. Though a winner overseas and on the Nationwide Tour, he had played eight years and 204 events on the big tour and had only fallen short, sometimes in spectacular fashion. A two-shot lead lost late on Sunday at the Colonial. A five-shot lead lost at the John Deere. Eight times Clark had finished runner-up in a PGA Tour event, which meant at least eight different occasions he had to wonder when he was going to break through.
The latest such occasion came earlier this year, after a T-2 at the Bob Hope, and Clark turned to his friend Robert Allenby and asked when he was ever going to win.
"I said to him, 'Mate, you've just got to be patient. You've just got to keep putting yourself in there for a chance on the last day,'" Allenby recalled. "Lo and behold, he beat me."
As it happened, Clark would need every last blade of grass at Sawgrass to hold off Allenby at the Players. After Clark's par on 17, he needed to roll in an eight-footer for par on 18 to secure his 67, then was forced to sit and watch as Allenby pulled within one with a birdie on 16. As Clark bided his time hitting balls on the range, his wife Candie stood near the scoring area, her attention split between a stream of friends and players, and the giant screen displaying Allenby's final holes.
"Don't jinx it," she said when they tried to offer congratulations. "Cross your thumbs."
Not until Allenby's final birdie attempt slid past the hole was Clark assured the win. In its aftermath, the player admitted to a brief letdown.
"A part of me is disappointed because no one is going to talk about me anymore," he said with a smile. "At least you had something to write about before. Now I'm just another guy with a win."
Perhaps, but he is also a guy who won over skeptics by delivering in the most difficult conditions of the week. On a day that saw the world No. 1 golfer withdraw after six holes because of a neck injury and the reigning Masters champion watch his chances of a second Players title fritter away over the opening holes, Clark was unflappable. Or at least he was on the outside. He cashed in a string of five birdies in six holes around the turn, followed by a collection of clutch pars late. Hardly a bomber off the tee, the 5-foot-7 Clark followed his par on 17 with a tee shot that was launched past Hoffman's.
"I need to get some adrenaline," Clark said to Hoffman, "because I never hit a drive that far in my life."
"There's no question it weighs on you not being able to close it out here but he didn't look like he had any trouble today," Hoffman said. "He looked like he was playing on a Tuesday. He didn't look like he was playing in the final round of the Players Championship, that's for sure."
Seven shots off the lead when the weekend began, Clark closed with rounds of 66 and 67 and answered every question about his career in the process, including a few of his own. If this was going to be like the weeks that came before, Clark could have easily seen his tee shot on 17 disappear into the lake. For once, this was the tournament he ended on solid ground.