News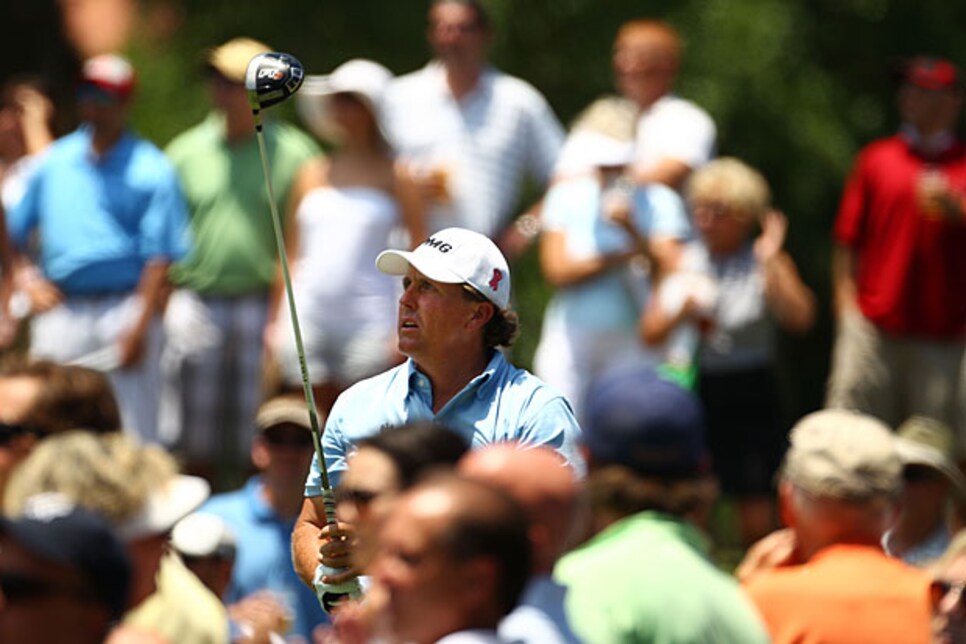 Mickelson has a chance to reach No. 1 in the rankings for the first time in his career.
PONTE VEDRA BEACH, Fla. -- It began as an abstract concept, but now it was real. Plausible. Even palpable.
As Phil Mickelson bounded through the amphitheater 17th hole on Saturday, past the sunburned men and women in cowboy hats, past the girls in pigtails singing his name, the thought was no longer that he could wake up Monday morning as the No. 1 player in the world. At that point, he was already there.
Mickelson two-putted for par, walked through the tunnel to the 18th tee, and turned away from the path to hand his ball to a young girl behind the rope line. There was a group in "Mickel-Slam" t-shirts. There was a throng of women who squealed when the 39-year-old golfer flashed them a thumbs up. And there was the chorus of voices all returning to the same theme.
"No. 1, Phil!," they kept yelling.
On Saturday at the Players, it seemed inevitable. Mickelson shot 66 to move within striking distance of the lead. The man he is chasing was again muddling through another frustrating tour of TPC Sawgrass. Technically, the 39-year-old Mickelson needs to win at the Players and have Tiger Woods finish outside the top five to seize the top spot in the world ranking. But in many respects, that mantle seems to have already been passed.
"He definitely has the game. He has the resume," said Troy Merritt, the 24-year-old rookie who played alongside Mickelson for the first time Saturday. "If it's not this week, I'm sure some time down the line this year he'll be ranked No. 1 in the world."
It is out there in part because of Woods and the curious hole the world No. 1 has dug for himself, beginning with his personal life and now continuing with erratic ball-striking. But it is there also because Mickelson has seized the opening: winning the Masters, sneaking in a second-place finish as Rory McIlroy was stealing the headlines at Quail Hollow; and now, following a second round so flat he felt the need to apologize for it, by coming to life on the Stadium Course.
Going off nearly five hours before the leaders, Mickelson rattled off five birdies on his front nine, then added two more on the back, the last on 16 coming after he lipped out a chip for eagle. His lone misstep came on 18, when he laid back with a 3-iron off the tee, overclubbed with his approach, then couldn't get up and down for par. Still, the round was Mickelson's 12th straight under par, dating back to Saturday at the Shell Houston Open, and was the latest argument that his Masters win may have been just a step toward something bigger.
"I felt like things started to click a little bit today and I think I've got one more low round in me," he said. "I just hope that it will be enough, that I'll be within striking distance."
A year in which his wife and mother are still in treatment for breast cancer would seem an unlikely time for Mickelson to ascend to the top spot in the game. That it's even a possibility is a testament to the player's outsized talent, and perhaps a renewed focus.
While no player has been more diplomatic in deflecting questions about Woods' predicament -- surely in part because he stands to be a direct beneficiary -- Mickelson has at least acknowledged the ranking is on his radar.
"It's every player's goal and intent to strive to be recognized as the No. 1 player in the world relative to the rankings," he said. "It's certainly something that I have been striving for, but have not achieved yet. And so it would mean a lot to me."
Of course, It's worth noting that Mickelson uttered those words on Tuesday. On Saturday, perhaps sensing that it was closer to a reality, he was uneasy with even discussing it.
"I don't know why you keep asking about that," he said. "I mean, we're right in the middle of a tournament here. That's the last thing on my mind right now."
Not so everyone else, from the people asking the questions, to the lively Saturday crowd, to the young boy who threw another bucket of cold water on Woods as he walked off the course following his third-round 71.
"Say goodbye to No. 1, Tiger!" the boy yelled. "Kiss it goodbye."
It won't be that simple, not on a Sunday in which Mickelson will have to leapfrog a handful of players, all while contending with a golf course that is likely to ask its toughest questions on the final day.
Maybe Woods holds on to the spot this week, perhaps even another month. The point is that Mickelson has already made his move, and everything else is just math.