News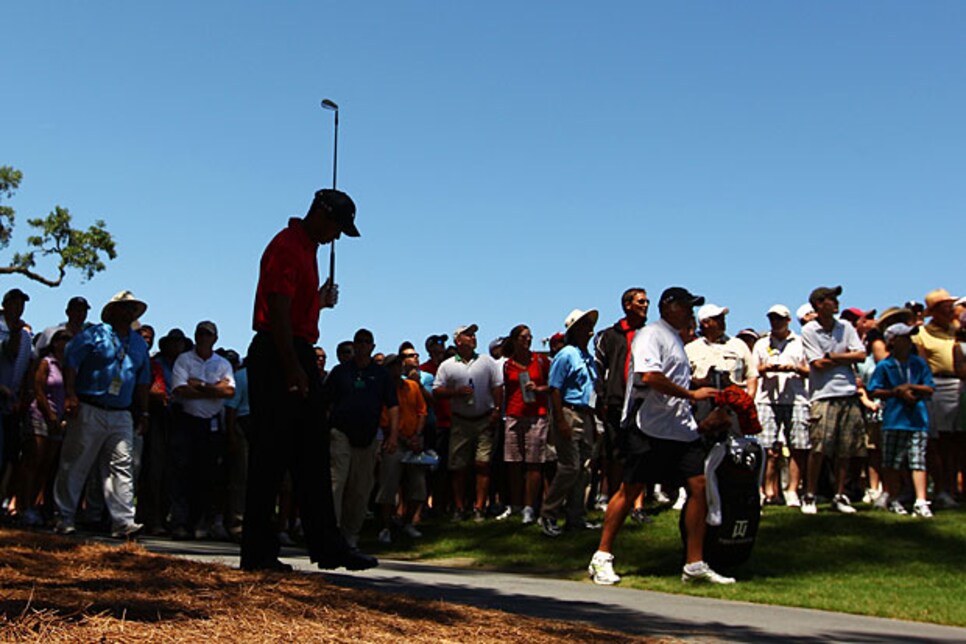 Woods hit only one fairway in six holes before withdrawing.
PONTE VEDRA BEACH, Fla. -- The scene was eerily reminiscent of the 2008 U.S. Open at Torrey Pines. Tiger Woods hit his drive off No. 7 at the Players Championship, watched the ball veer wildly off to the right then bent over and grabbed his left knee. But as he straightened up he rolled his neck, which he had been favoring the entire round, called over a rules official, put his arm around him and asked that a car meet him at the green.
Woods walked gingerly down the fairway, played his second shot toward the green then walked with officials toward where the cart was waiting. After being brought to the clubhouse at TPC Sawgrass, Woods headed straight for the physio trailer where medical staff worked on his neck.
"They suggested that I get an MRI on it this week because I might have a bulging disc in my upper back," Woods said Sunday evening on his web site.
Woods also said the neck had been bothering him since before the Masters.
In his pre-tournament press conference at Augusta National, Woods did reference that his injuries from his Nov. 27 car accident included "a busted-up lip and a pretty sore neck." Sources have confirmed that Woods was seen visiting the medical trailer on several occasions earlier this week.
"You could tell when I shook his hand he was in some extreme pain," said Jason Bohn, Woods' playing partner Sunday.
Woods, who was two over par on the round and two under par for the tournament when he pulled out, missed all but one fairway on the final round, following a pattern of wild play that has marked his game since returning to competition at the Masters after a five-month break.
He made a three-putt bogey on No. 3 then drove into the water right of No. 5 for another bogey.
During his three-plus rounds at the Players, Woods flat-out popped up three drives with 3-woods and missed a half-dozen fairways at least 40 yards right. Even when he hit greens, he was nowhere near as close to the hole as you'd expect. The neck injury puts that into perspective.
The question now is when we will see him again. He is not yet entered in the Memorial in three weeks but is the defending champion and is expected to play on a course where he has had great success. The U.S. Open at Pebble Beach is two week after the Memorial. Woods gave no indication when he would be able to play again.
With something as severe as a bulging disk or pinched nerve, his return might be very open ended.