News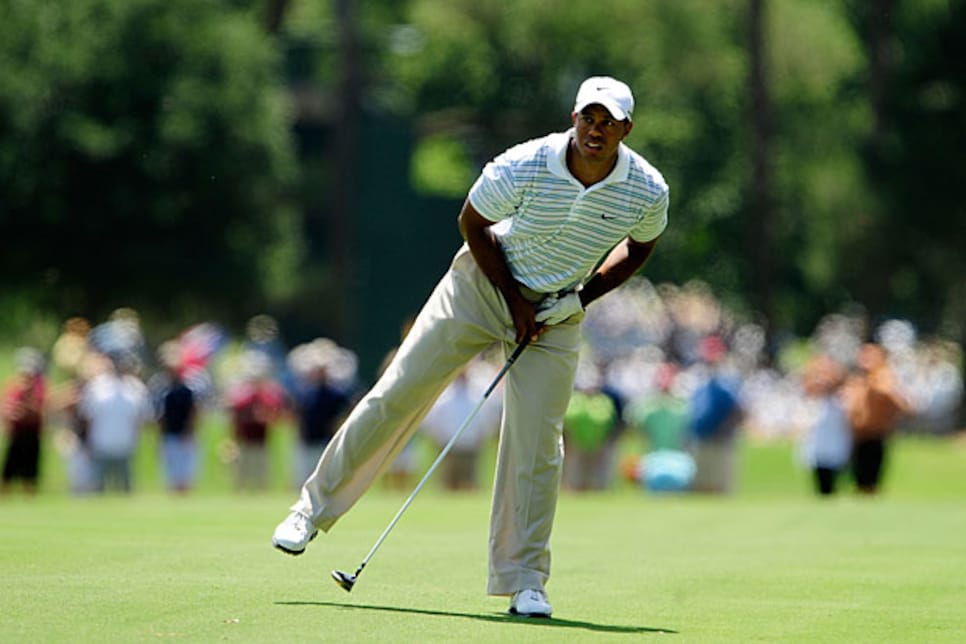 Woods has struggled to find consistency this week at TPC Sawgrass.
PONTE VEDRA BEACH, Fla. -- Watching Tiger Woods play golf right now is like watching a great baseball pitcher labor without his good stuff -- getting by on guile and the occasional perfect pitch when he needs it most. Playing with little on his fastball and poor location, Woods bogeyed the last two holes at TPC Sawgrass for a 71 to finish three rounds of the Players Championship at four-under-par 212, ending any dreams of stealing a victory.
After a three-birdie, two-bogey front nine on a steamy Saturday, Woods offered up several revealing vignettes on the back side that gave glimpses into the state of his game. Over three rounds here, there have been some shockingly bad shots, but also enough spectacular ones to remind us of why we are fascinated by his comeback from a self-imposed exile.
On the par- 5 11th hole Woods missed the fairway left -- one of eight fairways he would miss on the day -- and then mulled his second shot to a green guarded by sand and water. "Is short, left of the green OK, Stevie?" he asked his caddie Steve Williams. Told it was, he let fly with a 5-wood and immediately dropped his head.
"Oh, flier," Woods said in a cross between anger, annoyance and helplessness, looking back up to watch the ball in flight. "Came out awful," Stevie," Woods said.
When he got to the ball he saw it had settled down into the rough on a downhill lie and that he had a virtually impossible pitch to a short-side pin. The bump-and-run was a ting of beauty that settled down two inches from the cup for a tap-in-birdie that got him to five under par.
With the leaders at 12 under and not yet on the golf course, there was a remote but not impossible chance for Woods to get back into the ball game. Good, scrambling par saves on 13 and 14 and a birdie on 15 when he played to seven feet from the fairway waste bunker hinted that perhaps the pieces were falling into place. He was six under par with a chance to go lower with a strong finish.
But a poor drive and a poor chip resulted in a disappointing par on the par-5 16th; and a three-putt bogey on the island-green 17th and a bogey on 18 after popping up his drive with a 3-wood turned a 67 or 68 into a 71. As Woods walked to sign his scorecard, he heard a young voice call out: "Tiger, say so long to No.1. Kiss it goodbye."
Woods, who has been No. 1 on the Official World Ranking for about as long as the youngster has been alive, would lose that position if Phil Mickelson wins on Sunday and Tiger finishes outside the top five. Woods has done his part. He has about as much chance of finishing fifth here as the Pittsburgh Pirates do of winning the National League.
"Well, I had it going for a little bit," Woods said after the round. "I though if I could have birdied 16 and 17, I'd have been right back in the tournament. I thought if I had posted 8 [under par], I would have been just, I thought, right there." Instead, he posted 4, a number that was not going to scare anyone, essentially giving away three strokes on the final three holes.
Woods has played only nine rounds since returning to competition at the Masters in April and the most optimistic way to evaluate his struggles is to say he merely needs more tournament exposure.
"There is no doubt I need more [competitive rounds]," he said, "and certainly I will get it. But I'm pleased so far [with] what I've changed this week and how I've progressed this week."
Woods has not yet committed to the Memorial, which is June 3-6, two weeks before the U.S. Open, but he is a good bet to play in the event hosted by Jack Nicklaus. It will be interesting to see if, after his performance here, he decides he might need an additional tournament test before Pebble Beach, perhaps the Byron Nelson in two weeks.
"I hit more good shots today than I have all week," Woods said. "You don't turn this thing around overnight and then just go out there and play great golf. This is a process, especially since I haven't played at all. I just need more rounds."
There was a low number to be had on Saturday at TPC Sawgrass, as proven by Phil Mickelson and Fred Funk, who both shot 66, and Zach Johnson, who posted a 67 -- all three playing at about the same time as Woods, who was not able to go low.
So was Woods' performance disappointing because it produced only a 71 or was it remarkable because he managed to break par with far from his A game? The mere question indicates the compelling nature of the Tiger Woods who has returned to competition. No one really knows what to expect -- probably not even him.