News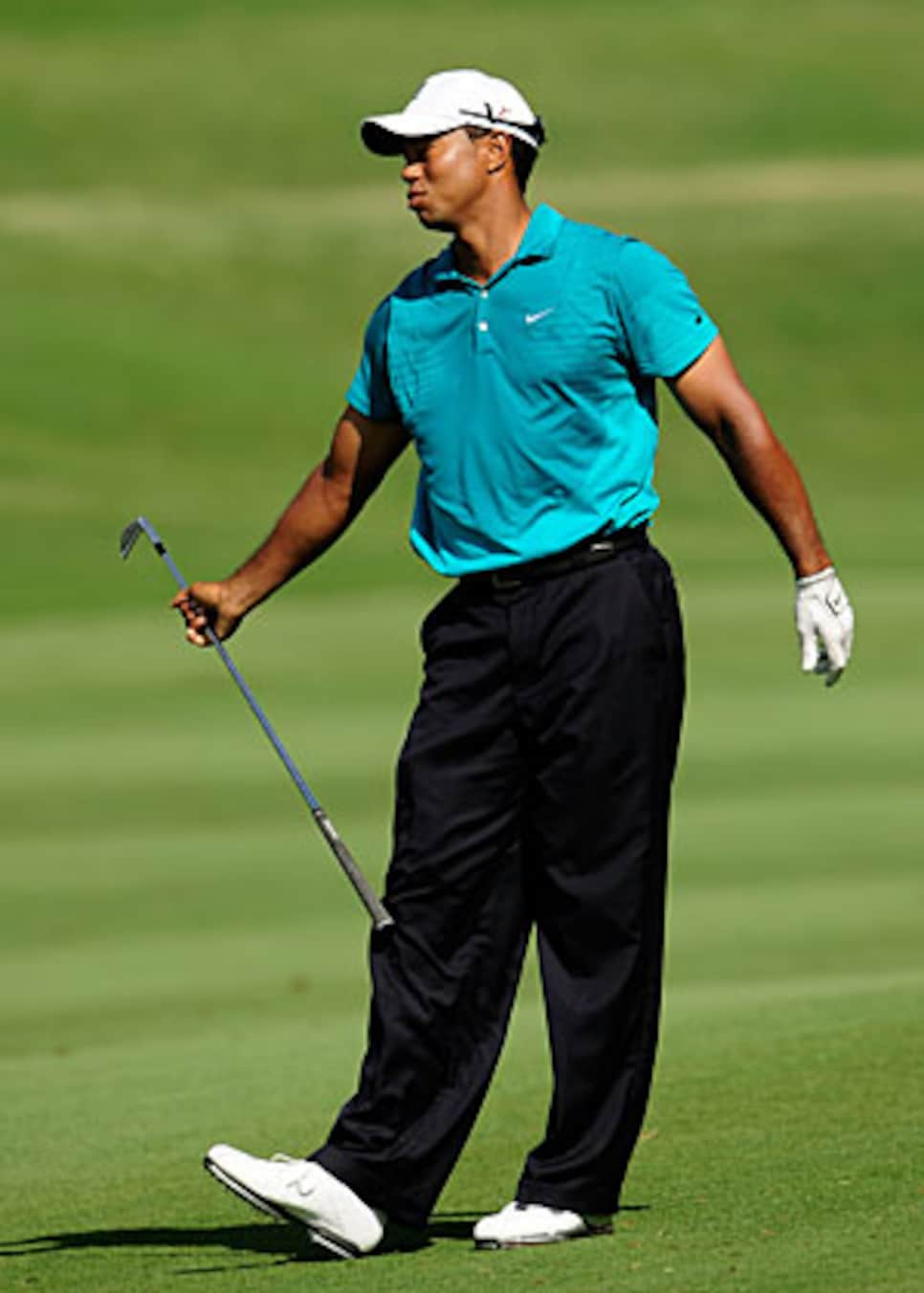 It was another bumpy ride for Woods on Friday.
PONTE VEDRA BEACH, Fla. -- For two days, Tiger Woods' game has dangled over disaster by a thread that snapped several times, only to be hastily made whole again with deftly-tied knots. Can Woods, like the magician he has proven to be in the past, blend the knots into a straight string of success? That's the daunting challenge as he goes into the weekend at the Players Championship.
Woods' second round Friday was, if nothing else, highly entertaining. His performance also helped erase the lingering image of the way he surrendered a week earlier while missing the cut by eight strokes at the Quail Hollow Championship. The 71 placed on top of an opening-round 70 put Woods nine strokes off Lee Westwood's lead -- but at least he is still in the field. He clearly remains a struggling player figuring out how to survive.
The way Woods played Friday at TPC Sawgrass -- in fact the way he has played for both of the first two rounds at the Players -- was reminiscent of the old Tiger, not in the quality of the results but in the grittiness of the resolve. He hit several tee shots for which his caddie Steve Williams needed not a yardage book but Google Earth and a GPS. They were off the planet.
Woods, who played the back nine first, missed the fairways right by more than 40 yards on Nos. 11, 14 and 1, three holes he played four over par. He made five birdies Friday and the fact he had only two bogeys and one double bogey was a testimony to some determined damage control. This was not the same guy who threw in the towel last Friday at Quail Hollow.
Still, everything was a bit off. There was a lot of hit-and-hope off the tee. When he hit greens in regulation, which he did 15 times, he was not getting the ball close enough to the hole. With the putting yet to get into gear, that's been a problem.
"I was just kind of outside that birdie-able range with my iron shots," Woods said. "I was just hitting the ball 20 feet every hole. If I could get another five feet or so closer or 10 feet closer then those putts, you feel like you could pour all of them in." There hasn't been a lot of pouring for Woods. Trickles, in fact, have been hard to come by.
What Woods has done well -- something he failed miserably at in the Quail Hollow event -- is to not let mistakes compound themselves. Get a load of the way Woods got out of the box on Friday: A routine par on No. 10 were followed by holes that were anything but, then made bogey on the 11th hole when he missed the fairway deep into the right trees. On a par-5 where Woods usually makes his money, that's really like losing two shots.
Woods immediately erased that mistake with birdies on 12 and 13, then frittered away his rally with a double bogey on No. 14 when he drove with a 3-wood into a pond so far right that it is in play only for double-digit handicappers. The ball started right at a 45-degree angle and then sliced -- a startling shot for any professional, let alone the No. 1 player in the world.
"I tried to stop [the swing]," Woods said of what went wrong. "I got to the point when I was actually past that point and I couldn't stop anymore. Sometimes I can stop it, but I got to the point where I physically couldn't do it. "
He bounced back with birdies on Nos. 15 and 16 then settled into more consistent play on his second nine. After blowing his driver -- and for the second day Woods hit only four drivers off the tee -- into the right trees on No. 1, his tenth hole, he missed the No. 2 fairway only by a yard and then hit the rest of the fairways coming in, a reason for optimism that perhaps he is growing more comfortable with his swing.
Still, the pronounced dip that leads to the club getting stuck behind Woods on the downswing is clearly evident. The head drops as Woods transitions out of his backswing, but there is also a buckling of the knees that makes you wonder if all is well with his surgically repaired left knee.
"Knee's good," Woods said rather dismissively when asked about his health after the round. "No, zero. Absolutely 100 percent," he added when pressed on whether there were any physical issues. He was also asked about the Achilles tendon problem he had last year but did not reveal until last month.
"No, I started back running again," he said, against denying any physical problems. "Haven't had any swelling. I still feel that I'm explosive in all my exercises I'm able to do now, which I wasn't doing any of that last year. So it feels good."
Never in Woods' 15-year professional career has he been in a stretch of golf in which being closer to the cut line than to the lead after 36 holes is considered somewhat of a success. The sense going into the weekend is that Woods is not so much thinking about winning the Players as he is thinking about getting his game in shape to have a chance to win the U.S. Open at Pebble Beach next month.
"If I was swinging the club a little bit better, it would be a little bit easier," Woods said about whether he still had a chance to win here. "Got to keep plodding along, and this golf course, anything can happen."
While it is undeniably true that anything can still happen at TPC Sawgrass, there is little reason to think that it will for Woods -- at least not in a magical way. Yes, he was explosive at times and hit some impressive shots, but he still looks like a guy whose game is being held together by Band-Aids and bailing wire.
Tiger Woods -- nine back and it's a step forward. Think about that. It's going to be fun to see how he figures his way out of this.