News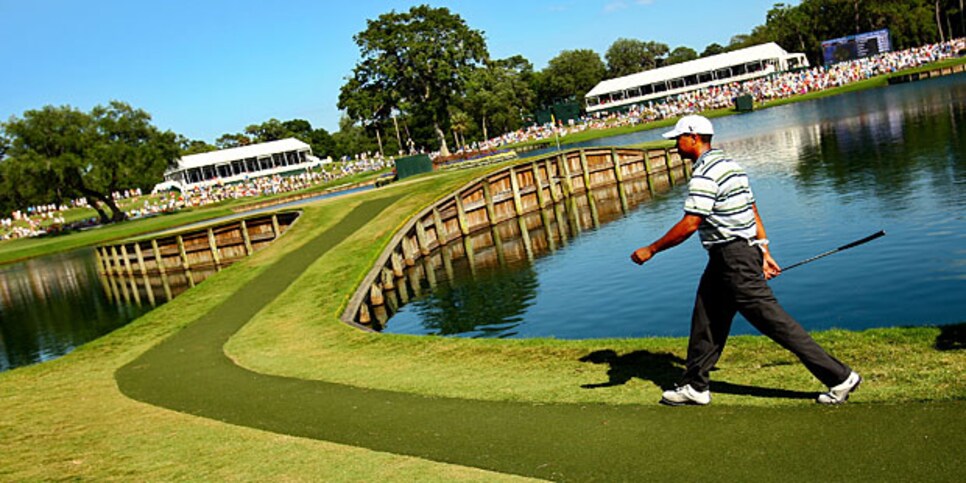 Tiger Woods' uneven record at the Players is a testament to the tournament's egalitarian nature.
The most effective tool for handicapping the Players Championship is a hat large enough to accommodate 156 names -- Rickie Fowler's voluminous over-the-ears lid, for instance.
The Players has been called the most democratic of tournaments, democratic with a lower-case "d", apolitical, notwithstanding its big tent, to borrow a term with a political connotation. In this case, the tent is big enough to accommodate Barnum and Bailey. Or Woods and Perks.
Tiger Woods won the Players in 2001, Craig Perks in 2002. One is the best player of his generation, possibly any generation, the other a journeyman who missed the cut in 93 of his ensuing 135 PGA Tour starts over five-plus years before returning to the obscurity from which he emerged against all reason in '02.
Whatever the range, there are winners representing their respective poles -- short to long (Fred Funk to Fred Couples, Davis Love III, Tiger Woods, et al.), young to old (Adam Scott, 23, when he won in '04, Funk, 48, in '05), finesse to power (Justin Leonard to Jack Nicklaus). The runners-up also support the egalitarian argument: Barry Jaeckel, Scott Gump, Glen Day, Paul Goydos.
"I think the golf course, because it does not have total length and has so much to do with accuracy, where to hit the ball in relative terms of proper angles to flag placements, it doesn't favor any particular player," said Fred Klauk, long-time superintendent at the TPC Sawgrass, who retired after the 2008 tournament. "Length is not the most important factor. Where you put the ball is. That's why Fred Funk has won and Tiger has won."
The Stadium Course at TPC Sawgrass in Ponte Vedra Beach, Fla., and its setup has varied, contributing to the quirky list of winners. So has the weather. Woods won when the tournament was still played in March, on winter ryegrass. "When we caught a wet year, that's when a longer player won," Klauk said. "That's when Tiger won."
Perks' victory the following year took place on a course that borrowed from the USGA textbook on Open setups. The rough was up and the greens were hard and fast, reflected in a winning score that was six shots higher than the year before.
"If people don't think course setups don't make a difference, check my record here at this tournament," Scott Hoch said in 2002. Hoch never completed a tournament there from 1988 through 1995, withdrawing on two occasions, after shooting an 85 in 1991 and an 82 in 1995. Then the PGA Tour opted to introduce penal rough into the equation. "Before, if you hit anywhere other than the water, you would be all right," Hoch said. "That's definitely not my game."
To his point, Greg Norman won in 1994 with a score of 24-under par. In 1997, Hoch was second with a score of nine-under par.
This year? A cold winter hampered spring growing conditions, preventing the two-inch rough from thickening to the degree expected. What they're hoping for is dry weather, allowing firm and fast to counter the lack of penal rough.
"We've had the worst winter here in the southeastern United States in 100 years," said Klauk, who still serves in a consultant role. "We really didn't break Bermuda dormancy until four weeks ago. How it plays will depend on whether we get rainfall. With the rough the way it is, we hope we can create firm, fast conditions. If it does that, it's going to take a real accurate player to win. But we just hope it doesn't rain."
The forecast: Scattered thunderstorms on Tuesday and Wednesday, isolated thunderstorms on Thursday and Saturday. In other words, handicapping the tournament is a crapshoot, same as it has always been.
The Players has that on the major championships, at least, an aura of unpredictability, born of the reality that anyone in fact can win.